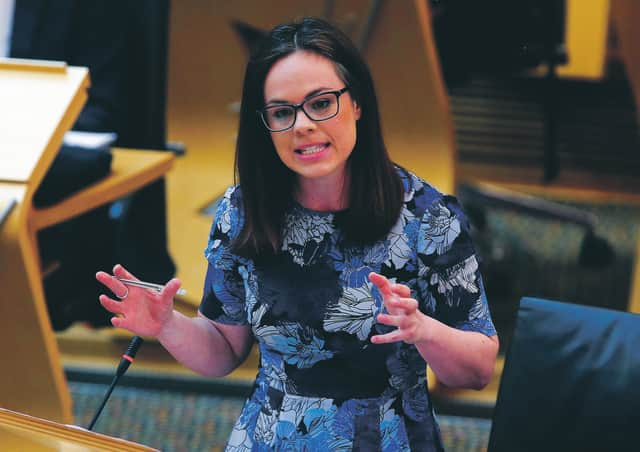 Kate Forbes struck a note of pessimism referring to 'acute hardship'. Picture: PA
It's tricky balance at any time – and particularly now as the airwaves reverberate with news of a 20.4 per cent plunge in GDP, the largest contraction on record, and waves of redundancy announcements from many of our big companies.
I am not sure whether Scotland's Finance Secretary Kate Forbes has got it right. In a strikingly pessimistic contribution to the BBC's Podlitical podcast last week she spoke of the risks of a "disproportionate" impact on Scotland's economy, the "acute hardship" faced by firms and how to persuade people to return to shops and restaurants.
She said: "I think the impact is going to be with us for quite a long time. It's not just about getting through this acute few months, but actually figuring out how we support the economy for a much longer period of time." Even as the immediate crisis wanes, "things are not going to get much better", she added.
Rather than graphs indicating a V-shaped recovery and bounce-back, "there's evidence now that it will be a more gradual recovery, which means economic output might not recover to the pre-crisis level until the start of 2023".
No "normal" for three years? It's difficult not to succumb to the tsunami of company closures, mass lay-offs and appalling numbers on the economy. No-one in their right mind should minimise the depths of the crisis we 
are in.
But to predict no full recovery until 2023 is not just a bold forecast to make but one deeply dispiriting for Scottish firms and businesses that may now decide, not just that future investment plans can be postponed for the next two years but whether it is worthwhile soldiering on at all. It's a prediction that risks a mass throwing in of towels. And is that what our economy minister really wants?
In fact, her summation can be questioned on three grounds. First, it makes no mention of business confidence surveys which, while still deep in negative terrain, show a lift off the bottom from levels recorded in April. There is a gradual return to work on construction sites. Retail sales are also up off their April lows.
Second, an easing of lockdown restrictions on the high streets over the next few weeks should bring further signs that we have moved past the worst.
And third, it is a brave soul who ventures to predict what our business and economic future will be three years out from here. We have been hit by a deadly, complex and unpredictable virus with variations at both country and regional levels.
As we await the results or more tests and evidence, no prediction is safe. And as the recent behaviour of financial markets will attest, we are in the midst of a highly volatile period, with no certainty even as to whether the recovery will be V-shaped, U-shaped, L-shaped or some other symbol variant.
It is not just epidemiological modelling that has taken a battering over the past few months: accuracy of economic prediction derived from modelling has proved treacherous.
The problem with such mechanistic modelling in the economic realm is that it can fail to capture advances in output and activity derived from "animal spirits" – the restless, unquenchable drive of innovation, adaptation and creative solution to the problems that businesses face. Entrepreneurial activity cannot by its nature be predicted. But it is the central driving force of recoveries in the past. And had such recoveries not unfolded we would still be battling with the 1930s Great Depression.
Today we are presented with two authoritative but starkly contrasting views of what the future may hold. There is the grim assessment of the OECD last week that the UK is likely to suffer the worst damage from the Covid-19 crisis of any country in the developed world. The slump in national income here of 11.5 per cent during 2020 will outstrip the falls in France, Italy, Spain, Germany and the US.
And then there is the view of Bank of England governor Andrew Bailey. He told a panel discussion hosted by the World Economic Forum that while the UK economy could shrink by 14 per cent this year, it would bounce back with growth of 15 per cent in 2021.
"If there is any such thing as a normal recession", he declared, "this one will be different. There will be elements of a faster recovery because the first stage is literally lifting restrictions and allowing people to go out. And we see evidence of that already happening." He pointed to consumer spending, retail sales and business trading all improving in May compared with April.
These two views are not strictly incompatible – a tentative recovery could still see the UK lagging major European economies. And we still have to contend with two deeply worrying setbacks: a permanent scarring of the economy and the risk of a second Covid-19 wave in the autumn with the return of cold weather.
Yet these are all the more reasons for government ministers to spread some hope amid all the real fears that we face. And even if hope is another country in the depths of St Andrews House, some nuance in pronouncements would be welcome. This, too, is a rare commodity in this era of extremities, but nuance is all the more essential now.
And meanwhile, let's focus more on the future than on the rear-view mirror of GDP statistics. In the words of Andrew McRae, policy chair of the Federation of Small Business Scotland: "The priority now is to get momentum into the recovery, while not putting public health at risk. Half of all Scottish smaller businesses closed their doors during this crisis and helping these local operators re-open should be a top priority for ministers in Edinburgh and London.
"That's why we're looking for practical support for business leaders looking to adapt their premises and operations. Further, we believe that getting schools and nurseries re-opened will be pivotally important to local economies and communities.
"For many local businesses it won't be as simple as rolling up the shutters and switching on the lights. The recovery might take as much collective effort as the shutdown."
Get ready. Look up. Look ahead.