The Scotsman featured video - SS Waverley
Onboard the paddle steamer Waverley
Waverley is named after Sir Walter Scott's Waverley novels. She was built to replace the 1899 Waverley which was sunk by enemy action on May 29, 1940 at Dunkirk.
Waverley's keel was laid on December 27, 1945 but due to material shortages after the war, she was not ready for launch until October 2, 1946. It wasn't until the following year on January 20, 1947 that she was towed to Greenock for the installation of her boiler and engines. Her maiden voyage was on June 16, 1947.
Waverley was built for the route up Loch Goil and Loch Long from Craigendoran & Arrochar in West Scotland. She now visits several areas of the UK offering regular trips on the Clyde, The Western Isles, the Thames, South Coast of England and the Bristol Channel with calls at Liverpool & Llandudno.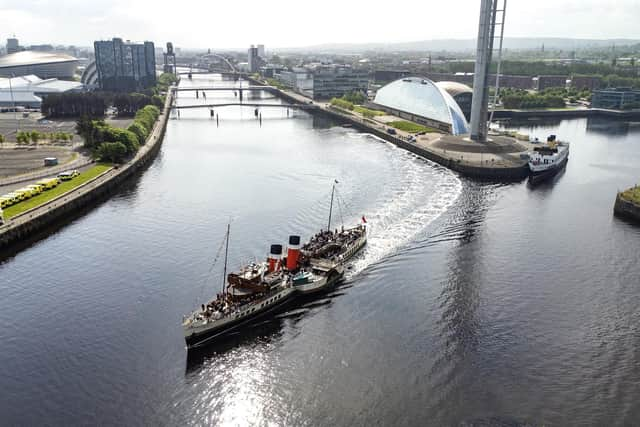 Waverley is the world's last seagoing paddle steamer. In 1974, at the end of her working life, she was famously gifted for £1 to the Paddle Steamer Preservation Society. Waverley Steam Navigation Co. Ltd., a charity registered in Scotland, was set up to own and operate the ship. Waverley then began a second career as one of the country's best-loved tourist attractions. Since she has been in operational preservation, she has been awarded four stars by Visit Scotland, an engineering heritage award, and has carried over 6 million passengers from over 60 ports around the UK.
2003 saw the completion of a £7m Heritage Rebuild which returned Waverley to the original 1940s style in which she was built. This was made possible with major grants from the Heritage Lottery Fund and the Paddle Steamer Preservation Society (PSPS). Contributions also came from Glasgow City Council, Scottish Enterprise Glasgow, the European Regional Development Fund and local authorities.
2017 marked 70 years since Waverley's maiden voyage on June 16, 1947. In May 2019 she was withdrawn from service and a capital appeal was launched to raise £2.3 million to allow her boilers to be replaced and re-commission Waverley for further service. In December 2019 it was announced that the appeal target had been reached.
Despite delays to the boiler refit due to the COVID-19 pandemic Waverley returned to service in August 2020 and operated a short season on the Firth of Clyde. After a successful season on the Clyde the following year, Waverley will be returning to other sailing areas in 2022.