Tar works fire 1973: Memories from the Camelon blaze 50 years ago
Few who witnessed the fire at the Scottish Tar Distillers' plant in Camelon will ever forget the day in 1973 when the sky turned black as clouds of smoke billowed upwards to be seen from 30 miles away.
An explosion as a tanker unloaded petrol signalled the start of the blaze that was to burn for three days, leave over 60 firefighters injured and force 200 families from their homes.
The damage was estimated at £2 million – equating to over £200 million today – with 500,000 gallons of creosote and tar destroyed as storage tanks burst and their contents spilled into the neighbouring Forth & Clyde Canal.
Miraculously no-one was killed in the incident, but over 60 members of the fire crews who came from all over the region were injured, including Central Scotland firemaster Samuel Park and who was one of the ten firefighters and a first aid officer who had to be taken to Falkirk & District Royal Infirmary for treatment.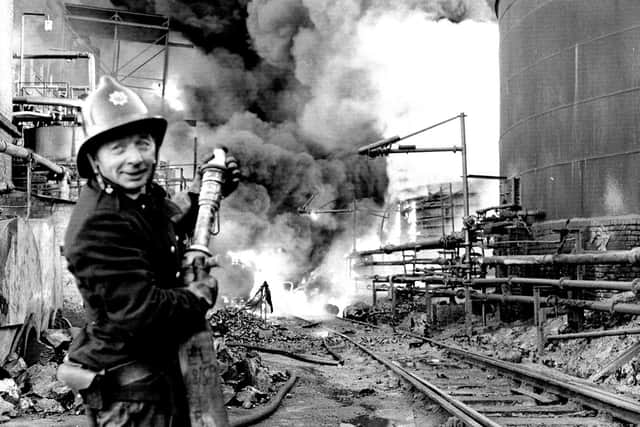 Scottish Tar Distillers' had started as James Ross & Company of Falkirk in 1845 and was based at Lime Wharf beside the Forth & Clyde Canal, close to where the Falkirk Wheel now stands.
Tuesday, November 6, 1973 started as an ordinary day for the 120 employees at the tar works but around 10am that changed. Peter Giffen, who lived in Telford Square, Camelon, and who was driving the tanker which went on fire, recalled at the time: "I don't know what happened. All I saw was flames coming from under my lorry and I ran for my life."
As the workforce raced to safety, the firm's own fire team moved in to tackle the flames.
They were soon joined by crews from across Falkirk, but as the flames spread fire chiefs quickly released more support was needed and over 100 firefighters and 16 appliances were rushed to the scene.
It took over four hours to bring the blaze under control while people living nearby were forced to leave their homes and schoolchildren were kept in their classrooms.
Camelon resident Susan Davidson recalls: "I remember lot of children at Easter Carmuirs crying as lots of families knew people or had relatives working there. We were evacuated and I think it was three days before we could return home."
As the fire-fighting operation got underway it became a day of "terrible risks and amazing escapes" as the Falkirk Herald report from the time explained.
However, their efforts were hampered by the tar pouring into the canal meaning the firefighters could not use the water.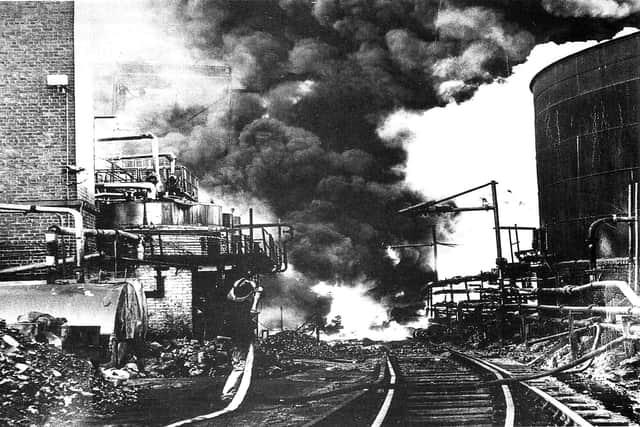 The first major threat came when a huge storage tank exploded, sending a wave of hot tar rushing through the plant. Fire crews were forced to drop their equipment and run for their lives.
A warning by tar work staff to move away from the naphthalene tank saved countless firefighters from serious injury.
Assistant firemaster David Campbell said: "Just four minutes later, there was an explosion and the area was a mass of flames. Without that warning the men would have had no chance."
Three firefighters drafted in from Kilsyth to help almost drowned in tar-filled pits. At the time one of them, George Burns, recalled how they had grabbed an overhead pipe to stop themselves sinking further in before being able to pull themselves to safety.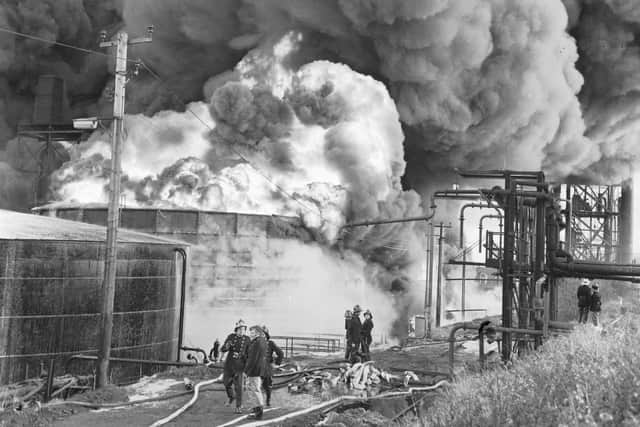 "We were covered up to our necks. We'll never be luckier again," he said.
Minutes later colleague John Hardie of Cumbernauld disappeared under the tar but managed to push himself to the surface.
Given their experiences it was little wonder families of the fire crews were concerned. Margaret Bishop recalled: "My dad was a fireman and I remember family were worried about him because he was in attendance for hours."
While Fiona Hamilton said: "My late husband was a firefighter. He was at that fire and was left with a few scars on his face from the hot tar."
But there were also heroics from the workers at the site who did what they could to help. Peter Roddan said: "I worked there and helped firefighters keep some tanks cool by playing a hose on them in the hope of stopping it spreading. Fire brigades all over Central Scotland attended. I heard an explosion then legged it pronto."
The fire was eventually brought under control by 2pm with damping down operations ending late at night, although a crew were on standby and had to react around 6.30am when a fresh outbreak flared. However, this was quickly dealt with.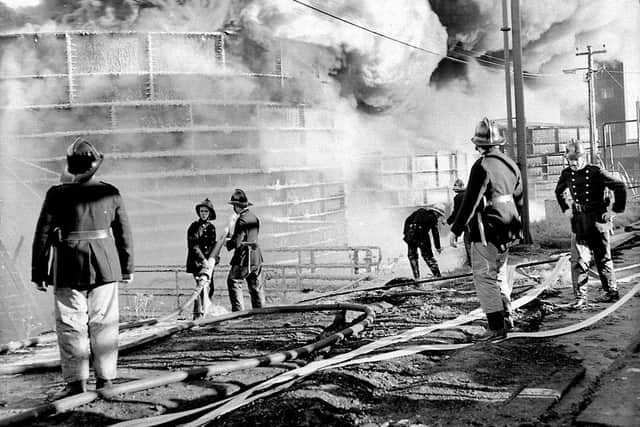 After a second night's vigil, the crews were eventually pulled out on Thursday morning allowing the vast mopping up operation to begin at the site.
But it wasn't just at the works' site that a clean up was needed. Sandra Patrick said: "We stayed directly across from it in Ochiltree Terrace. We had to pack a bag with clothes then had to move out of the area. Stayed at my uncle's house till we were allowed back home about nine o'clock at night. Everything in the house was covered in soot when we got home even though the windows were shut. Mum had washing out before the fire and it was black with soot."
Many families who had been evacuated were given refuge in Easter Carmuirs Primary School where the Salvation Army and Women's Royal Voluntary Service joined the school's catering team and council's social work staff to look after them.
People living in Lime Road, Tamfourhill, which overlooked the fire, helped make sandwiches and gallons of tea for the firefighters.
Falkirk Provost William Fenney said of their assistance: "This showed a real community spirit. Everyone wherever they could and they did a magnificent effort."
The First Citizen later honoured the heroes of the blaze, saying: ''It is only right that their tremendous courage should receive recognition."
An investigation into the fire led to improved safety measures at the plant with Scottish Tar Distillers chairman Charles Waller saying: "We always have and always will continue to follow advice from the fire authorities with whom we work in close cooperation. A top priority for this firm is making certain every precaution is taken to safeguard our employees."
Shortly afterwards the remaining tar distillation work was bought over by British Steel Corporation (Chemicals ) Ltd but the works closed for good in the 1980s.
However, it left a legacy that many in the district will never forget.