Shrouded in mystery, the precise age and origins of the Caiy Stane standing stone near Fairmilehead continue to be debated by archaeologists and historians.
The ancient monolith, which is hewn from red sandstone more than 9ft tall, is thought to have been erected for a ritualistic purpose or to mark a burial site.
Some experts estimate that the Caiy Stane menhir was put in place up to 5,000 years ago, making it as old as the Skara Brae settlement and the Great Pyramid of Giza.
All that is known for certain, however, is that the Neolithic monument, which features Celtic cup marks on its rear side, stood solitary for much of its existence.
Targeted by vandals in various eras, the much-weathered stone is carved with the initials "J. Forrest", while traces of yellow and green paint, left in 2002, sadly mark its base.
In one book published in the 1840s and concerning Scottish mercat crosses, the Caiy Stane is featured in an engraving, and stands alone in what was then acres of lush, open countryside.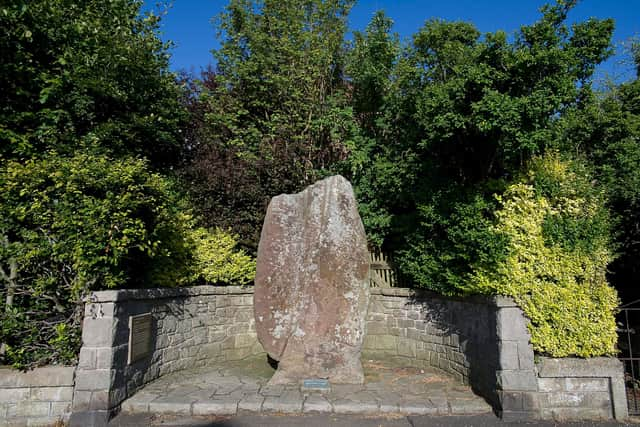 Its site, at the crest of a hill in south Edinburgh would at one time have commanded extensive views to the lands north and west.
But today, the stone is found nestled within an alcove at the east side of the appropriately-named Caiystane View – one of numerous streets in the area named after the standing stone.
Excavations during road works in the early 19th century turned up various cairns, cists, urns, and burials containing hundreds of skeletons dating back to the Bronze Age, indicating that the site was in use for a prolonged period of time.
One mooted origin story behind the Caiy Stane is that it was to mark the site of an ancient battle, either involving Romans and Picts, or Angles, Vikings and even Cromwellians. This explanation has since been discredited by historians.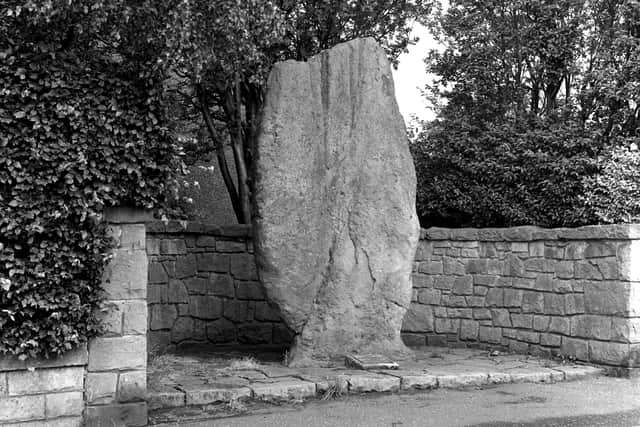 Experts at Historic Environment Scotland (HES) believe the Caiy Stane, which has been a scheduled monument since 1935 and bears legal protection, to be significantly older.
A spokesperson told the Evening News: "It has gone by several names – Caiy Stane, Cetstane; Kel Stane and Camus Stone, and is has been identified as a prehistoric standing stone. It once stood in open countryside and is typical of this type of monument.
"The rear face of the stone has a line of six indentations which are probably cup marks. This supports the suggested date as being late Neolithic/early Bronze Age."
While the exact beginnings behind this fascinating standing stone be unknown – like so many of Scotland's ancient monuments – the Caiy Stane has withstood the elements for millennia and watched Edinburgh grow from a tiny settlement south of the Firth of Forth to the major European capital city it is today.
Given its history and protected status, we expect the Caiy Stane will be with us for thousands of years yet to come.
The Evening News is supporting Forever Edinburgh, a joint campaign between the City of Edinburgh Council, Edinburgh Tourism Action Group (ETAG) and VisitScotland. This encourages people to rediscover the city, its stories and places while supporting local businesses, promoting attractions, shops, bars and restaurants as lockdown eases.