Windrush generation: the scandal explained, what was the 'hostile environment' and what the Equality and Human Rights report means
A report has found that the Home Office failed to comply with equality law when implementing "hostile environment" immigration measures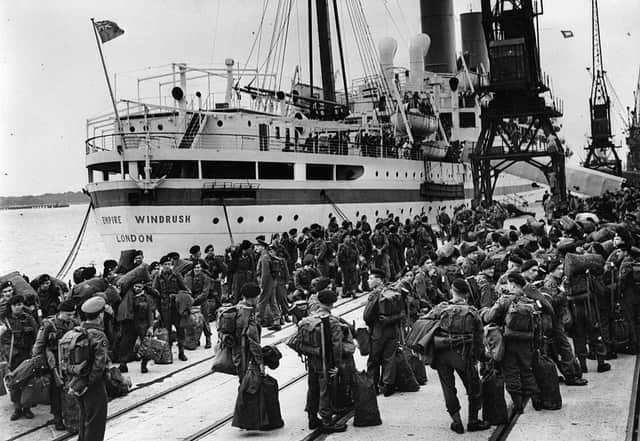 The Empire Windrush docked at Southampton (Photo: Keystone/Getty Images)
As well as facing long delays in receiving payouts, applicants have also complained of having to struggle with complex forms.
Here's everything you need to know about it, including some background history on the Windrush scandal:
What was the Windrush scandal?
The name comes from the fact that the scandal mainly involved people of Caribbean heritage known as the 'Windrush generation', in turn named after the Empire Windrush, the ship that brought the first groups of West Indian migrants to the UK in the late 1940s.
Many had been born as 'British citizens' (the Caribbean countries from which many originated were under the Commonwealth banner), and were granted the right to settle in the UK by the British Nationality Act 1948.
Those legal rights meant that those migrated neither needed, nor were given, documents upon entry to the UK.
What was the "Hostile Environment" policy?
When the Conservative government introduced their 'hostile environment' policies in the early 2010s (designed to make settling in the UK as difficult as possible for illegal immigrants), many of the Windrush generation – technically undocumented – fell foul of new immigration policies.
This led to hundreds of people – who had lived in Britain their whole lives, contributing to society in a plethora of ways – being wrongly deported, detained and denied legal rights by the Home Office.
Understandably, it was an unsettling time for many, with countless 'legal' citizens suddenly being told they were to be deported back to their home countries after decades in the United Kingdom.
There are now 500,000 people resident in the UK who were born in a Commonwealth country and arrived before 1971 - including the Windrush arrivals - according to estimates by Oxford University's Migration Observatory.
What has the new report found?
The EHRC assessment found that negative consequences of the policy on black members of the Windrush generation were constantly ignored, dismissed or their severity disregarded.
It was also discovered that there was limited engagement with representatives of the Windrush generation, even as the severe effects of hostile environment policies began to emerge.
Caroline Waters, interim chair of the Equality and Human Rights Commission, said: "The treatment of the Windrush generation as a result of hostile environment policies was a shameful stain on British history.
"It is unacceptable that equality legislation, designed to prevent an unfair or disproportionate impact on people from ethnic minorities and other groups, was effectively ignored in the creation and delivery of policies that had such profound implications for so many people's lives.
"Our review has identified where the Home Office fell short of its legal obligations."