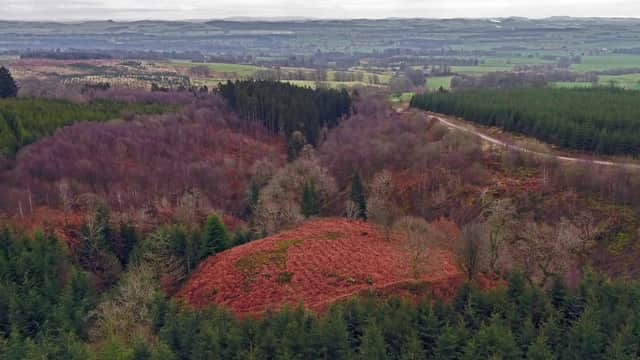 A new survey by Forestry and Land Scotland has identified a site in Dumfriesshire where the fort is believed to have stood.
The search for the fort was based on a record in The New Statistical Account of Scotland, published between 1834 and 1845, which detailed the location of the small fort occupied by the leader of the Scottish resistance movement during the Wars of Independence.
It was described as a hidden stronghold from which Wallace and his 16 men-at-arms would 'sally forth to annoy the English'.
Under the direction of Matt Ritchie, archaeologist for Forestry and Land Scotland , the fort was surveyed with a drone flown over the massive earthen rampart and the promontory where the waters of the Black Linn and the Tor Linn meet.
Hundreds of drone photographs were taken by aerial footage experts Skyscape Survey, with the images stitched together to create a 3D model of the terrain that was hidden under scrub and vegetation.
Mr Ritchie said: "It's a fascinating and revealing technique that really begins to open up the landscape and this seemed like an ideal site to investigate.
"There isn't much evidence on the surface, but the rampart and topography matches the historic description very well."
The small fort was described in the statistical account as Wallace's House, which was built on a summit formed by two branches of a steep ravine and which commanded extensive views to the south.
The account said: "It must have been a strong place of defence.
"Sir William Wallace, while meditating the capture of the castle of Lochmaben in 1297, is said to have kept sixteen men there, with whom he sallied forth to annoy the English garrison under Greystock and Sir Hugh of Moreland."
Mr Ritchie said the new 3D contour model created by the drone footage highlighted the "massive rampart of the fort" and the two gullies of the watercourses which flank it.
He said: "It must have been the 'strong place of defence' described by the Account, the rampart topped with a timber palisade and enclosing timber buildings built to house the soldiers and their horses.
"But could the fort really have been built by William Wallace and his men? I'd like to think so – and, either way, the survey has added a new chapter to an old story."
The glens around the site still contain ancient semi-natural woodlands that form a key part of an important habitat network.
Rich in biodiversity with mature native Oak, Ash, Birch, Rowan, Alder, Willows and all the associated flora and fauna, FLS is working to restore the site to a native condition.
FLS Regional Environment Advisor, Bill Coombes, said: "This is a site where ecological and heritage objectives come together to create a special place and it's important that we look after it."