Why this Scottish church lets visitors stay the night
Since 1900, more of Scotland's churches have been closed, abandoned or demolished than are currently in use. One rejuvenated Orkney kirk is trialling a scheme which could reverse the trend.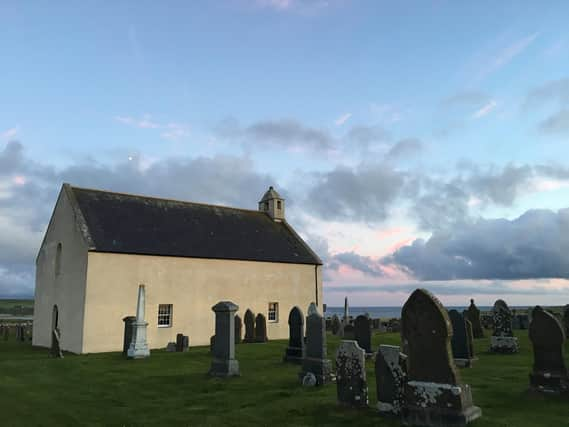 "It's not spooky!" Insists Chana James, as though sensing my next, rather obvious, question.
I'm chatting to Chana, Communications Manager for the Churches Conservation Trust (CCT) about "champing": a unique scheme that invites tourists to switch out their hotel room, tent or Airbnb for the keys to an ancient church to bed down in on holiday.
And though the thought of sleeping so close to a graveyard might scare some, as a seasoned "champer" herself, Chana says the experience isn't eerie but "special" and "tranquil".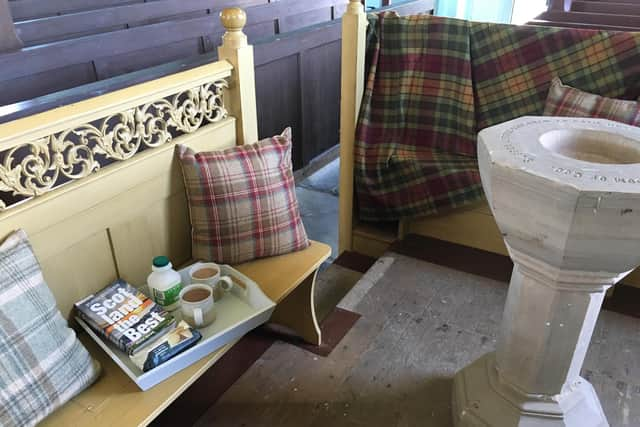 Yet more than just being a unique experience for guests, champing is striking a hard-to-achieve balance between generating touristic income while preserving and minimising the impact of over-tourism on historic places.
In Scotland, which has struggled in recent years with dodgy Airbnbs, bothy vandalism and over-tourism, the country's first champing church - St Peter's Kirk, Orkney - is proving a rare win-win for tourists and conservationists alike.
While St Peter's was opened to champers in 2017, the idea first came about six years ago, after a group of cub scouts spent the night camping in a CCT churchyard.
The Churches Conservation Trust, and its counterpart Historic Churches Scotland, are organisations dedicated to protecting redundant churches from disrepair and ruin. As increasing secularism and demographic change leaves ever-more churches in their hands, finding new funding streams is a vital part of their work.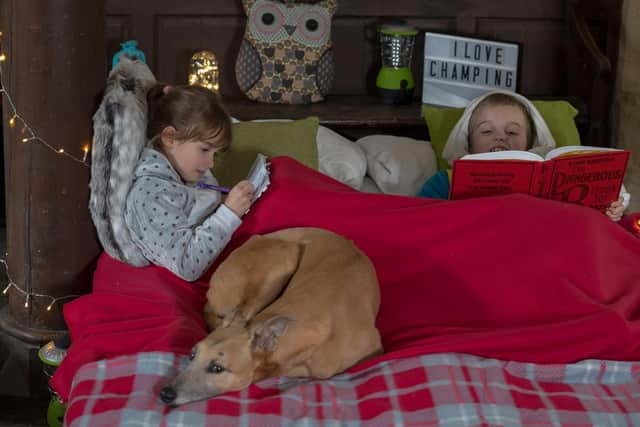 That's why in the wake of that 2014 cubs camping trip, the CCT had a flash of inspiration: why not see if tourists would pay to stay in their churches over summer - with all profits funneled back into conservation?
If the idea sounds peculiar, that's probably because it is. At the time there was nothing like the scheme in existence, and many, says Chana "said it couldn't be done... [they] didn't think anyone would actually want to do it...they thought it was too bizarre".
Tourists weren't the only ones that needed convincing. In Northamptonshire where the first champing scheme was trialled, locals were skeptical of the idea:
"[The locals] were nervous, they didn't know what we were doing, they thought there might be big parties, or that we'd set up permanent beds in the church and stop people from visiting".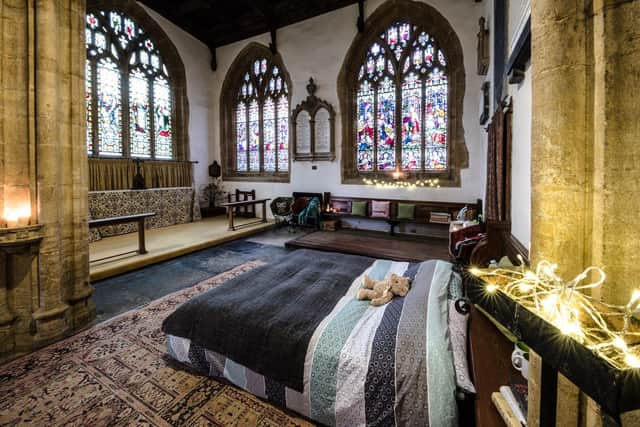 The CCT, she says, had to invest in thorough PR work on the ground to convince locals that not only would champing not disturb the area, but would actually benefit it:
"[Champing] creates local jobs, we promote local attractions, we try to pick churches with pubs nearby and we use the local pubs or local farm shops for breakfast".
With bookings soon flying in and locals convinced, the CCT was able to go to community after community with proof of champing's success. It's led to 19 churches across the UK running the scheme as of 2020.
St Peter's in Orkney is currently Scotland's only "champing" church, chosen carefully for not only its beauty but its prime location. Throwing open the doors in the morning, guests are treated to a stunning view overlooking the Bay of Skaill, with the World Heritage site of Skara Brae just a stone's throw away.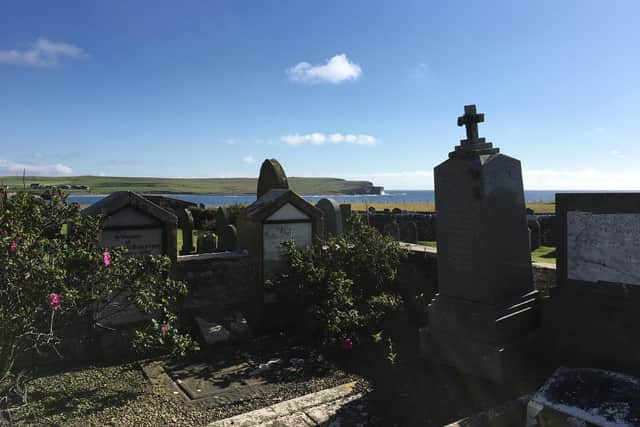 As in every champing church, guests have exclusive access to the building, and are provided camp beds alongside battery-powered candles emitting a warm, cosy glow in the absence of electricity. Though there is no hot shower, a composting toilet is on hand, and fresh Orkney milk and shortbread greets guests on arrival.
The set up is basic, says Chana - "if you're expecting a five-star hotel you'll probably be disappointed" - but the magic of the setting is what draws tourists to champing. Given Orkney's famed rugged beauty, St Peter's is a particularly popular spot.
Though Chana was initially surprised at the popularity of the scheme, after experiencing champing for herself she now understands the appeal:
"People do it for an experience, they're not just looking for somewhere to stay...it's hard to explain until you do it for yourself but when you're there and you've got the fairy lights and the candles around you, it's really special".
The magic of champing has seen family reunions, anniversaries and even some proposals take place within church walls.
The sacredness of the space, Chana believes, not only contributes to the tranquil experience of champing but also encourages respect: in the six years since starting up, she says, "we've never had problems with people damaging the church or being disrespectful".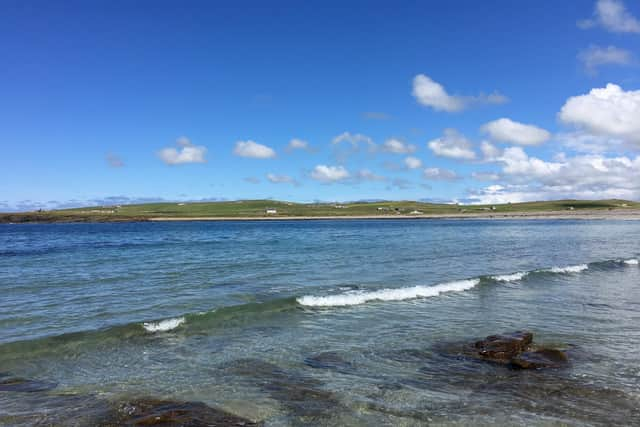 Costing between £49-£59 per night, (or £25-£30 for children) staying in St Peter's is cheaper than most other accommodation options in Orkney, too. These prices are consistent across every champing church and remain the same during the school holidays.
In spite of some comments that prices are set too high, Chana says that the majority of guests feel good knowing that their money is going directly towards helping the church sustain itself.
The sustainability credentials of champing are, in fact, another attractive feature of the scheme to tourists looking for greener ways to travel.
Champing, for instance, does not damage or alter the fabric of the church, with camp beds and other features portable and removable. Toilets are composting, using no chemicals, and many churches have no electricity whatsoever.
Though Chana admits that some of the churches are difficult to get to via public transport, the champing website encourages public transport where available and publishes local walking and cycling routes online. Breakfast - on offer for an extra fee - rarely travels further than a few miles from the local source.
Given champing's ability to simultaneously provide an off-beat experience to tourists and conserve historic buildings with minimal impact on the environment or local area, it's an approach to tourism that will undoubtedly prove popular in the coming years.
Though there are no concrete plans for further champing churches in Scotland at the time of writing, Chana anticipates that the scheme will certainly continue to grow, with the CCT's sights now set as far as Europe.
And while some might flinch at the lack of creature comforts in a champing church, Chana says the skeptics are missing out on a truly unmatchable experience:
"You really feel like you've taken part in something special - if that doesn't sound too corny! When else would you get to stay in a building that's over 800 years old?"