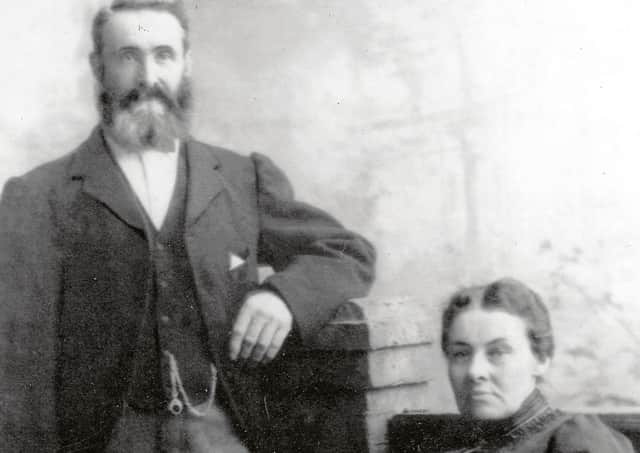 Duncan McCorkindale and his wife Annie Sim
Sylvia Valentine, a PhD student at Dundee University, uncovered the story of a Glaswegian joiner called Duncan McCorkindale, who was imprisoned in 1888 after refusing to have his child vaccinated against the disease – then a criminal offence.
McCorkindale had been fined 10 shillings and ordered to pay £1 legal costs but lacking the means to do so "had to go to prison".
The death of one of his older children a few days after being inoculated was his reason for not complying with the 1863 Scottish Vaccination Act.
Valentine addressed the Scottish Society for the History of Medicine in Glasgow yesterday.
The story of McCorkindale resonates with the present day and ongoing attempts by campaigners to show a controversial anti-vaccination documentary featuring discredited physician Dr Andrew Wakefield.
Last month a planned screening of Vaxxed II: The People's Truth was pulled at the Dunlop Village Hall near Kilmarnock after the board who run the venue uncovered the real reason for the booking.
Valentine retired from full-time work in 2012 and studied for a Master's degree in Family and Local History with the University of Dundee.
Her master's dissertation – The Guardian's Revolt – considers similar events in Keighley, West Yorkshire, where members of the Board of Guardians were jailed for failing to enforce the compulsory vaccination legislation in the 1870s.
She said: "My research has uncovered the forgotten story of opposition to compulsory vaccination in the 19th and early 20th century Scotland.
"Men like Duncan were working men with large families to support. At a time when the working man's weekly wage was a pound or so, fines of 30 shillings would be totally beyond their means, making prison the only option.
"Wealthier middle-class fathers could afford to pay the fines and walk free from the court.
"I also uncovered how the law discriminated against Scotsmen as the conscience clause did not apply in Scotland until 1907, whereas the English could apply for a certificate of exemption from vaccination in 1898.
"The Duke of Hamilton was able to apply for exemption in 1904, as his child was born in England, yet had he been born in at Hamilton Palace, the Duke would have risked prosecution."
Valentine has also researched the profile of the anti-vaccination movement in Scotland. Its members were often labourers, artisans and small shopkeepers involved with spiritualist movements and alternative medicines.
"Many were vegetarians, supporters of the temperance movement and held nonconformist religious beliefs," she writes.
"The Secretary of the Scottish Anti-Vaccination Society was a vegetarian, as were several others, who deemed the use of calf lymph for vaccination unacceptable.
"It is notable that the Dundee Anti-Vaccination Society held meetings at the Vegetarian Café on the city's High Street in the late 1890s."