'Victory over Europe'? How VE Day has been subverted by false patriots – Joyce McMillan
The true meaning of Victory in Europe Day has been betrayed by the UK Government and its allies, writes Joyce McMillan.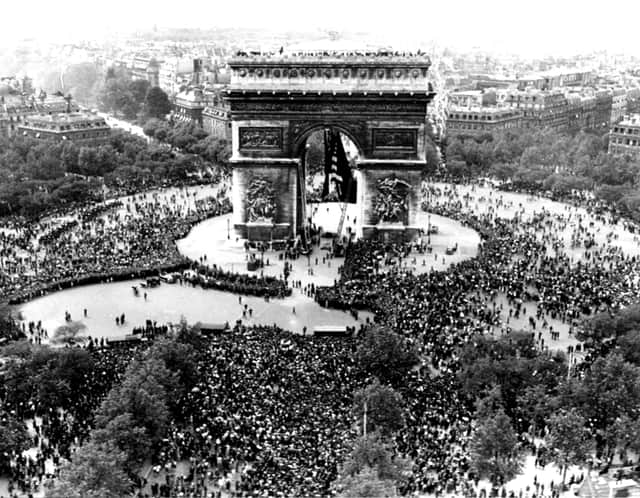 Thousands of people flock to the Arc de Triomphe in Paris to celebrate the Allies' Victory in, not 'over', Europe (Picture: AP)
Seventy-five years is lifetime; not a long one, by 21st century western standards, but well beyond the Biblical threescore and ten. Those who can remember the 8 May 1945 are now all octogenarians, or almost so; and those who were old enough to join the late-night street parties and celebrations that marked the day of allied Victory in Europe are now – like the Queen, who famously took to the streets to celebrate with her sister Margaret – well over 90.
Yet the joyful impact of that event – marking the end of a conflict that had taken more than 70 million lives worldwide, and had once seemed likely to end in victory for Adolf Hitler's horrifying brand of fascism – remains so engraved in British public memory that many who were not there at all still cling to it passionately, as a symbol of a mighty victory of good over evil. My parents, who were in their early 20s on VE Day, remembered it as a moment of huge relief and happiness, but also of some anxiety about what the future might hold, after the huge disruptions of the war years; for them, the real joy came with the thunderous Labour victory in the general election two months later, which gave them real hope of the better future for which they had been fighting.
Yet for many of the next generation who were not there – and who grew up in the golden glow of Britain's post-war self-congratulation, celebrated in a myriad of postwar films and comic stories – the idea of VE Day has become nothing more complex than a celebration of British greatness; and a chance to reaffirm the sense of Britain as a specially virtuous country, and a "blessed plot", compared to the more benighted lands of continental Europe.
All of which goes a surprisingly long way towards explaining the painful situation in which the United Kingdom finds itself, on this 75th anniversary of victory in Europe. As Dr Johnson once observed, patriotism is often the last refuge of scoundrels; and for the last 40 years, since Britain took its first steps away from that postwar legacy, some of the most scoundrelly forces in UK politics have been using the language of patriotism, of Second World War nostalgia, and of unthinking British exceptionalism, to obscure their profound and mounting betrayal of the future for which the majority of the wartime generation hoped – a betrayal cruelly emphasised this week, as the UK's Covid death toll became the highest in Europe, passing the 30,000 mark in government numbers, and more than 50,000, according to a Financial Times estimate.
So here, for those tempted by the British Government's VE Day narrative of British "victory" over the virus, is a reminder of the three key ways in which this pseudo-patriotic Government and its allies have betrayed the true meaning of Britain's Victory in Europe 75 years ago. In the first place, they belittle and narrow the historic meaning of the event by describing it as "Britain's" victory – indeed in one Daily Mail souvenir offer this week it was briefly described as "Britan's victory over Europe" – when in fact it was the victory of the Allies in Europe, and the end of a conflict which finally united most of the world in the struggle against fascism.
In the second place, they regularly weaken and betray the postwar legacy of international institution-building to prevent the return of fascism, and the economic instability that tends to cause it, by treating that institutional framework with ill-deserved disrespect and hostility. In the US, the main target of the new right's hostility is the United Nations, and UN agencies like the WHO, currently one of Donald Trump's favourite scapegoats. In the UK, though, it has been the European Union, subjected to a 20-year campaign of vilification in some sections of the British press, and now still contending with a British Government doggedly determined to end our current economic, legal and trading relationship with the EU at midnight on 31 December, come what may. Of course, Britain's Brexit disaster has far more to do with extreme forms of global deregulation for the wealthy, than with any form of patriotism; but the continuing culture of post-war British exceptionalism among older voters made this dodgy and damaging scheme a tragically easy sell, at least in some quarters.
And then finally, there is the fact that the "patriots" behind this right-wing triumph in British politics – while possibly well-meaning as individuals, and genuinely convinced that they love their country – have never, in the detail of their policies, made the choices that would demonstrate a primary concern for the well-being of the ordinary people of Britain. On the contrary, just as their embrace of Thatcherism in the 1980s showed a brutal disregard for communities across the UK blown apart by the loss of the heavy industries around which they had been built, so their willing and apparently light-hearted support for extreme austerity, in the years after the 2008-9 financial crash, inflicted huge damage on wages and working conditions, physical and mental health, and essential public services, across the UK's most vulnerable communities – a vulnerability and lack of resilience now brutally exposed by the Covid crisis. And finally, faced with that crisis, they toyed for three precious weeks with the idea of "herd immunity" – popular among some of their right-wing associates – instead of locking down early, restoring our testing and tracing capacity to German levels, and saving tens of thousands of British lives.
So today, be assured that I will be waving no flags, at what should be a time of profound national shock and mourning. I will be remembering those who fought and died in the Second World War, in my own moment of respect. And I will be honouring their memory by redoubling whatever efforts I can make to remove the current British Government, and their ilk, out of office for good; and to build a politics, here in Scotland, in these islands and across Europe, that truly reflects the values of decency, democracy, compassion, mutual respect and enlightened internationalism, that once briefly seemed to have triumphed, in that early summer of 1945.
A message from the Editor:
Thank you for reading this article on our website. While I have your attention, I also have an important request to make of you.
With the coronavirus lockdown having a major impact on many of our advertisers - and consequently the revenue we receive - we are more reliant than ever on you taking out a digital subscription.
Subscribe to scotsman.com and enjoy unlimited access to Scottish news and information online and on our app. With a digital subscription, you can read more than 5 articles, see fewer ads, enjoy faster load times, and get access to exclusive newsletters and content. Visit www.scotsman.com/subscriptions now to sign up.
Our journalism costs money and we rely on advertising, print and digital revenues to help to support them. By supporting us, we are able to support you in providing trusted, fact-checked content for this website.
Want to join the conversation? Please or to comment on this article.