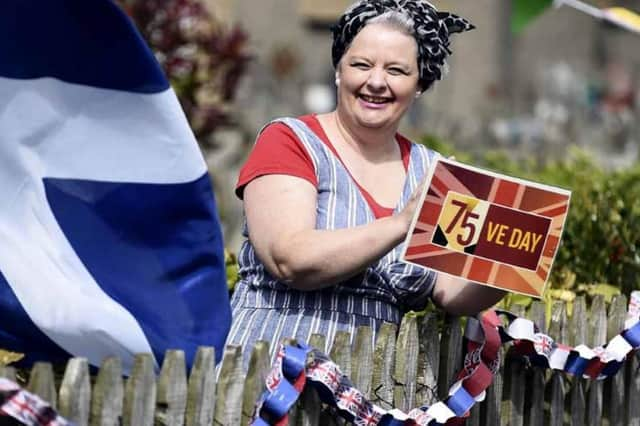 Margaret Ramsay ahead of a community commemoration service in the grounds of Haig Housing in Edinburgh
However, major celebrations to mark the 75th anniversary of Victory in Europe Day in Scotland had to be postponed today due to the Coronavirus pandemic.
In place of face to face events, commemorations are taking place at home and online across the country, while the RAF staged a flypast of Typhoon fighter jets in Edinburgh, as well as in London, Cardiff and Belfast.
A virtual service and concert, wreath-laying and a two-minute silence replaced the original official plans by PoppyScotland and Legion Scotland, which would have seen as many veterans of the Second World War as possible would join the celebrations in Edinburgh.
The Duke and Duchess of Rothesay led the UK-wide VE Day celebrations from their holiday home at Balmoral Castle in Aberdeenshire. The duke, clad in Highland day dress, with his wife, laid a wreath at a memorial near Balmoral and led the 11am silence which took place nationwide.
Rail stations around Scotland, including Waverley in Edinburgh and Glasgow's Central Station came to a standstill as staff observed the silence, standing socially distanced on the concourse, while First Minister Nicola Sturgeon marked the occasion on the steps of St Andrew's House alongside armed forces personnel, Police Scotland chief constable Iain Livingstone and Economy Secretary Fiona Hyslop.
Veterans and members of the public, unable to gather by their local war memorials as normal, quietly reflected in their own homes.
Today marks 75 years since the formal acceptance by the Allies of Nazi Germany's surrender.
Some schools, including Rhu Primary in Argyll and Bute, held virtual VE Day assemblies for their pupils studying from home.
Meanwhile, across Scotland, Royal Navy warships and support vessels of the Royal Fleet Auxiliary at home and deployed around the world blasted their horns for a minute at 3pm to celebrate victory at the same time Prime Minister Winston Churchill declared the end of the war, while at 9.30pm tonight - the time that King George VI made an historic speech - naval ships are set to redirect their searchlights skywards to form 'V for victory' beams for five minutes.
Veterans minister Graeme Dey said plans were going ahead to reschedule the parade, concert and church service planned to mark VE Day in Edinburgh, but added he did not know when that would take place.
He said: "It's a little bit different to what we had intended. That's a matter of deep regret because we had a considerable event in the pipeline, but we are where we are.
"I think it's important that we still find an appropriate way to commemorate VE75 and right at the heart of that is recognising the contribution that these surviving veterans made."