Tribute to Scots photocopier boffin, Theo Williamson
An unsung engineering hero from Edinburgh who was behind the world's first lightweight amplifiers and led the creation of the first colour photocopying machine is to be lauded in a lecture by the head of the UK's professional engineering body.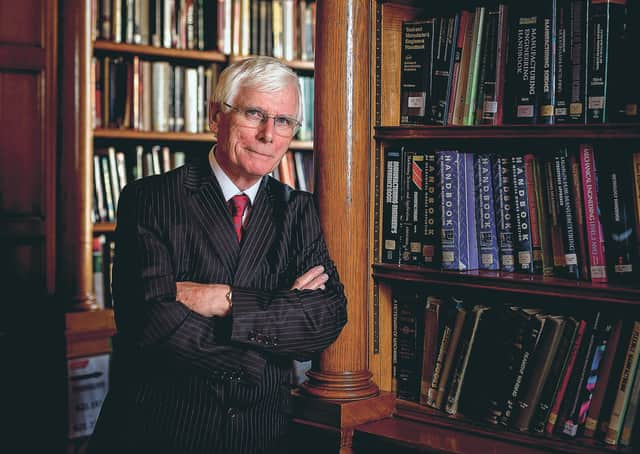 Professor Joe McGeough, President of the Institution of Mechanical Engineering
The talk, at Edinburgh University next month, will see the work of David Theodore "Theo" Nelson Williamson praised by Professor Joe McGeough, president of the Institution of Mechanical Engineers (IMechE) and a former regius professor of engineering.
Williamson, who struggled through life-threatening illness and a range of academic setbacks in the first part of his career, went on to create a precision radar wave tool still used by aerospace firm Leonardo today.
Williamson joined the Ferranti company in Edinburgh in 1946. At Ferranti, he and a small team designed and constructed computer controlled milling machines. These unprecedented innovative machine tools were applied to the precision manufacture of aluminium alloy wave guides for radar. He also worked at Rank Xerox, where he was involved in the creation of the first colour photocopier and the fax machine.
Prof McGough, who was born in Kilwinning and has held the position of president of the IMechE since May last year, said: "Williamson's legacy continues to this day, with world leading manufacturing research in our universities and industries still using his inventions. He remains a prime example to especially young engineers of creativity, how to solve problems for which there is no known solution and the need for perseverance."
He added: "He is an unsung hero of engineering. He was a humble and quiet man but he pioneered some of the most important technology that is still being used today."
In 1940, Williamson began undergraduate general engineering studies at Edinburgh University, and enjoyed lectures on mechanical, civil and electrical engineering. However, he failed a compulsory maths exam four times and was forced to give up his studies.
Although it was wartime, he was declared medically unfit for military service, owing to having suffered from tuberculosis as a child. He was then drafted to the Marconi-Osram Valve firm in London, testing valves.
It was then that in his spare time he devised a sound amplifier with very lightweight pick-up. On publication of an article on his work in 1946, hundreds of thousands of amplifiers were made by amateur enthusiasts all over the world.
Williamson received an honorary doctorate from Heriot-Watt University in 1971 and died in 1992.
Professor Conchúr Ó Brádaigh, head of the school of engineering at the University of Edinburgh, said: "Theo Williamson was one of the 20th century's most important inventors, revolutionising the way people listened to music at home and the engineer of high-quality sound reproduction through his amplifier – known as the Williamson."
The lecture by Prof McGeough, will be given at the university's King's Buildings on Thursday.
Want to join the conversation? Please or to comment on this article.