Time for Uist - slowing down to discover the heart, soul and history of these sublime Scottish islands
Berneray is a place full of surprises, stories and a history and culture that spans far beyond the sublime beauty of this island. Discoveries are both endless and a joy, writes Alison Campsie.
There is a little stretch of Uist – in fact there are many – where all life seems to gather as light rapidly shifts, the wind swirls and the sea swells and sprays.
Here at Sheabie – or Siabaidh – in the south of Berneray, Arctic terns and oyster catchers noisily patrol the machair as they travel on the breeze among these colliding elements. This stretch is now their own, but it is also where, over centuries, people once made their homes here before powerful forces – man-made, natural and temporal – had their way.
Here, close to Berneray's show-stopping three-mile-long beach, not a soul can be seen. But down by the foreshore traces of past lives lived here make their presence deeply felt.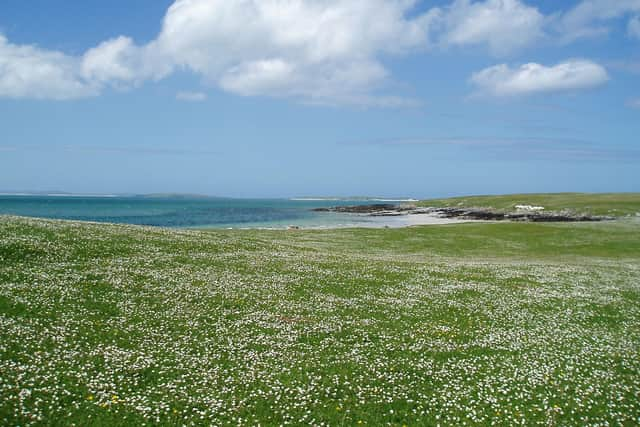 In the late 17th century, residents of Sheabie were forced to flee their homes as a major sand drift blew, submerging their properties. People later returned, the land filling once more with families and work.
Across Berneray in the early part of the 19th century, every acre of this highly-fertile land was cultivated and the flow of seaweed to its shores brought relative prosperity as the demand for kelp from the soap and glass making industry held firm.
By 1854, the settlement was evacuated again in a final eviction forced by the landowner. The move by the factor of Harris, John Robertson MacDonald, followed years of departures driven by hardship caused chiefly by the collapse of the kelp price due to tax reduction on imports and the arrival of potato blight.
Remains of the once-productive settlement, where an estimated 50 people lived, can be seen among the shifting shadows cast by the afternoon sun, when the outline of some 15 buildings come into view. Doorways lie forever open on rooms long emptied.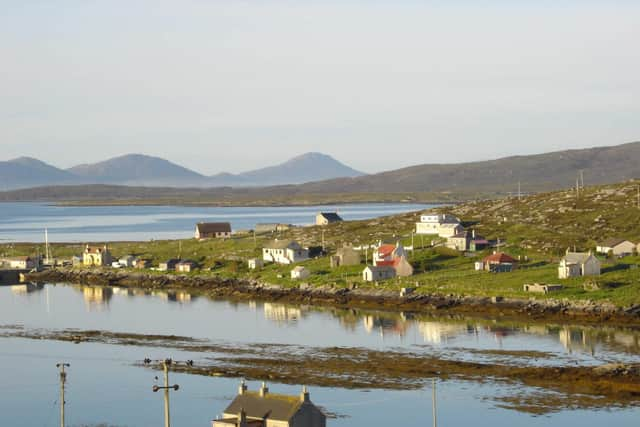 Among those who left was resident Angus MacAskill, who with his family, like many others, headed for Cape Breton. Here, he became famous as a travelling showman after growing to seven feet, nine inches tall with co-appearances with tiny Tom Thumb all the rage with audiences of the day.
Known as the Giant of Nova Scotia, a memorial now stands to him at Sheabie and measures the same height as the man himself. At the excellent Berneray Historical Society, which charts 10,000 years of human habitation of the island in just two little rooms, the door to the kitchen measures 44 inches – exactly the same as Angus's shoulder width.
At the society, the often forced movement of people to and from this part of Uist is superbly documented and an inside knowledge of the island, which has passed down through family records, photographs and oral tradition, is held close.
Here, records show 700 people called Berneray home in 1841 – a time of overcrowding on croft land as evictions elsewhere impacted land here – with the number falling to 410 in just a decade.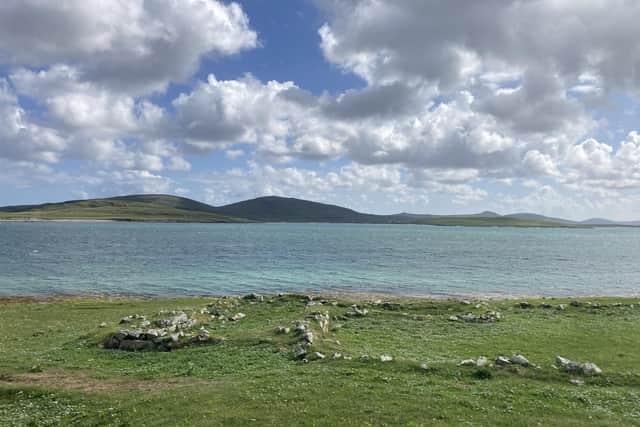 But we also know Berneray was a place of people, power and ritual gathering long before the written record tells us with evidence found, once again, at our feet.
Back over at Sheabie, close to the lost settlement where Angus MacAskill was born, it is likely Viking rulers once gathered to the west of Borve Hill for assemblies and courts. A chairstone, still seen, is said to have been where the deemster – or judge – would sit with an accused facing opposite, with the stones creating a powerful sense of place and time further fuelled with legends of duels and executions.
Later, it is said the Lord of the Isles held their inauguration ceremonies nearby with the Leac an Righ – the flat stone of the King – bearing a footprint on the top where a ruler may have stamped his mark. We can walk deeper into the timeline yet up on Beinn a' Chlaidh – loosely translated as Hill of the Graveyard – where a single standing stone can be found on this elevated site from where the full beauty and position of this island can be seen. This single stone, which likely stood at 16ft tall, formed part of a stone circle used for ritual worship. Now it is tragically missing from the landscape after it was broken up in the 19th century, with the stone used to make new houses at the planned village at Borve.
Today, the population of Berneray sits at 138. There is a nice gentle buzz to the island – linked by causeway at the south to North Uist – where a local might help you get your car out of a ditch without hesitation (true story) and you might be invited in for a cup of tea and a chat thereafter (also true story).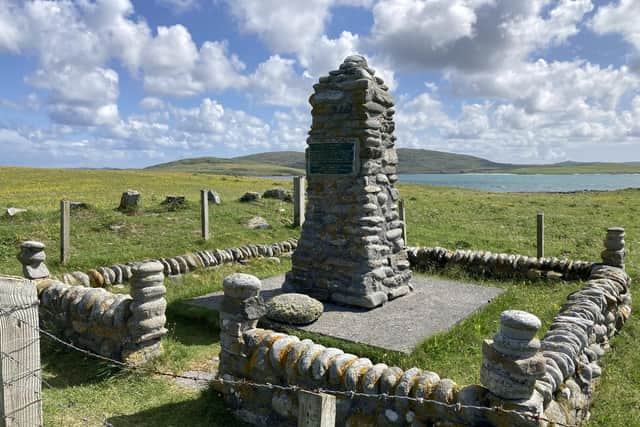 There is also the Coralbox gift shop to enjoy, while the Berneray Shop and Bistro moves at brisk pace with visitors and locals buying up a good range of essentials and fancy bits, including meat, fish, wine, spices, fruit and veg.
Their sit-down lunches and evening meals are in high demand and they also do takeaway fish and chips on some nights. Seal Point at Bays Loch, where the island's colony of Atlantic seals haul themselves up the rocks at high tide, makes a perfect place to eat your supper while lingering on the ebb and flow of people and time, which has helped forge this fascinating place.
Comments
 0 comments
Want to join the conversation? Please or to comment on this article.