The Scottish village powered by wind 120 years ago
Wind energy may be a big part of our power supply today and long into the future, but its story started in Scotland more than 120 years ago.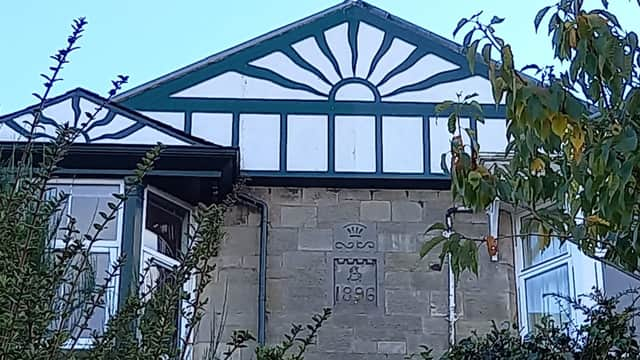 One of Stewart's houses in the village with the distinctive sun ray motif, which reflects the new age of light the builder brought to Wormit. PIC: Michael Devlin.
A pioneering builder with big ideas brought electricity to Wormit in Fife in 1899 using a windmill perched high on a hill overlooking the village, which sits across the River Tay in Fife.
Alexander Stewart was considered bold and innovative and known for eschewing design drawings and mapping out his plans in the ground using the tip of his umbrella.
As Dundee developed and the second Tay Bridge built, Stewart started to eye land or development with plots bought up across the river from the city, with Wormit to develop as a smart commuter village.
Wormit in Fife, which overlooks the River Tay, was developed as a commuter village for Dundee and is said to be the first village in Scotland where houses were lit by electricity. PIC: Ian Morrison/geograph.org.
As part of his vision, he wanted clean, electric artificial light to replace the paraffin and gas lamps of old.
On Wormit Hill in 1899, he commandeered a windmill to power a generator to bring supply into the village through a series of overhead lines.
Any green credentials of the scheme were perhaps undermined, however, when coal was later brought up the hill by pony and used as back up to create steam to power the generator.
William Owen, of Newport History Group, has researched Stewart's development of Wormit, which claims to be the first village in Scotland to be powered by electricity, although Fort Augustus also competes for that title.
Mr Owen described Stewart as a pioneer – "with a brass neck" – who took his first plot in Wormit in 1891 and went on to play a "major role" in the development of the village over the next decade.
He built Hillpark Terrace and Hill Crescent, as well as many other properties in Naughton Road, Birkhill Avenue and Mount Stewart Road.
Stewart also created a rising sun motif for the front of his new houses to reflect this new age of light.
Mr Owen added: "His Tayside Electric Company offered electricity to all his properties, and to others on request.
"Sun rays painted on the front of his houses were a symbol showing they were using this new form of power. Possibly the smaller sun symbol found on other houses on Riverside Road and on Netherlea also advertise the use of electricity."
The gas company in neighouring Newport was owned by the town council, which was desperate to stop Stewart if it could, Mr Owen added.
"Stewart even applied to the Board of Trade to provide electricity to Newport," he said.
Electricity was provided at a flat rate of 10/- per quarter per house or by how many rooms were in the house.
He said: "By 1905 the electrical system had expanded and required more powerful generators. Stewart actually offered to sell out to the Town Council but they refused. Instead, he replaced the windmill on the hilltop with a gas suction engine in buildings on the main road.
"Expansion was then even more rapid. He was now able to provide power for cooking as well as light."
Stewart, who who was originally from Kinloch Rannoch, died in 1914. He was 69, according to reports.
A newspaper obituary at the time said: "Wormit has lost one of its most prominent citizens, and a gentleman whom many regarded as its founder. "
A message from the Editor:
Thank you for reading this article. We're more reliant on your support than ever as the shift in consumer habits brought about by Coronavirus impacts our advertisers.
If you haven't already, please consider supporting our trusted, fact-checked journalism by taking out a digital subscription.
Want to join the conversation? Please or to comment on this article.