The Scottish town owed £100,000 by the Jacobites in a 275-year-old debt
A Scottish town is still owed £100,000 by the Jacobites in a debt that has remained unpaid for 275 years.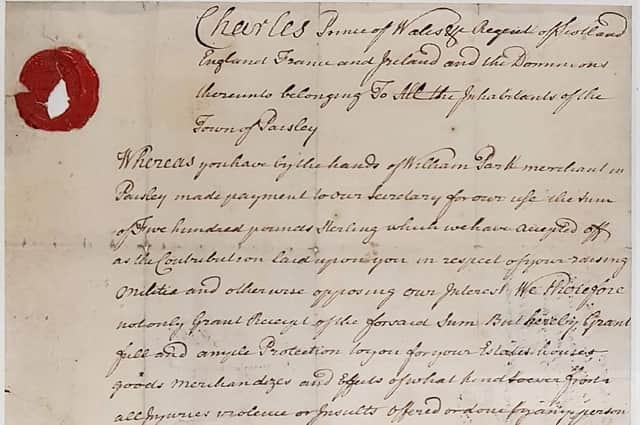 Paisley in Renfrewshire was fined £500 – or £119,000 at today's value – by the Jacobites after the town raised a militia to fight the rebels.
The Jacobites stormed the town on December 29, 1745 with two Paisley leaders then taken hostage under threat of execution unless the cash was paid.
Glasgow and Dumfries were also issued with penalties but were paid back following later legal actions.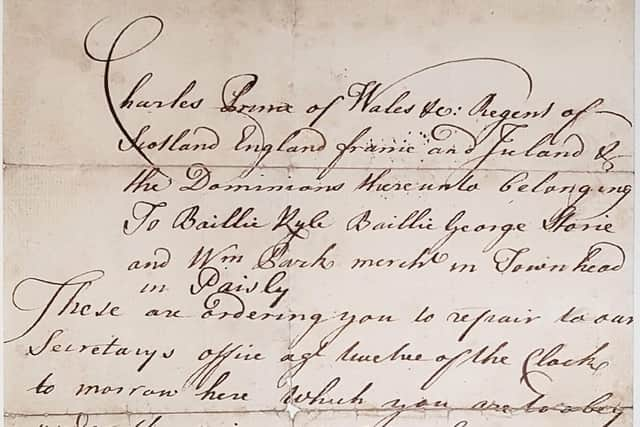 The town launched a bid in the Court of Session but it proved unsuccesful given that Sir John Broughton, secretary to Bonnie Prince Charlie whose name appeared on the Paisley summons – and the receipt issued on payment of the money – won protection from State in the aftermath of the campaign.
Archie Henderson, social history researcher at Paisley Museum, said the town should try again to recoup the funds.
He said: "It was a lot of money then and it's a lot of more now and it definitely could be put to good use in Paisley today."
Paisley raised around 210 volunteers to defend itself against the Jacobites as its textile industry flourished and the middle classes grew.
Mr Henderson said: "Paisley, like Glasgow, was doing quite well for itself since the Union of Parliament so people there were not keen on the idea of a Stuart restoration. Also, like much of the western lowlands, Paisley was quite staunchly Presbyterian and there was clear oppositon to Episcopalianism."
The Jacobites were based in Glasgow over Christmas 1745 after their retreat from Derby and their march to London with the time spent raising money and provisions – including horses and hay – to bolster their campaign.
With intelligence received that the Jacobite Army was due to arrive in Paisley, citizens rushed to make their last wills and testaments, according to an account.
Between 150 and 200 Jacobites marched through the town on their way to raid Blackston House, home of British Army officer Alexander Napier.
A summons was left at the home of a town leader, demanding meat and drink be sent for the raiding party, with further orders that two other town baillies attend a meeting in Glasgow that Monday.
There, they met Broughton and learned of a £1,000 fine to be levied against the town, with the two men then taken hostage.
Meanwhile, Paisley leaders, who managed to talk down the fine to £500, hurriedly set about trying to find the money with the two men released on payment.
In 1753, the town raised a Court of Session claim against Broughton but he won the case, claiming he did not personally sign the documents.
He also won protection after giving evidence in a key Jacobite trial and was further pardoned by the Act of Indemnity.
Paisley appealed to the House of Lords in 1760 and then to Lords of Treasury given the town's loyalty to the British Government.
In 1980, former Labour MP Allen Adams wrote to George Younger, Secretary for State of Scotland, asking for the money to be returned.
The summons and receipt is held by Paisley Museum and will go on show when it reopens following a £42m redevelopment.
A message from the Editor:
Thank you for reading this article. We're more reliant on your support than ever as the shift in consumer habits brought about by Coronavirus impacts our advertisers.
If you haven't already, please consider supporting our trusted, fact-checked journalism by taking out a digital subscription.
Comments
 0 comments
Want to join the conversation? Please or to comment on this article.