The Jacobites: 'Don't let romanticism obscure the threat they posed'
The romanticism of Jacobites should not obscure the threat they posed to the British Army in the years following the Battle of Culloden, a leading historian has said.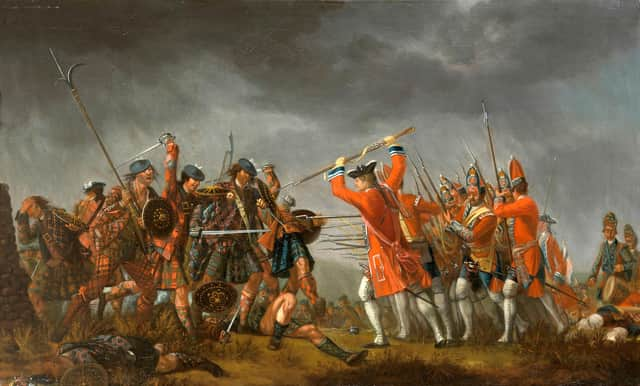 Professor Murray Pittock, Pro Vice Principal at Glasgow University, said that Jacobites had to be contained "so extensively, and so completely" after the battle in April 1746 with some 12,000 British Army soldiers remaining in Scotland – around 25 per cent of the regular army's strength at the time.
They soldiers were stationed in 400 cantonment camps – from forts to staging posts – from Lerwick to the Western Isles and from Aberdeen to Gretna, with 60 patrols remaining in Scotland a decade after the battle.
Professor Pittock, in an online lecture hosted by History Scotland magazine, said: "Although Jacobitism became romanticised, that romanticism should not be obscured by its reality.
"It's reality was that it had to be contained so extensively in such a prolonged way and so completely."
He added: "Although the Jacobites became romanticised the romanticisation was itself a reaction to the seriousness of the threat it was seen as posing at the time.
"Romanticism kept the Jacobites alive but it also kept it at a safe distance."
Prof Pittock noted that around 1,000 Jacobites died at Culloden with another 2,000 killed in the days that followed given the army's 'licence to kill' supporters of the cause.
By the end of April, British Army soldiers were occupying towns and villages in all corners of the country.
Soldiers were paid 16 guineas for the capture of Jacobite colours and 2s and 6d for every Jacobite musket or broadsword seized, Prof Pittock said.
He added that Cumberland and his commanders rotated their soldiers every three months in order to prevent connections being forged with local people.
Their longer term role was to police 'Highland dress', protect the collection of taxes and "overawe the local population".
But residents chose not to help the soldiers in some cases with a report from Glen Dessary noting that 'the people are unwilling to part with any provisions' for the forces.
Desertions were not uncommon, with two deserters from Pulteney's Regiment sentenced to death. However, it was decided that one should be spared, with a roll of a dice determining who should live, research by Prof Pittock found.
He pointed to the building of Fort George at Arderseir, which served as a British Army garrison from 1757, which cost around £2m to build at a time when Britain was heading into the Seven Years War while servicing a massive national debt.
"What that should tell us that whatever people might think about the Jacobite cause being romanticised, or it being wrong, it was not what their enemies thought at the time," Prof Pittock added.
"That is extremely important. You cannot understand Jacobitism by looking down the wrong end of a telescope," he said.
Details of the British Army occupation of Scotland following Culloden have also been brought to light by the Stennis Historical Society, which has researched and digitised hundreds of records of cantonment camps set up across the country post-Culloden.
A message from the Editor:
Thank you for reading this article. We're more reliant on your support than ever as the shift in consumer habits brought about by Coronavirus impacts our advertisers.
If you haven't already, please consider supporting our trusted, fact-checked journalism by taking out a digital subscription.
Comments
 0 comments
Want to join the conversation? Please or to comment on this article.