The eerie abandoned sugar plantation and its 'maniacal' Scots slave owner
The tomb was found hidden under the deep jungle that now covers part of the sugar plantation where he once made his grim riches. Normally, only bats visit here.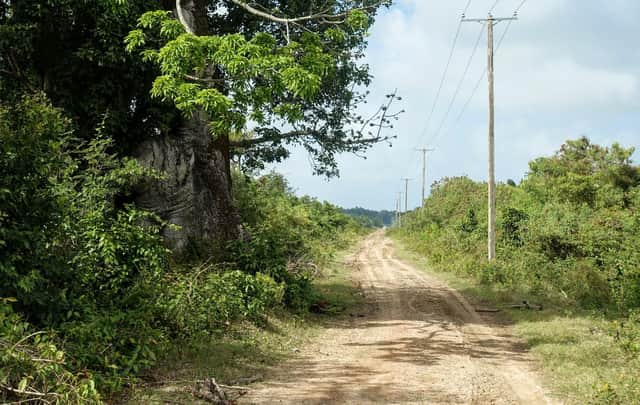 The road into the abandoned Waterloo sugar plantation in Suriname, South America, once owned by Fife doctor Sir James Balfour - a 'strange man' of great wealth who owned some 700 slaves.
The final resting place of Dr James Balfour, a 'maniacal' man from Fife who owned at least 700 slaves, has recently been uncovered in Suriname, South America, by Dr David Alston and Michael Hopcroft, two independent researchers into Scotland's role in slavery.
The pair have recently travelled to Suriname and Guyana to piece together the lives of the Scots who settled in these "forgotten pieces of Empire".
On their travels, they visited the abandoned Waterloo plantation on the coast of Suriname that was once owned by Dr Balfour. Once, a female slave was shot here by his brother, who was forced back to Fife in disgrace.
The tomb of Sir James Balfour rediscovered in the deep jungle that now covers his former sugar plantation.
The researchers described the 'eerie' atmosphere at the silent plantation once owned by the Fifer, who was recalled in one account as a "strange man who had boundless wealth and always wanted more".
Mr Hopcroft, of Lochwinnoch, Renfrewshire, said: "James Balfour has been described as a strange man and I think what he represents is a type of maniacal type of slave owner who has gone crazy with the power.
"A lot of the stories are about him being as being someone obsessed with the control that he exerts over his slaves."
Researcher Michael Hopcroft at the tomb which was tended by Sir James' slaves after his death.
Suriname was occupied by the British in the late 18th Century before being handed back to the Dutch and up to half of the plantations are believed to have been owned by Scots at one time.
Place names such as Inverness, Belladrum, Moy and Novar indicate those who left their mark in Suriname alongside Dr Balfour, whose parents came from the parish of Dalgety.
Sir James continued to acquire his plantation wealth long after British citizens were banned from owning slaves in 1833 with his business activities seemingly going unchecked until his death in 1841. He is likely to have been on of Scotland's last slave owners.
Michael Hopcroft inspects the equipment once used at the plantation's sugar factory.
Even after death, Sir James' embalmed body was tended to by the slaves, who were forced to walk past his tomb on the way to the sugar fields. Up until 1970, the tomb was opened up and cleaned, with Sir James' face on show.
Mr Hopcroft, creator of the westindies.scot website and Dr Alston re-discovered the tomb, which was found behind the old plantation manager's house, using old records and maps.
Mr Hopcroft said: "It is quite rare to find something that gives you a direct connection back to that era. It gives us a concrete aspect to the story but there is also another important aspect. This is the tomb of a very unpleasant slave owner. It is not something to be celebrated."
The pair also found the remains of the old sugar factory. It was finally abandoned in the 1960s and was redeveloped on the site of the original plant.
Some of the heavy machinery at the sugar plantation, which was made in Glasgow in 1912.
Intriguingly, machinery forged in Glasgow and bricks fired in Motherwell could be spotted among the remains.
Mr Hopcroft said: "It was a fascinating trip and we were glad that we were able to find the ruins of the sugar factory.
"It is is difficult to go back directly back to that time and it is quite evocative for us to see these echoes of history coming through.
"A lot of the machinery was made in Glasgow. That is another interesting aspect - the continued relationship between Scotland and Suriname that goes beyond the slavery years."
One piece of abandoned heavy machinery in the sugar factory was dated to 1912 and stamped with the mark for a Glasgow ironworks, Mr Hopcroft said.
Although this was made long after the Dutch abolished slavery in Suriname in 1863, Mr Hopcroft said there were other plantation records which show equipment from Glasgow made around 1860, when slavery was still in force.
He added: "A lot of historians are interested in how much slavery contributed to the development and economy of Scotland. You have that in a microcosm on these estates.
"Slavery was made illegal in Suriname in the 1860s, around 30 years later than the West Indies, but the direct profiting from slavery continued."
Dr Alston, of Inverness, said Dr Balfour lived at his Waterloo plantation with Herriet Fine Beek, his daughter by one of his slaves, who remained a slave herself until manumitted at Balfour's death.
Then, the majority of his property was inherited by his nephew, James Kirke, who went on to build a vast mansion, Greenmount House, in Burntisland, which has now been demolished.
One of the family's slaves was brought to Scotland to work as a nursemaid, Dr Alston added.
Dr Alston said: "Before we went, we knew a lot about the Scots slave owners in Suriname and Guyana in our heads but there is a saying that every historian needs a good pair of boots. There is something really important about being out on the ground. You get to experience what you know in a completely different way."