The baby goats in knitted coats that signal the rebirth of Scottish cashmere
A new generation of homegrown Scottish cashmere goats is growing day by day on an Angus farm this early Spring.
Lunan Bay Farm near Inverkeilor in Angus is producing cashmere in Scotland for the first time in 30 years with around 60 cashmere goats due to be born this spring, with roughly the same number bred for meat. During their early days, the kids are dressed in little wool coats knitted by a legion of admiring knitters.
It is the second season that cashmere goats born at Lunan Bay will produce yarn which is then spun in Scotland, with the wool already catching the eye of Los Angeles based designer, The Elder Statesmen, who came to Lunan Bay for a photoshoot in the beach dunes and whose $200 socks woven in the yarn have already sold out.
Dr Jillian McEwan, who co-owns Lunan Bay Farm with her husband Neil, said: "A lot of people don't realise that Scottish Cashmere isn't homegrown here and part of what we are trying to do is revive that.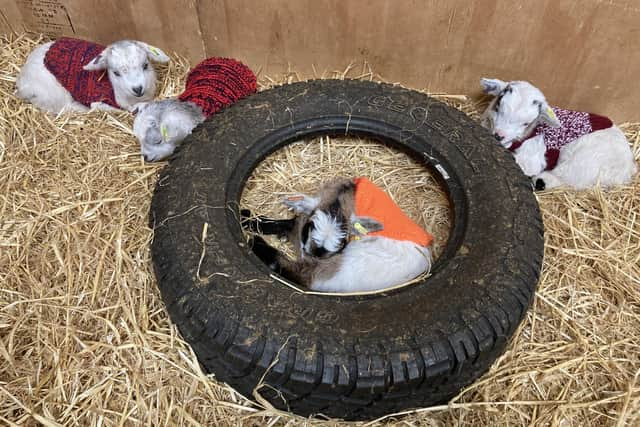 " We have a herd of pure cashmeres that we gently brush every spring when they are naturally casting. The cashmere is their undercoat that grows over the winter time. We have been bowled over by the appetite for natural fibres, for looking at more sustainable textiles, people moving away from fast fashion and looking for something more ethical and really wanting to know where the textiles come from."
Dr McEwan and her husband, whose family has farmed for five generations, started building their goat herd as they moved into regenerative farming, which enhances the eco system by improving soil conditions, increasing biodiversity and cutting down interventions in the land.
The goats help fertilise the soil while clearing it of invasive plants with both nutrient-rich meat and cashmere also produced. Their compact size makes them easier to handle than cattle. The goats reared at Lunan Bay for meat have long found its way onto menus of restaurants such as Andrew Fairlie Restaurant Gleneagles, The Peat Inn at Cupar and Fhior in Edinburgh.
On the coats for goats, Dr McEwan added: "You would think why do coats need goats when they have a cosy layer of cashmere but this started around eight years ago, My mum used to knit these goat coats just for the odd triplets to keep them and give them an extra bit of warmth.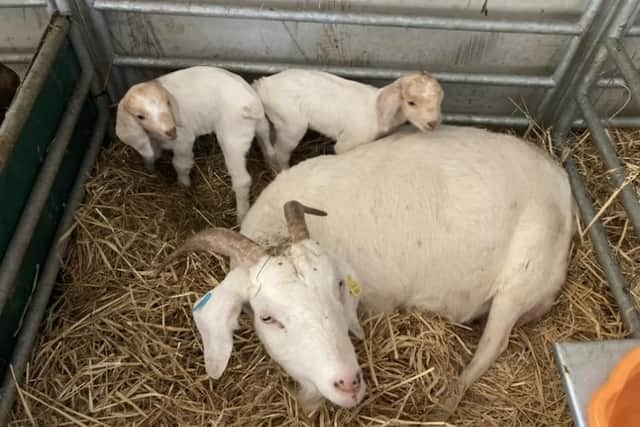 "Last year we put out a request for local knitters to knit these goat coats, just for a bit of fun really in the run up to kidding season. We have been absolutely inundated with coats from all over the UK and now have around 350."
The cashmere goats are direct descendants of those born under the stewardship of Scottish Cashmere Producers Society, a project set up in the 1990s and funded by the Scottish Government. Cashmere, however, did not take off as hoped given the subsidies paid to rear sheep.
Each cashmere goat produces around 250 grammes a year. By comparison, a sheep will produce between 1kg and 3kg of fibre.
Lunan Bay Farm is not open to the public but a series of open days is planned for the summer, once the kidding season is finished.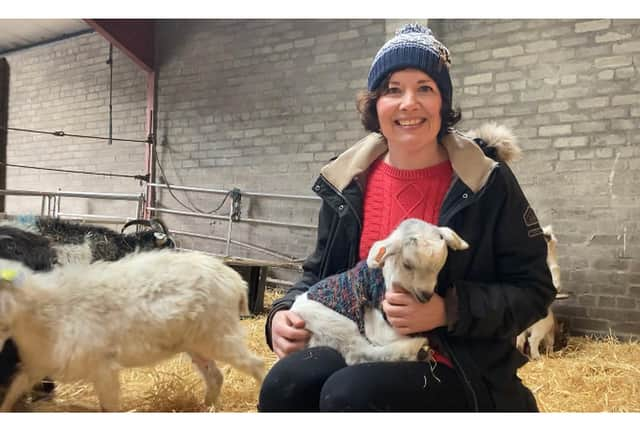 Stockperson Maddie Cairnie, 20, said kidding was a "very exciting experience."
She added: "It is something you never really get over is when they are born. Every birth feels like it is the first one that you have ever experienced. You get a huge rush of adrenaline, but the mums are so good at getting up and getting on with it and cleaning the babies off. We hardly ever have any issue. They all naturally want to be great mums."