The ancient Orkney site where Picts and Vikings settled now under threat from pandemic
Archaeologists fear that a 5,500-year-old site in the far north which was later occupied by the Picts and Vikings won't survive the Covid era.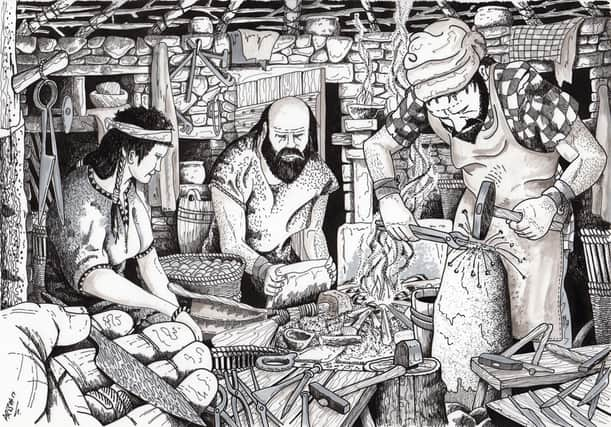 The pandemic has stopped the race to save archaelogical remains at Knowe of Swandro on the island of Rousay, Orkney, which are being eaten away by rising tides and storm surges.
The site holds a timeline of thousands of years of history and houses a 5,500-year-old Neolithic burial chamber, the remains of a large and unusual high-status Iron Age roundhouse, Pictish dwellings, a smithy, and a grand Norse Hall.
The coastal site has long been damaged by rising tides and coastal erosion and now archaeologists are "keeping their fingers crossed" that it will still be there when they return to Rousay once the health emergency abates.
Dr Julie Bond and Dr Stephen Dockrill, of Bradford University, have retrieved material from Swandro for the past 10 years but with last year's excavation cancelled due to the pandemic and next summer's dig in doubt, there are now real concerns over what will be left when they return.
Dr Dockrill said: "Every year we are getting big erosion events with storm surges coming into the site and taking material away. The other thing is that the daily tide is coming in and out and every time archaeological material is going into solution.
"By not being there, we will have lost a lot of material on the seaward side."
Areas of the site are being left prone to collapse as the fine sediments which stabilise structures are washed away.
And as organic material disappears, so does the chance to analyse deposits lefts at the site, such as grains and charred plant remains, which hold the key to radio arbon dating.
A priority is the rescue excavation of the chambered tomb, which is likely to hold Neolithic burial remains, which sits under an unsual Iron Age roundhouse .
The archaeologists said the site offered an "important opportunity" to totally excavate a Neolithic chambered tomb using modern scientific techniques, a first for Orkney.
The large roundhouse, which has now been dated to 800 to 400BC, is also of particular interest given it is up 700 years older than similar buildings.
Dr Dockrill said: "The roundhouse is showing up a very different sequence to what we're seeing elsewhere and it would significantly add to our understanding of the Iron Age."
Here evidence of high-status living has been found, with advanced metal working – including the making of large blades – feasting and wine drinking thought to have taken place.
It's importance continued into the Norse period when it featured in the Orkneyinga Saga as the site of Earl Paul's kidnapping by the notorious Viking Sveinn Ásleifarson.
The archaeologists usually welcome a large, international team of students to assist with the excavations at Swandro with a collective of multi-disciplinary experts lined up to work on the site.
Dr Bond said the situation was "frustrating" but that safety of the team and of the island took absolute priority .
She said: "The other side of it is we have to keep all these people safe. The last thing we want is to go and take Covid onto the island."
A message from the Editor:
Thank you for reading this article. We're more reliant on your support than ever as the shift in consumer habits brought about by Coronavirus impacts our advertisers.
If you haven't already, please consider supporting our trusted, fact-checked journalism by taking out a digital subscription.
Comments
 0 comments
Want to join the conversation? Please or to comment on this article.