The ancient burning ritual which lit up a Scottish glen in 'staggering' style 5,500 years ago
The burning of almost 400 oak trees in a grand ceremony in Argyll 5,500 years ago has inspired a new artwork which will rise in one of Scotland's richest prehistoric landscapes.
An ancient fire ceremony that lit up Argyll more than 5,500 years ago in a "staggering" show of people, place and worship is being retold for the modern age.
The burning of the Neolithic cursus monument in Kilmartin Glen, which was made up of around 375 oak posts set in a U-shape measuring some 400-metres long, has been reimagined by Argyll artist Lizzie Rose.
Archaeologists excavated the remains of the cursus monument around 20 years ago with the finds telling a story of a huge collective gathering to chop down the trees, set them in the ground and then watch them burn in a ceremony which may have been aligned to a celestial event.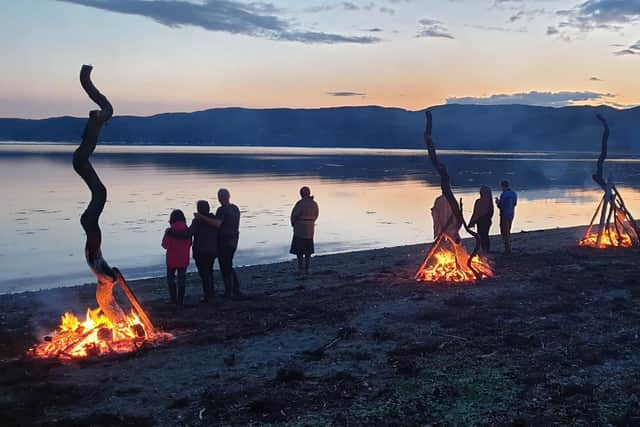 Ms Rose has used its destruction to reflect on the need for shared action against climate change. Almost 400 oak tree seedlings will be planted near the original site of the cursus to create a "living monument" as part of her Carbon Legacy artwork commissioned for the reopening of the Kilmartin Museum near Lochgilphead on Sunday following its £7m refurbishment.
Dr Sharon Webb, director of Kilmartin Museum, said: "The cursus monument is the earliest monument in the glen and people would have felled these trees to create this monument. It was spectacular and it was enormous.
"The cursus monument sat in two parallel lines of posts with a U-shaped terminus and we think it would have been used as a place of worship, possibly including a processional route. It might have had solar or lunar alignments.
"Communities are building similar structures across Britain and Ireland and I think they are connecting the earths and the heavens, the natural world and the human world in ways that they had never done before.
"People weren't building monuments before. This is something new and different.
"Not long after it was built it was deliberately set on fire. If that was done at night it would have been absolutely spectacular, it would have been a ritual that was seen for miles and miles and miles.
"What Lizzie has done is bring the Prehistoric Kilmartin story right slap bang into the present and also into the future. What future did the Neolithic people think they were making when they chopped down those oak trees? What impact are we having on the landscape now. Archaeology is relevant in that it helps us to understand our place in the world and how we might go forward as a species as well. "
Ms Rose, as part of her work, created a 400 metres-long line of bonfires on a nearby shoreline to create charred posts which will form part of the exhibition on show in the museum.
She said: "I have become intrigued by this monument with reference to how humans have impacted their surroundings both prehistorically and how this affects us today. The burnt wood and charcoal remains immediately made me think of carbon and how important this is to us today. The communal effort involved in creating a monument of such scale resonates with our current need to work collectively to bring about change."
Comments
 0 comments
Want to join the conversation? Please or to comment on this article.