St Andrew's Day 2020: who is Scotland's patron saint, how do Scots celebrate him - and is it a bank holiday?
Google is celebrating Saint Andrew with a Doodle created by illustrator Peter Lubach
While this year's St Andrew's Day will be a little different due to the coronavirus pandemic, normally the day is celebrated across Scotland with dancing, bagpipes, traditional haggis dinners and Catholic mass in churches across the country.
Despite coming from Galilee, Scotland's patron saint has been incorporated into every symbol of Scottish-ness - from our national flag to our oldest university.
Google has even paid its respects to Saint Andrew with a Doodle designed by artist Peter Lubach.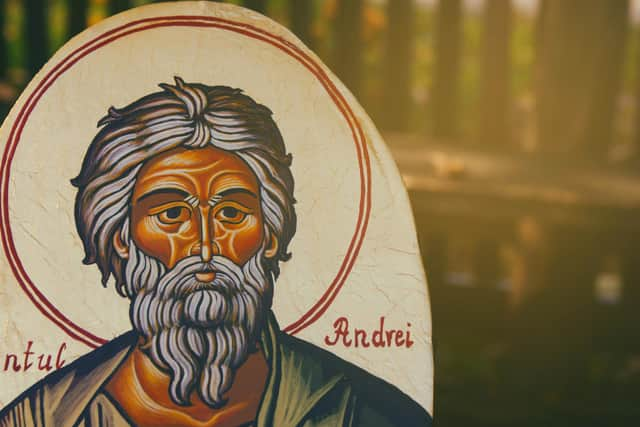 So who was he and what did he do? Here is everything you need to know about the patron saint of Scotland.
What does Peter Lubach's Google Doodle represent?
Lubach was raised in Scotland and has paid homage to the patron saint of Scotland with a cartoonish version of several Scottish symbols.
According to Google Doodle the 'G' represents the Rampant Lion and the second 'O' is the national flower, the thistle.
The second 'G' is the native Scottish wildcat, the only remaining native cat species in the UK.
The 'L' is a castle flying the saltire, which represents the Scottish historic castles and St Andrew's flag and the 'E' is a golden eagle, symbolising Scotland's famous natural landscape.
A fisherman from Galilee, Israel, Andrew was one of Jesus' twelve apostles, according to the Bible's New Testament.
He was called by Jesus to be one of his 'fishers of men' and gave up his life as a fisherman to follow Jesus and preach about his work.
He is mentioned several times in the presence of Jesus in the new testament and is considered one of the most important disciples of Christ, along with his brother, Saint Peter (Simon Peter).
Saint Andrew was at the Last Supper and also on the Mount of Olives where he asked Jesus about the signs of Jesus' return at the "end of the age".
It is thought he then devoted the rest of his life to travelling on his boat, preaching in various countries about the work of Jesus.
He was killed by the Romans in 60 AD, for preaching about Jesus.
It is widely believed that he refused to be executed on the same shape of cross as Jesus as he did not feel worthy and was instead he was put to death on a diagonal cross, which is now used in the Scottish flag (the Saltire).
Why is he the patron saint of Scotland?
Relics of Saint Andrew were thought to have been brought to Scotland by Saint Regulus, a Patras monk, to the place now recognised as Saint Andrews, Fife.
It is said that Regulus received a message from God in his dreams, telling him to take some of Andrew's remains to 'the end of the earth' and wherever he was shipwrecked he would bury them.
Regulus was stranded on the coast of Fife with the kneecap, an upper arm bone, three fingers and a tooth of Saint Andrew, but they are not there today.
The patronage of St Andrew then took place when Oengus II (King Angus) - a Scottish king of the picts in 832 AD - prayed to Saint Andrew to help his men succeed in battle and in return, he would make him the patron saint.
Legend has it that on the morning of the battle, the saltire appeared in a cloud formation about the battle ground and, despite being outnumbered in men, the Picts won.
Angus believed this was due to Saint Andrew's divine intervention and honoured his pre-battle pledge.
The Scottish flag - a white saltire on a royal blue background - is thought to symbolise the shape of Saint Andrew's diagonal crucifix in white clouds against the sky.
In the Declaration of Arbroath in 1320, Scottish noblemen wrote to the Pope to ask for Scottish independence from England - claiming conversion back to christianity through Saint Andrew.
He became the official patron saint of Scotland that year.
Andrew was never in Scotland while alive, however his remains were brought to Fife and subsequently laid to rest in several tombs around Europe. Most of the relics were put in a tomb inside the Duomo di Sant'Andrea, a cathedral in Amalfi, Italy.
Some of his remains were taken to the Vatican City but returned to Greece in 1964 where they were laid to rest in the Patras Basilica of Saint Andrew.
In his life, Saint Andrew is believed to have travelled along the Black Sea, to countries now identified as parts of Ukraine, Russia and Romania.
How does Scotland celebrate him?
Scotland not only has the Saltire as its flag and several places of worship named after our patron saint, but the people also celebrate the life and actions of Saint Andrew on his annual feast day, 30 November.
Many Scots spend the evening of Saint Andrew's Day celebrating at ceilidhs.
Churches across the country usually also host mass to celebrate.
Although there will be a lack of parties this year due to the pandemic, you can still celebrate by dressing in tartan and having a traditional Scottish dinner. Why not try Cullen Skink, as homage to the fisherman.
Is he the patron saint of anywhere else?
Yes, due to preaching in Scythia - now Romania and Bulgaria - and other shores along the Black Sea, Saint Andrew is also patron saint of Romania, Russia, Ukraine and Poland.
He is also the patron saint of Greece, where he was crucified.
Is 30 November a bank holiday?
In 2006, the feast day of Saint Andrew was acknowledged as a bank holiday by the Scottish parliament.
However, people are still inclined to work and employers do not need to give workers the day off. Banks also do not need to close.