Solar power pioneer to sink £4m into rewilding Scotland after company sale
A former scientific director at Greenpeace is to sink around £4m into rewilding and climate change projects in Scotland after selling his global solar energy business.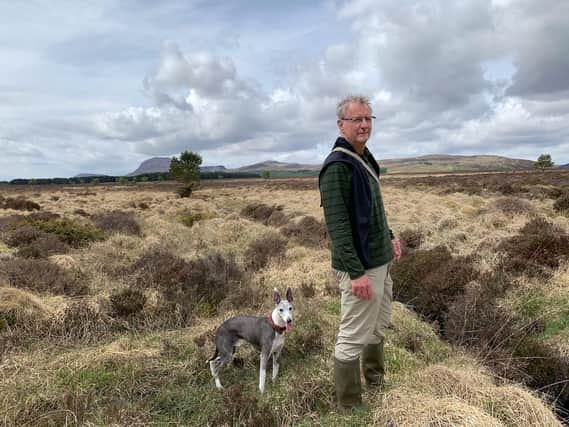 Jeremy Leggett has sold Solarcentury to the Norwegian state renewables firm Statkraft and will invest around 50 per cent of his share value into projects that drive down carbon emissions, increase biodiversity and create jobs and opportunities in Scotland's rural communities.
Mr Leggett said he hoped the investment would ultimately tee up "tens of millions of pounds" for such projects in Scotland with talks ongoing with a number of 'compadres' who share his vision for a new era in land management and "natural-based solutions" to fight climate change.
Mr Leggett said: "I believe that Scotland has a great chance to be an enduring leader in fighting climate chaos while fashioning a better economy, including building back better after the Covid crisis."
Earlier this year, Mr Leggett purchased the 500-hectare Bunloit Estate at Loch Ness and is set to reverse generations of land management practices by restoring peatlands and returning large areas of commercial forestry to mixed woodlands in a bid to lock up carbon while supporting new job opportunities on the land.
A 'world class open laboratory" will also be created with discussions ongoing with Edinburgh University to develop new qualifications in climate change science.
Following the company sale, he will invest further into his 'Bunloit Wildland' project and Inverness timber-building manufacturer Makar, which will use Douglas Fir from the the estate for affordable carbon-neutral homes, with a number to be built on his land for local people.
A fund will also be set up to develop "other Bunloit-type projects, both in the Highlands and elsewhere," Mr Leggett added.
He said: "We now know we can't win on climate without removing carbon dioxide from the atmosphere on an enormous scale. Bunloit-type projects hold the potential to do that, by measurably increasing the extent to which the gas is sequestered in woodlands, peatlands, pastures, soils and also to some extent in wooden buildings powered by renewable energy on a micro scale.
"We are only going to maintain social coherence if we can provide good jobs for people, plus affordable housing and functional self-helping communities on all scales, at the same time we fight the climate- and biodiversity crises."
One idea being pursued at Bunloit is the creation of a small school for master furniture building with an intake of about 20 students a year, most of which will be reserved for local people. Bunloit wood would be the material of choice.
"People will have jobs other than in tourism, vital as that is. They will increasingly be able to work exactly where they live, and in ways that improve the health of both ecosystems and economies," Mr Leggett added.
He said he hoped his Bunloit vision would inspire others, including those "who use estates in much less nature-friendly ways".
Mr Leggett moved to Bunloit just before lockdown this Spring and said he was "loving" his new home.
"The local population has been welcoming, without exception so far, whilst in many cases not hesitating to educate me in a direct manner about things of which I know little as yet. That is what I need, if this project is to have integrity, and succeed," he added.
Thank you for reading this article. We're more reliant on your support than ever as the shift in consumer habits brought about by Coronavirus impacts our advertisers.
If you haven't already, please consider supporting our trusted, fact-checked journalism by taking out a digital subscription.