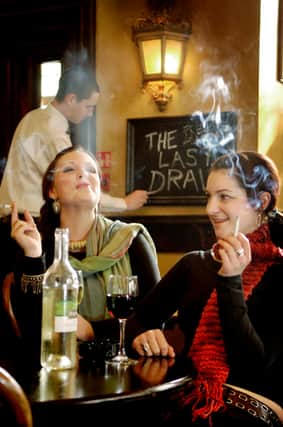 The new laws, brought in on March 26 2006 when around a quarter of Scottish adults smoked, was brought in to protect people from second-hand smoke in enclosed places.
It came at a time when an estimated 865 people who had never smoked in their life died each year in Scotland from diseases linked to the habits of others.
As the law arrived, many feared that a night in the pub would never be the same again with the natural marriage of drink and a cigarette annulled.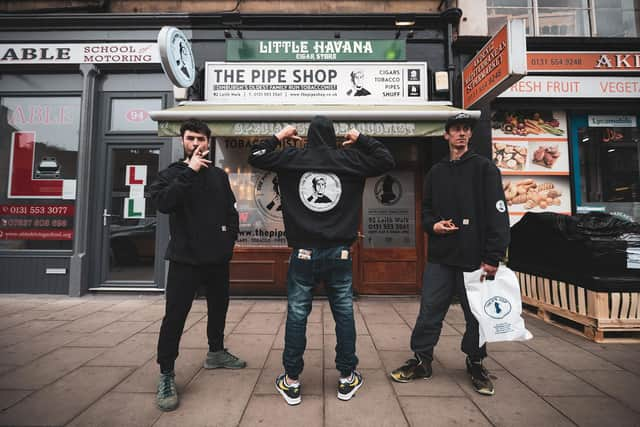 Norry Wilson, 55, a writer and researcher of Glasgow, who has smoked regularly since the age of 12, remembered the run up to the ban.
He said: "The smokers amongst us thought it would never work, that it was ridiculous. And then there were the smoking anarchists who thought they would just keep smoking as 'they couldn't arrest us all'.
"I remember in the weeks that followed the ban, you'd be in the pub and you would go to light up, because it was just such an automatic thing to do.
"And one of the first things you noticed after the ban came in was how stinking pubs and clubs actually were. You could smell the toilets, the sticky carpets, people's body odour. The smell of the stale smoke just covered so much."
In the year following the ban, the number of those going into hospital with conditions heightened by smoking dropped. There was a 17 per cent reduction in heart attacks and an 18 per cent fall in childhood asthma cases.
Saliva tests of the population today show that 80% of non-smoking adults in Scotland now show no sign of breathing second-hand smoke compared to about 16% before the smoke-free laws.
Scotland followed Ireland on a smoking ban and brought in the legislation around a year before England.
Pubs were at the forefront of the campaign to keep people's choice to smoke. A pub in Glasgow, the Maltman on Renfield Street, had long trialled a smokers bar alongside two smoke-free spaces.
Paul Waterson, of the Scottish Licensed Trade Association, said: "We were told that, after the ban, there would be an influx of new customers. We said at the time that was nonsense, and it was true.
"At that time, 80 per cent of people who frequented a pub three to five times a week smoked. There was a massive impact on trade."
Ruth Mackenzie, co-owner of the The Pipe Shop on Leith Walk with her husband Steven, took over the family business from her father Alan Myerthall in 2017.
She recalls her father being "frantic" with worry as the ban loomed with Mr Myerthall part of a lobby to the Scottish Government to secure concessions for the specialist tobacconist, where customers could light up a cigar or try a new tobacco while in the shop.
In England, tobacconists secured the right to allow smoking on their premises during opening hours.
Ms Mackenzie said: " Cigar customers would come in, spark up and talk about the experience with other customers. It was really, really sad to lose that."
Another blow for the business came in 2014, when the shop had to cover up it traditional window display with the inside of the premises now obscured from view for passers-by.
"If you are a smoker, society can make you feel like you are a bad person. People of age should have the choice," the tobacconist added.
Despite the restrictions, Ms Mackenzie said business has grown in the past few years as people seek out speciality products. A website and a home delivery service during lockdown help drive custom.
She added: "We don't have a target audience, it is a bit of everybody and that makes the customer service side so exciting. In around 2004 and 2005 you had this more gentrified fashion coming in and people came in wanting to buy a pipe.
"Now our staff are much younger too and they have really good knowledge of the products.
"And you would be surprised at how any women smoke cigars."
One of the main impacts of the smoking ban has been the drop in young people taking up the habit as it becomes pushed to the fringes of socially-acceptable behaviour.
In 2016, it was reported that 9 per cent of 15-year-olds smoke – down from a peak of 29 per cent in 1996 – the lowest figure since research began.
Dr Sean Semple, of the University of Stirling's Institute for Social Marketing and Health, said: "A generation of children has grown up having not experienced high levels of second-hand smoke pollution in public spaces, such as public transport and hospitality venues, while the country's workforce can now enjoy smoke-free working environments – protecting health and ultimately saving lives.
"Significantly, the success of the legislation is reflected in the most recent data from the Scottish Health Survey which shows that more than four in every five non-smokers have no detectable cotinine – a marker of breathing in nicotine – in their saliva. Back in 2003, that figure was closer to just one in five."
Today, around 19 per cent of Scots smoke with the figure rising to around 42 per cent in the most deprived areas.
Sheila Duffy, Chief Executive of health charity ASH Scotland, added: "While the success of smoke-free public places reminds us of how far we have come, it is important not to lose sight of how far Scotland still has to go to achieve its ambition of creating a tobacco-free generation by 2034."
A message from the Editor:
Thank you for reading this article. We're more reliant on your support than ever as the shift in consumer habits brought about by Coronavirus impacts our advertisers.
If you haven't already, please consider supporting our trusted, fact-checked journalism by taking out a digital subscription.