Skye, The Scottish island that embraced the rave
It's an island laced with myths, tradition and divine scenery – as well as its very own clubbing scene.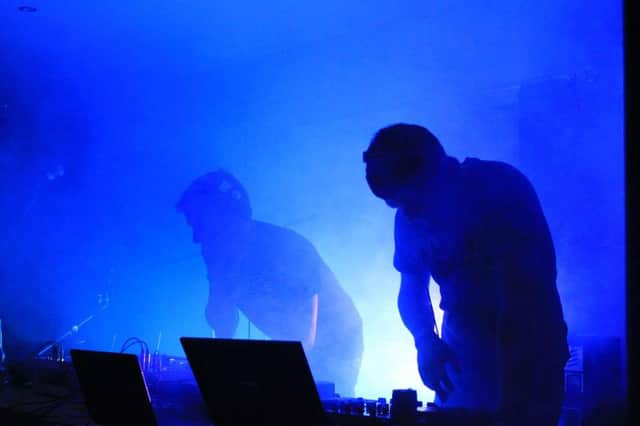 Ali MacLennan and Ali MacIsaac of Non-Stop, the night that took over village halls and brought dance culture to Skye. PIC: Contributed.
On the Isle of Skye, village halls and community centres are regularly booked for nights of house and techno music, where spaces normally filled with badminton classes, whist drives and church meetings give way to raging sound systems and light shows that pull crowds of all ages, from those in their late teens to those in their 50s and 60s.
At the heart of this have been the Non-Stop nights run by founder Ali MacIsaac, also known as McFly, and DJ Ali MacLellan, who have in turn helped to attract DJs from around the world to play on the island.
Among them were the much-worshipped DJ and producer Andrew Weatherall who happily played at Portree Community Centre in 2014 to a crowd of 200 and returned several times to Skye, where he always stayed a little longer than he needed to.
Legendary DJ and producer Andrew Weatherall with Ali MacLennan and Ali MacIsaac at Broadford Village Hall in 2014. PIC: Contributed.
MacLennan wanted to bring to Skye what was happening in bars, clubs and on radio stations everywhere in the 1990s – the dance music explosion.
He said: "I had a lot of friends leaving Skye to go to college and university. I wanted to stay here.
"I'd spent some time in Edinburgh, going to nights, and I thought I'd like to be able to access that kind of thing back home – I wanted to be able to share it with people from the Highlands."
Ali started to muck about with turntables at the Broadford home of this late friend Martin Boyd, who passed away last December before warming up for his brother's electronic sets, who sometimes played in the function room at Sabhal Mor Ostaig and at a bar at Armadale Pier.
Skye Live, launched in 2015, brought DJs from around the world to the island to play alongside modern traditional Scottish musicians. PIC: Ryan Buchanan Photography.
People began to organise parties over the water in barns and churches in Dornie and Stromferry and the Friday afternoon bus from Skye to Glasgow started filling up with islanders heading for a weekend at The Arches and the Sub-Club as the new sound started to take hold.
Meanwhile, in 1997, MacIsaac arrived on Skye from Glasgow with his turntables and a stack of records after taking up a flooring job.
He said: "I bought decks before I left Glasgow as I just thought 'what am I going to do when I get there?'.
"My first night was at Skye Shinty Club. That was mad. I really couldn't believe the reaction from people. People would come up to me in the street in Portree and say 'that was amazing, thank you!'. I wondered 'what is going on here?'."
A flyer for A Love From Outer Space night at Portree Community Centre in 2019 with DJ Sean Johnston describing it as amongst the "weirdest" night he had ever played. PIC: Contributed.
In 1999, the Non-Stop nights were launched at Broadford Village Hall. Organising a night as a fundraiser for the fire brigade and the local football team meant the hall was available all night long.
But Broadford was not ready for the sight of people dancing on the roof of the village hall at 9am . The local reaction was not positive, MacLellan said.
"That was the end of the hall all-nighter," he added.
MacLennan, a fish farmer by day, remembers a resistance to the party nights.
Broadford Village Hall, where ravers danced on the roof until 9am after a particularly enjoyable night at Non-Stop. PIC: Creative Commons.
He said: "It was a struggle sometimes as there were members of the community who were opposed to it. The police were not on board.
"It took a lot of dedication from us. We were sticking our neck out."
In 2014, MacIsaac made a call and within an hour Andy Weatherall agreed to come and play Non-Stop.
MacLennan said: "We put him up in the Cuillin Hills Hotel in Portree and Ali thought he would give him a ring to see how things were going.
"Andy said 'this is ridiculous, I'm overlooking this beautiful bay, it's mind blowing. When's my residency?
"He did a legend of set. Every single person in the venue was dancing. All night. He was quite openly delighted."
MacIsaac, 46, added: "Andy was a total gentleman. We got to know each other and he just really loved Skye. On the phone, he'd ask 'how's my island?'"
Weatherall, whose sudden death last year aged 56 is sorely felt by many, returned to Skye several times. In 2019, he played Broadford Village Hall with Sean Johnston as A Love From Outer Space, which has a loyal following from all over the country, including Skye.
MacLennan, 52, said: "They have played some of the biggest clubs in the world, like Pacha (in Ibiza) which has a capacity of 50,000 and we got them to play to 200 people in Broadford Village Hall."
Johnston later described the Broadford gig as among the weirdest he had played in terms of location.
Johnston told Scotland on Sunday: "It was wild. People were incredibly friendly. We were always up for these out-of-the way gigs. It's great to play at places like Lux (in Lisbon) or a crazy night in Berlin but with these nights the people that you meet and the experience, is always, without doubt, much more fun. And the sound system was incredible."
Other key figures include DJ Daniel Gilbertson, the son of John Gilbertson who was partly responsible for resurecting the Skye Music Festival from 2004-2007.
MacIsaac set up Skye Live in 2015 with Neil Munro, son of Donnie of RunRig, with DJs and electronic acts from around the world billed alongside modern-traditional Scottish bands, such as Peatbog Faeries and Niteworks, both from Skye.
MacIsaac said: "I 've always thought dance music and ceilidh music went really well together."
The party on Skye is far from over, with MacIsaac due to open a new restaurant and music venue on an industrial estate in Portree.
He said: "Rather than having an emphasis on making money out of tourists, I wanted to give something back to the locals – – and put a bit of love into it.
"We are putting a Danley sound system in. The best there is. I want people to come, to play, and to just go 'wow'."
A message from the Editor:Thank you for reading this article. We're more reliant on your support than ever as the shift in consumer habits brought about by Coronavirus impacts our advertisers.
If you haven't already, please consider supporting our trusted, fact-checked journalism by taking out a digital subscription.