Searching for traces of Prehistoric people in the peat of the Outer Hebrides
The search is on for traces of Neolithic life on the Isle of Lewis with hopes the everday ways of its prehistoric people can be brought to life in the same vein as UNESCO-recognised Orkney.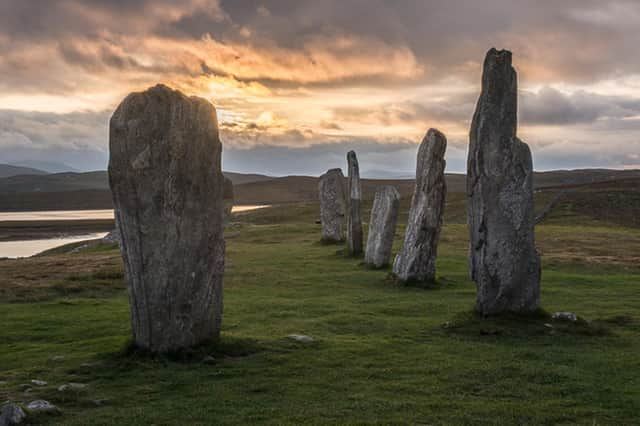 It comes after a team from St Andrews University traced a lost 4,000-year-old stone circle near the famous Calanais site which had become submerged in peat with further research to be carried out into similar sites that have vanished from sight.
Now, the search is on for evidence of how Neolithic people lived on Lewis with hopes to find traces of dwellings, burial sites and domestic life, which have remained largely out of reach so far.
Dr Richard Bates, senior lecturer in earth sciences at St Andrews University, uses geophysics to trace prehistoric sites and helped to reveal the hidden standing stones at Airigh na Beinne Bige near Calanais.
Dr Bates said: "If you go to Orkney you have sites such as Barnhouse and Ness of Brodgar so we know where people buried their dead and lived their lives.
"You go to Lewis and the Hebrides and we have got... standing stones.
"We don't really know how people lived there, but lets face it, the evidence must be there somewhere."
UNESCO designated the Heart of Neolithic Orkney in 1999 with the incredible collection of Neolithic monuments found on the island mainland - from the Maes Howe chambered to the ceremonial circles of the Stones of Stenness and the Ring of Brodgar to the Barnhouse Settlement - giving a vividly clear depiction of life here 5,000 years ago.
Dr Bates said he was hopeful what could be concealed by the peat on Lewis from the same period, with the standing stones at Calanais themselves excavated from peat more than 100 year ago.
Dr Bates said: "Particularly over the last 2,500 to 3,500 years, the growth of peat really started to kick in as the climate changed.
"It wasn't a huge climate shift but enough to get peat growing prolifically.
"We know the landscape was very, very different on Lewis during the Neolithic period.
"What we are trying to do is get basic reconstructions so that we can start to learn from what we don't see today."
Work already completed by archaeologists from the University of Southampton has given a tantalising insight into Neolithic life on Lewis after it emerged islanders built a series of artificial islands on lochs and sea inlets,
Crannogs are found all over Scotland with it earlier thought that they were used and re-used over 2,500 years between the Iron Age and the post-medieval period.
But on Lewis, they were buiding them thousands of years earlier with radio carbon dating putting the Lewis structures, made from tonnes of rock piled up on the loch bed, to around 3640–3360 BC.
Research into the crannogs came after local archaeologist Chris Murray found a number of "extraordinarily well-preserved" Early/Middle Neolithic pots in six lochs across the island.
The St Andrews University team is due to return to Lewis after Historic Environment Scotland gave a £19,920 grant to Urras nan Tursachan, a community-based trust which protects the archaeology of the Outer Hebrides, to extend the research into the island's hidden Neolithic history.
Dr Bates said the research had "significant" potential to illuminate Neolithic life on the island.
A message from the Editor:
Thank you for reading this article. We're more reliant on your support than ever as the shift in consumer habits brought about by Coronavirus impacts our advertisers.
If you haven't already, please consider supporting our trusted, fact-checked journalism by taking out a digital subscription.