Scottish Olympians join forces to drive legacy of 'Flying Scotsman' athlete Eric Liddell
Eilidh Doyle and Lord Campbell of Pittenweem are the latest recruits to spread the story of the inspirational Scots track star Eric Liddell, dubbed the Flying Scotsman, who stunned the world 100 years ago.
Two Scottish Olympians are the latest recruits to share the inspirational legacy of Scots sportsman Eric Liddell as the 100th anniversary of his stunning win at the 1924 Paris Olympics draws near.
Eilidh Doyle, star of the 400m and the most decorated Scottish track-and-field athlete of all time, and The Rt Hon Lord Campbell of Pittenweem, former leader of the Liberal Democrats and 100m record holder from 1967 to 1974, have joined Eric Liddell 100. The organisation is now planning a series of international and national events in tribute to the athlete and Christian missionary who was immortalised in the film Chariots of Fire.
Ms Doyle and Lord Campbell were welcomed to the group by its patron, The Princess Royal, at the inaugural gathering of the Eric Liddell 100 in Edinburgh. The Princess Royal spoke about the ongoing relevance of Liddell, who died in a Prisoner of War camp in China in 1945.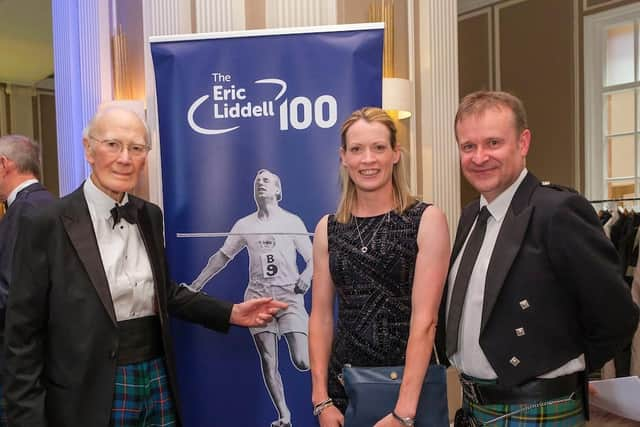 Ms Doyle, in her address to the formal dinner, drew on Liddell's remarkable switch from the 100m to 400m event in Paris so he didn't have to run on a Sunday, with the athlete going on to win his race.
She said: "For him to choose to target this event and not just run it at the Olympics, he had to go through all that gruelling training and hard work beforehand to be ready to even make that team, is incredible in itself. But then to go on and not only compete in that event at the Games. But to actually go on and win says a lot about his physical capabilities, yes of course, but actually I think it says even more about his mindset and his sense of self and ability. He wasn't fazed, he wasn't overly cautious, he was committed and strong.
"That is why I'm really proud to be involved in The Eric Liddell 100. The values he showed, the skills and strengths he displayed are so inspiring and that's why it's fantastic we have The Eric Liddell Community to keep these alive and continue his legacy."
The formal dinner also included an address from Lord David Puttnam, producer of the Oscar-winning film Chariots of Fire.
The Eric Liddell 100 is a group of corporate professionals, sporting heroes, educational leaders and cultural masterminds working on the legacy of the sportsman, who represented Scotland in both rugby and athletics.
Following his Paris success, he returned to China, the country of his birth, in 1925 to serve as a missionary teacher. Aside from two periods back in Scotland, he remained in China until his death in a Japanese civilian internment camp in 1945.
The legacy programme is being led by The Eric Liddell Community, a registered care charity in Edinburgh
Chief executive John MacMillan said he was "absolutely delighted" with who was working on the Eric Liddell 100. He said Lord Campbell would "bring a wide range of related and expert experience to our group and our aims to secure, develop and celebrate the legacy of Eric Liddell".
Comments
 0 comments
Want to join the conversation? Please or to comment on this article.