Willie Macleod, from Stornoway on the Isle of Lewis, was part of the salvage team when the cargo ship, which was full of whisky, ran aground close to the Hebridean island of Eriskay in 1941.
The story was told by Scots author Compton MacKenzie in his classic 1947 novel Whisky Galore!, twice transformed for the silver screen in 1949 and 2016.
Now after waiting nearly 82 years, Mr Macleod has told a BBC Alba documentary "Trusadh – Na Ceudanaich/Centenarians" to be shown later this month how he took bottles for himself – and came within a whisker of being caught.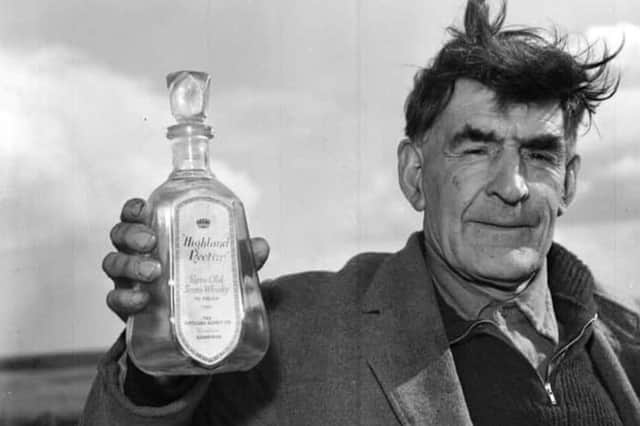 In a caper straight out of the classic Ealing Comedy, on one occasion he took two bottles to a ceilidh at the schoolhouse on Eriskay where he was based, only to discover entire cases stashed away by islanders.
He said: "I got digs in Eriskay and I worked on the Politician with a diver salvaging the cargo. She had 40,000 cases of whisky and baths and all kinds of commodities going to the East Indies.
"The Politician was a ship if it had gone on ground anywhere else in Britain nothing would have been touched, but it went aground when all the people that were there worked on these ships. They knew how to open a hatch, and they knew how to do everything and they were able to get in among it.
"We got an invitation to the schoolhouse for a ceilidh, so we took a couple of bottles of whisky with us for the ceilidh. There was no electricity in the place. You were going about with a candle and I wanted to get to the toilet. I opened the door of one place and here it was full with cases of whisky. They had stored all the whisky in the school house. I'd gone up with a couple of bottles and there were cases in the place."
The 8000-tonne SS Politician was bound for Kingston in Jamaica and New Orleans packed with a mixed cargo including 264,000 bottles of whisky and eight cases containing £3 million worth of Jamaican banknotes among other items, when it ran aground near Eriskay. The crew were rescued unharmed and much of the Scotch on board was removed by islanders who hid them in crofts and houses across the island.
In the hour-long programme, Mr Macleod recalls a brush with Customs officials and a narrow escape as they were in pursuit of another man turned in by his own wife.
He said: "I had gathered for me about 12 or 14 bottles of whisky. I had them in a case under the bed and I was on board the Politician when a launch came past and this was the Customs.
"I thought 'that's my whisky gone', but no. It was one fellow who had 25 cases anchored to his boat and he was drunk all the time and his wife got in touch with the Customs and they went to it and picked up all the cases of whisky that was on the anchor."
He had an even closer shave from the authorities, who were notoriously determined to press charges, when he was recalled to Stornoway.
Several people were imprisoned for stealing Scotch from the SS Politician and served sentences of up to two months at HMP Inverness, also known as Porterfield Prison.
Mr Macleod said: "A telegram came to the digs and I had to get back to Stornoway. I had about 15 bottles of whisky in the case and I was able to get the case on board the boat and I got up as far as Harris.
"I got up as far as the bank corner when the case fell off my shoulder and split open. There was nothing broken, but the hotel taxi was coming. I asked him if he'd run me to Stornoway. 'Oh, I've a fare at the boat' [the taxi driver said].
"I pulled a bottle of whisky out of the bottom of the case and gave it to him. 'No, I've a fare'. I pulled another one and it was 'put your case in'. He turned around and took me to Stornoway."