Scottish island gets ready to welcome global audience for annual film festival
A Scottish island that is a four-hour boat journey away from the nearest cinema is set to welcome visitors to its annual film festival.
The Sea Change festival will bring film fans to Tiree from September 22 in a weekend celebration of female filmmakers and the 100th anniversary of 16mm film.
Set up by Tiree resident Jen Skinner, who has had a long career in the film industry, Tiree is set to draw film-makers from far and wide for the event, which also has a strong community pull. Ms Skinner, who relocated to Tiree eight years ago and has a long family connection to the island, which has a permanent population of around 700, first put on the festival in 2018.
She said: "I am really passionate about this festival being for the Tiree community. I don't just want to use Tiree as a location, I want the community to really be part of it and we have brilliant community support here.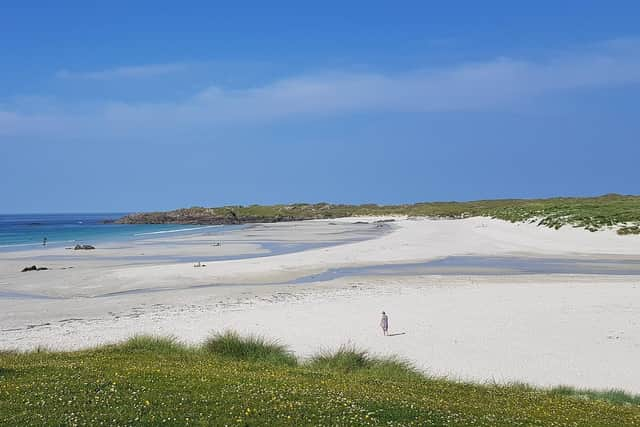 "There is something about our festival that is really special. There is not a hierarchy here, everyone is on an equal level.
"Tiree is a place where it is not what you do as a job that matters, it is how you are with other people that counts and what you are judged on."
The Sea Change festival will showcase a range of feature films, documentaries and animation – all directed by women – with the annual event the only one of its kind dedicated to female talent behind the camera.
Renowned director Carol Morley, whose past credits include Dreams of a Life and The Falling, will present her new work Typist Artist Pirate King, starring Kelly Macdonald, at the festival.
The documentary Lyra, which focuses on the life of the late Belfast investigative journalist Lyra McKee, also features alongside a screening of Cá a ndeachaigh mé? / Where Am I Going?, an experimental 16mm film that explores emigration and its impact on those who make new beginnings. It comes as part of the celebration of 100 years of 16mm film, a format credited with putting cameras into the hands of home movie makers.
Julia Parks will present her work Seaweed, which explores the folklore, ecology and history of seaweed in north Scotland, with artist Mairéad McClean introducing her short 16mm films, including two pieces shot on Uist.
Films reflecting on the landscape and ecologies of islands including Geographies of Solitude, following naturalist Zoe Lucas who has spent 40 years living on the remote Sable Island, some 2,500 miles across the Atlantic from Tiree, and The Oil Machine, which focuses on Scotland's long entanglement with the oil industry.
The Sundance award-winning documentary Smoke Sauna Sisterhood by Anna Hints – an intimate look at secrets shared in an all-woman sauna – will also be screened.
Recently released blockbusters directed by women will also enjoy a run on Tiree during festival weekend including Cocaine Bear, Are You There God? It's Me, Margaret and Scottish filmmaker Charlotte Well's Oscar-nominated Aftersun.
The festival will move into Tiree's stunning natural environment with regular morning swims at Crossapol beach with the Tiree Polar Bears and shore walks with with Tiree Ranger Hayley.
Ms Skinner said: "We are so excited to bring people back to the Isle of Tiree for this year's Sea Change."
Comments
Want to join the conversation? Please or to comment on this article.