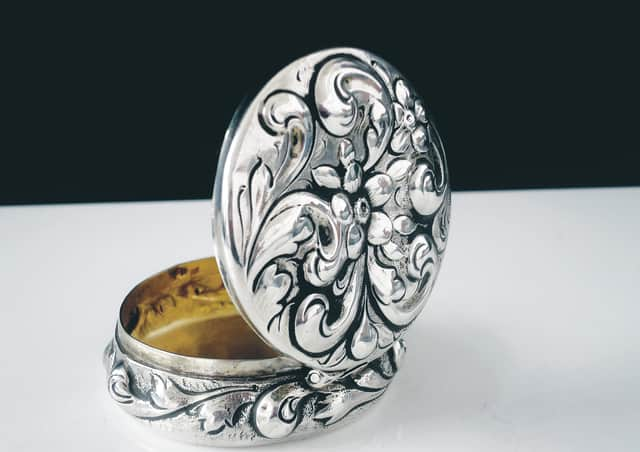 The silver trinket box
The box, which is engraved "Sallie, from FDR", was made in New York in 1904 by now-defunct silversmith firm Howard and Co.
It was unearthed from a house clearance in Perthshire around three years ago and was sold, alongside other items, to antiques specialist Colin Stoddart of Dart Silver in Falkirk.
Stoddart believes it was given either to Roosevelt's mother, or his niece – who were both named Sara and known as Sallie. His niece later married a British man, Charles Fellowes-Gordon, and ended up living in Scotland. However, it is not known whether the box was originally intended for her, or if Roosevelt's mother may have left it – or given it – to her as they had the same name.
Franklin Delano Roosevelt in 1936. Picture Keystone Features/Getty
Stoddart said: "It's a nice, small, circular box, about 5cm in diameter. It might have been a powder box, or perhaps a large pill box. It came up in auction in Edinburgh and I bought it along with a couple of other items. I always thought it had an interesting inscription, but I had had it a while and hadn't done anything with it.
"Then one day, I started to look into it, but I didn't really think it would be connected with Roosevelt at first. Then I realised that Roosevelt's mother was called Sara, but known, as many women were then, as Sallie. I started doing some more digging and found out that he had a niece with the same name, who ended up in Scotland. It seemed like too much of a coincidence."
Roosevelt is known to have called his mother by her first name, which makes it just as likely that the box was intended as a gift for her – perhaps for her 50th birthday, which she celebrated in 1904. His niece, Sara Collier, however, was only nine at the time that the inscription was made.
Collier married Charles Fellowes-Gordon, a lieutenant in the British Royal Navy, in the US in 1918 and the pair later ended up moving to the UK and ultimately settling in Scotland. They were buried in Aberdeenshire in 1969 and 1972 respectively. However, they remained close to the Roosevelt family on the other side of the Atlantic. In June 1934, by which time Franklin was president, the Fellowes-Gordons accompanied Sara Delano Roosevelt – FDR's mother – aboard the ship Europa to Europe with two of their sons.
Stoddart has not attempted to sell the item due to a lack of clarity over its origins, but said he was open to offers. It is believed the house clearance included a number of items of American silver.
Stoddart said: "There are not believed to be any items in circulation that actually belonged to FDR that are engraved to someone, so this is definitely a rarity. However, this was gifted in 1904, long before he became famous – and also was never actually owned by him, but was given as a present. I have no idea how much it could be worth, as there is so much uncertainty around it, which is why I haven't tried to sell it."