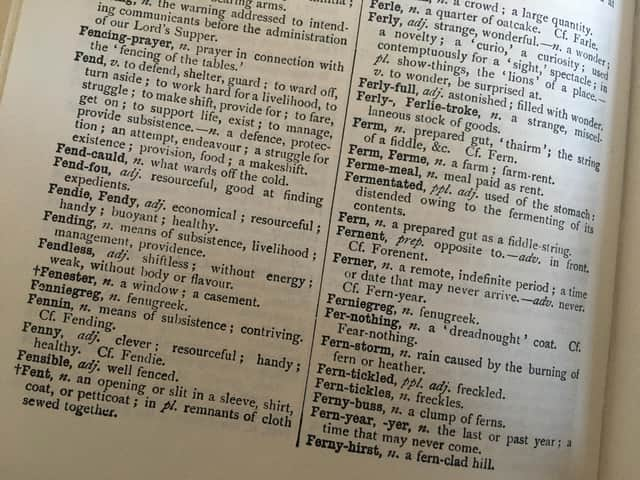 Figures show that 418 pupils achieved the Scots Language Award (SCQF) in 2020 compared to 100 in 2019. A 'leap' in those signing up for the qualification in 2021 has been noted although official figures for this year have yet to be published.
An increase in the number of pupils who are using Scots in written assessments for their curriculum courses, such as National 5 English, has also been noted by the Scottish Qualifications Authority (SQA), with the quality of submissions described as "high".
The Scots Language Award, which was introduced in 2014, offers pupils units in the history and development of the language and how to communicate in Scots.
Marilyn Waters, Qualifications Manager for Languages at SQA, said: "We are seeing a significant jump in people signing up to the Scots
"The numbers have risen year on year and we are seeing a leap in qualifications and awards this year.
"We are still talking about numbers in their hundreds rather than thousands but the fact that we are talking about hundreds is a big deal."
Ms Waters added: "Students are able to explain how Scots came to be spoken and also as a language how it was repressed and oppressed. Students have written some very sophisticated poetry and personal stories.
"Young learners are studying this all over Scotland, in Orkney and Shetland, the North East, the Central Belt, all which have their own style of Scots, so students are able to really look outward and into their own communities as part of their study."
Ms Waters added that the Scots Language Award was helping to tackle the attainment gap in schools.
She said: "When students are empowered to speak in their own voice, it empowers their attainment in school, across the curriculum."
Robert Quinn, Head of Service for humanities, arts and business at, SQA added: "We are trying to get over this situation where using Scots was frowned upon and these negative narratives that Scots is a dialect or you would be marked down for using Scots.
"Where students are writing in Scots, what we are hearing back is that quite often students are scoring highly in these. The quality of writing is high."
"These students have got skills that previously might not have been celebrated."
Scots is recognised as an indigenous language of Scotland, a regional or minority language of Europe, and as a vulnerable language by UNESCO. The language is a collection of localised versions, including Doric, Glaswegian and Dundonian.
The 2011 Scottish Census identified over 1.5 million Scots speakers in Scotland.
Meanwhile, a new Scots dictionary app has been launched for school pupils.
The Scots Dictionary for Schools app, produced with Scottish Government funding, provides meanings in English for 9,500 Scots words and phrases — including those found in set classroom texts — with audio guides to the pronunciation of the most difficult.
Dr Rhona Alcorn, CEO of the Dictionaries of the Scots Language, said: "More and more young people are interested in learning Scots. The free app format cuts through current restrictions on access to books and teachers and offers an up-to-date way to engage with Scottish culture."
A message from the Editor:Thank you for reading this article. We're more reliant on your support than ever as the shift in consumer habits brought about by Coronavirus impacts our advertisers.
If you haven't already, please consider supporting our trusted, fact-checked journalism by taking out a digital subscription.