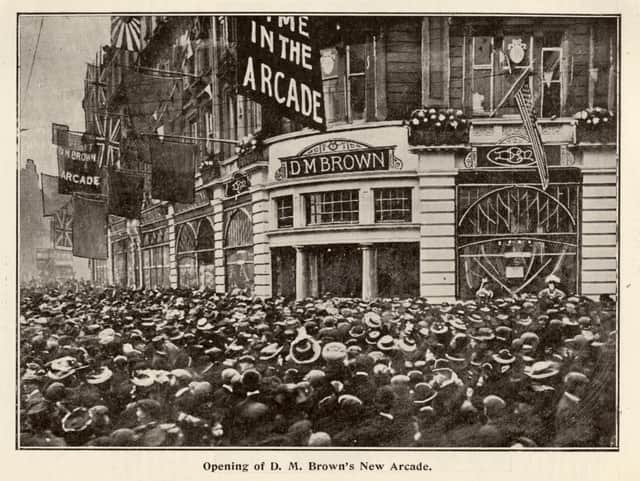 The opening of Brown's shopping arcade in Dundee in 1908 attracted quite the crowd. PIC: Archive Services, Dundee University.
Now Scotland's traditional shops and heritage high streets are being celebrated in a new exhibition by Historic Environment Scotland.
As the pandemic turns our high streets into ghost towns and puts the future of retail in doubt, HES has cracked open the archives to reveal a beautiful selection of images of the golden days of shopping, and shopkeeping, in Scotland.
Also being honoured is the evolving creativity and used by shop owners over 250 years to keep customers coming through the door time and time again.
And come they did, as shown by an incredible photo of Brown's shopping arcade in Dundee, where hundreds of people gathered outside in their hats and coats on opening day in 1908.
A Saturday afternoon going round the shops, buying something special or looking at stuff we couldn't afford, is part of our story with the look of shops defining the look and feel of the places we called home.
Jennifer Farquharson, Content Officer at Historic Environment Scotland's Engine Shed, which is dedicated to the preservation of traditional building skills, said: "All of us can walk down our local high streets and tell a dozen stories about times we've spent there. "
Norwell's Boots in Perth in the 1880s. PIC: Perth Museum and Art Gallery.
Ms Farquharson described our towns, villages and cities as "timelines of retail architcture".
She said: "Their styles and materials tell a story of trade, innovation and creativity in our own local areas. They were often built by local craftsmen, such as stonemasons and joiners, in local styles. As time went on and the look of our shops evolved, it reflected the growing industry of our towns and cities
"Shopping arcades like Brown's were something special. They pushed the boundaries of what was possible in retail architecture; they reflected the influence of European design; and they were designed to wow.
" Jenner's in Edinburgh was built to offer luxury fashion, and even received Royal Warrant in 1911. These places could certainly put towns and cities on the map.
King Street in Stirling in the 1930s, a very fashionable place to shop. PIC: Scottish Motor Museum Trust.
"However, small family businesses were just as important. They were the backbone of retailing in Scottish towns and villages, giving our high streets their distinct character and architectural style."
Fixed shops started to appear in the late 18th Century as long-standing street markets and annual fairs were slowly replaced and goods, particularly expensive wares such as jewellery and watches, moved into shops.
By the 19th Century, design was becoming more sophisticated and heavily influenced by glass technology. Multiple small panes were used with bow windows maximising display areas. The invention of plate glass in the 1830s led to windows becoming far bigger and much cheaper.
The rapid expansion of Scottish iron foundaries changed the look of shops with taller, lighter and airier spaces using structural beams and decorative columns.
Jas Crockart in Blairgowrie. The arrival of pane glass in the mid 1800s transformed the look of Scotland's shops. PIC: Contributed.
Brass, mahogany and stained glass later appeared as shops became ultra desirable destinations with electric lighting transforming shop design once again. But possibly it was the boom in the motor car that changed shopping forever as shopping centres with plenty of parking arrived.
As our shops stand virtually silent, we may feel like a long way from an afternoon 'up the street'. And much like shopping itself, the HES exhibition has also moved online to www.historicenvironment.scot.
A message from the Editor:
Thank you for reading this article. We're more reliant on your support than ever as the shift in consumer habits brought about by Coronavirus impacts our advertisers.
If you haven't already, please consider supporting our trusted, fact-checked journalism by taking out a digital subscription.
A golden bear with a barber's pole from East Register Street reflected the fact that bear grease used to be a hair pomade. PIC: TSPL.