Approximately 33,000 people filed past the Queen's coffin at the ancient and historic Edinburgh cathedral.
– How many people have so far seen the Queen's coffin in Westminster Hall?
The Department for Culture, Media and Sport does not have a current figure for how many mourners have filed past the Queen's coffin.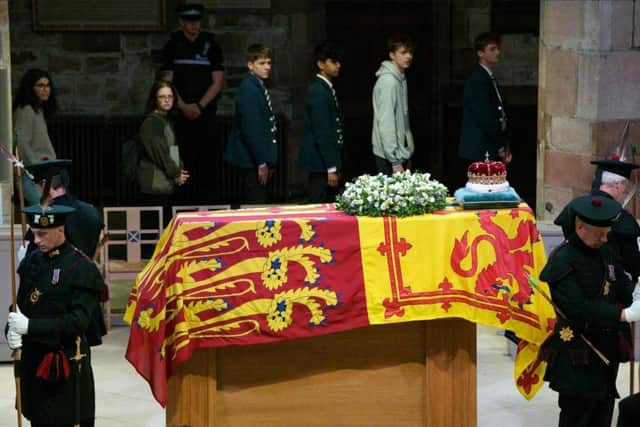 The longest queuing time so far has been around 24 hours, with barriers of around 10 miles long to keep people in the line.
How many foreign dignitaries are invited to the funeral?
The event will see around 500 dignitaries from around the world descend on London for the Queen's state funeral.
Invitations have not been sent to Russia, Belarus or Myanmar, while Iran will only be represented at an ambassadorial level, Whitehall sources have said.
How many jewels are in the Imperial State Crown placed on top of the coffin?
The crown is made of gold and set with 2,868 diamonds, 17 sapphires, 11 emeralds, 269 pearls, and four rubies.
How many people queued to see the Queen Mother lying in state?
An estimated 200,000 people turned out to pay their respects over three days to the Queen Mother in 2002 – the last person to lie in state in the UK. The funeral itself had 2,200 guests.
At their longest, queues stretched across Lambeth Bridge and all the way along the South Bank to Southwark Cathedral, with people being warned to expect a wait of up to 12 hours at peak times.
How much did the Queen Mother's funeral cost?
The Queen Mother's funeral arrangements cost more than £5.4 million.
Policing costs amounted to £4.3 million and the Queen Mother's lying in state came to £825,000, according to a House of Commons research briefing paper.
How long is the royal period of mourning?
In his televised address to the nation the day after the Queen's death, King Charles III gave the order that a period of "Royal Mourning" would be observed from then (Friday September 9) until seven days after her funeral.