Princes Street Gardens project faces being scaled back and delayed by years
A controversial £25 million overhaul of Edinburgh's Princes St Gardens to create a new events arena and visitor centre faces being significantly scaled back and delayed for years.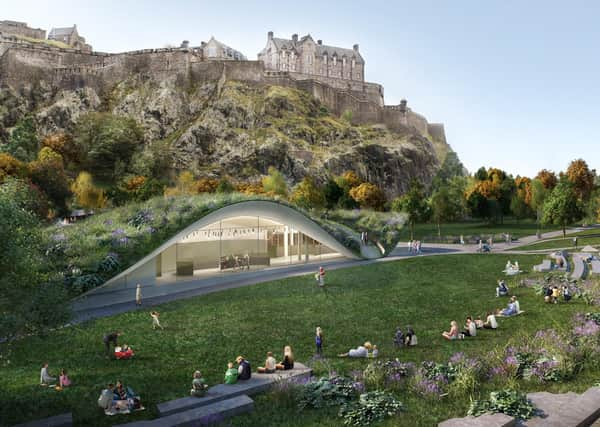 A controversial £25 million overhaul of Edinburgh's Princes St Gardens to create a new events arena and visitor centre faces being significantly scaled back and delayed for years.
A charitable trust which has been spent years pursuing the project to replace the Ross Bandstand was supposed to have unveiled detailed designs and applied for planning permission by now.
However, it has instead launched a full-scale review of the project amid concerns over how the coronavirus pandemic will hamper a worldwide fundraising campaign, which was spearheaded by some of Scotland's leading cultural figures.
The Ross Development Trust, which was created by hotel developer Norman Springford in 2015, has admitted that Covid-19 outbreak will have a "big impact" on the project, which has a funding shortfall of almost £20 million.
Design work and fundraising efforts have been put on hold by the trust less than three months after one of Scotland's leading lawyers was brought in to head up the project.
John Campbell, QC, was appointed as chair of its board to replace Norman Springford, the founder of the Apex Hotels group, who had pledged £5 million to get the project off the ground.
Springford walked off the board over growing concerns from heritage and community groups about the scale of changes planned in the park, including a corporate hospitality complex and visitor centre, and a 5,000-capacity events amphitheatre. Criticism escalated over fundraising plans for the project, which were compared to a "debenture scheme."
Actor Alan Cumming, singer KT Tunstall, author Ian Rankin and Kelpies sculptor Andy Scott have all been unveiled as official ambassadors for the project, which would see the existing Ross Bandstand demolished and access to the historic gardens improved.
The trust has set up a public-private partnership with the city council to pursue The Quaich Project, which has been pledged £5 million from the local authority if the rest of its funding can be secured.
David Ellis, managing director of the trust, said all design work on the project had been put on whole while the impact of the pandemic on its fundraising campaign is assessed.
He said: "At the moment, we are waiting to see how the pandemic affects everything we are doing. We have just held off doing anything at the moment until we get a better understanding of what is going on.
"All charities are going to be struggling. The people we would have been reaching out to, whether businesses or individuals, are obviously being affected by the pandemic – it will affect all different kinds of charities.
"We'll be working with our board and potential donors to look at whether funding is going to be available in the next couple of years or not. It will have a big impact, but we're just not sure what sure what that is going to be yet."
Ellis said he was "hopeful" that the project would be able to submit a planning application by the end of 2020 and pointed out potential funders were unlikely to commit any backing until it had been secured.
He added: "Nothing has changed on the project yet. Our intention is to deliver exactly what we have said we are going to deliver. If things change because of other circumstances then it's not a case of dropping everything if we can't do the whole thing.
"We still want to try to deliver improvements in the gardens in some shape or other. At the moment, we are still trying to go ahead with the plans that everyone has seen. If for some reason down the line, such as if there is not so much funding available and we have to cut them down, that is of course something we would look at, in partnership with the council. I wouldn't rule it out.
"Everyone wants to see some form of improvements in the gardens. We are certainly going to continue what we are doing. If anything this virus has shown how important these green spaces are. Our intention is to try to make this garden the best it can possibly be for the residents of Edinburgh."
A spokeswoman for the city council said: "We are continuing to work with the trust in the lead up the submission of its planning application."
Comments
 0 comments
Want to join the conversation? Please or to comment on this article.