Orkney's Neolithic wonders may have been painted with colour
Research is underway to find out whether the landscape of the new stone age in Orkney appeared in colour some 5,000 years ago.
Orkney's magnificent Neolithic landscape may have been painted with colour, experts now believe.
Rock art – the carvings and marks used to decorate some ritual spaces, funerary sites and settlements and are which are seen across the islands –could have been enhanced with colour around 5,000 years ago.
Archaeologist Dr Joana Valdez-Tullett said a new research project into the use of colour in Neolithic Orkney had potential to "change our perception" of how rock art appeared in the landscape of the new stone age.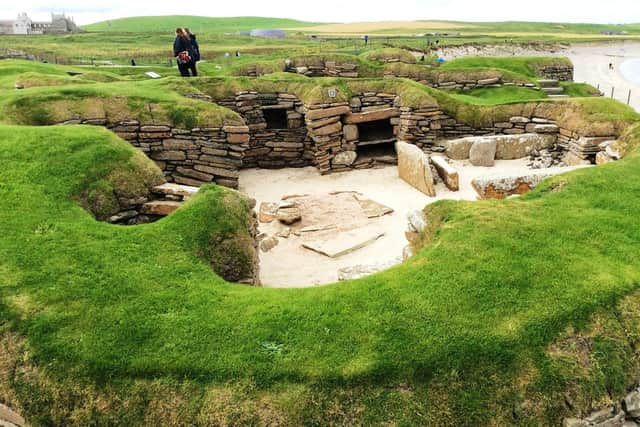 It comes after archaeologist Dr Louisa Campbell of Glasgow University found that carved distances stones on Antonine Wall, the most northerly frontier of the Roman Empire, were painted in red and shades of ochre to make an impact on the local population.
The Orkney study comes after traces of pigment were discovered at Ness of Brodgar – a huge complex of monumental structures – and Skara Brae, a settlement built around 3000BC.
Dr Valdez-Tullett, an expert in prehistoric rock art who will work with Dr Campbell on the Orkney research project, said: "There is no reason to think that Neolithic and Early Bronze Age societies were colourless.
"These communities had access to pigments and colours, and we can see this in painted examples of rock art."
She added: "Finding pigments in these carvings will completely change our perception of the rock art and how we see and think about it. It will open a range of possibilities as to what this rock art could look like and how it was supposed to be seen."
Hundreds of examples of Neolithic art have been found at Ness of Brodgar, including a distinctive butterfly design along with other geometric forms such as parallel bands, lozenges, chevrons and zigzags.
Pigmentation has also been discovered on walls and pottery at the site as well as evidence of the minerals used to create the pigments, such as hematite, an iron-rich mineral which can produce a red colour.
At Skara Brae, carved stones have been built into some of the walls of some structures and, separately, pigments have been found.
Dr Valdez-Tullett said some rock art from Iberia was coloured and carved around the same time craftspeople were at work in Orkney, suggesting the practice was "geographically widespread" but "largely unexplored".
The research project, Colouring the Neolithic: Searching for Pigments in Scotland's Prehistoric Rock Art, has received support from the Society of Antiquaries of Scotland.
A number of examples of rock art held in museums will be tested for evidence of colour, with X-ray fluorescence (pXRF) and Raman spectroscopy used to identify any surviving pigments. A final list of specimens is still be developed, but it is likely to include examples from funerary monuments given they are more likely to be sheltered from the elements for longer.
At the Antonine Wall, Dr Campbell's research found that red was used to paint both the cloaks of Roman officers and drops of blood of their captives with shades of ochre used to build up skin tones. The results "cast new light" on how the wall appeared to both the Roman soldiers and local population at the time.
Comments
 0 comments
Want to join the conversation? Please or to comment on this article.