Nightclubbing: The clubs that sold the 1980s dream across Scotland
Friday and Saturday night dreams were followed at the discotheque, the land of 1980s make believe.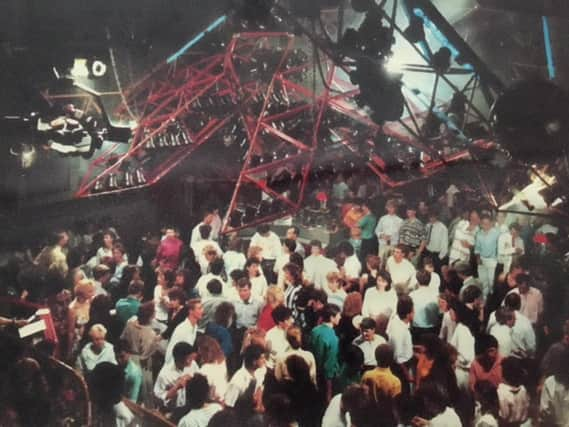 These pleasure palaces built on sound, light and fashion usually had ambitions for a smart, uptown feel – no matter the small town or city space where they emerged.
Names of clubs such as Visage, Maestro's and Tuxedo Princess in Glasgow, Cinderellas in Edinburgh and Ritzy's in Aberdeen hint at the night-time fantasy, although places earned their pet names as the illusion wavered over time.
Victoria's in Sauchiehall Street – the home of VIP lounges, footballers and glamour girls – became known as Sticky Vicky's in the end and Cleopatra's in Great Western Road is usually remembered as Clatty Pats.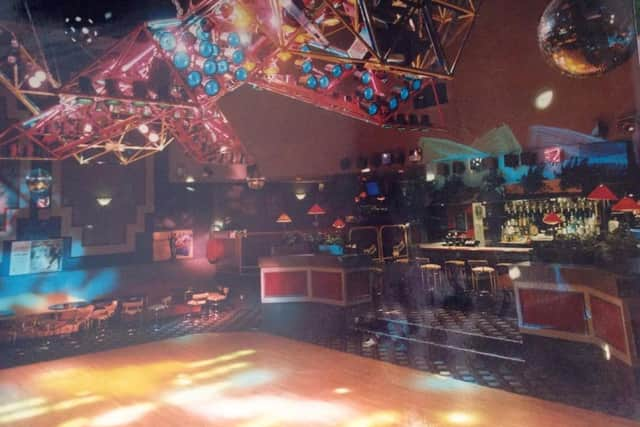 Super disco Flicks boomed in the sleepy Angus town of Brechin by drawing busloads of customers from all over Scotland, from Peterhead to Perth and Edinburgh with free transport ensuring a flow of customers from the country over.
The club emerged from a former cinema, bingo hall and launderette, with the building bought by friends Stuart Aikenhead and the late Mike Swilinski when they were just 27 and 26.
The club founders, who started out with a mobile disco called Blue Stratos and bought the building for a song after a few canny property deals, brought the first laser show to a Scottish club as the duo's '80s ambition soared.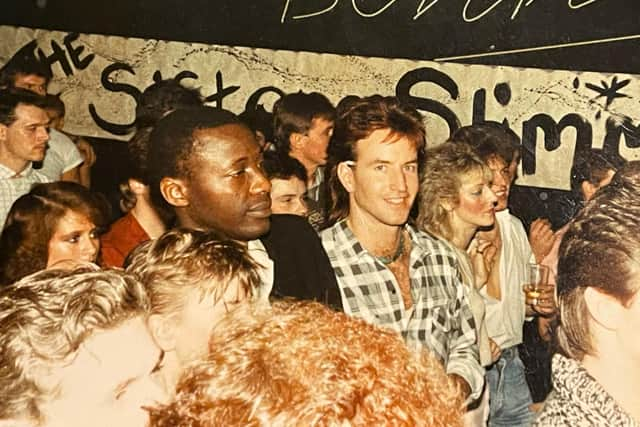 The display beamed out of the club Glass Lounge VIP area onto the dance floor, which was cleared as the light show got underway. Music and audio clips from Star Wars and Star Trek created the build up before Sylvester's Menergy was dropped – the call sign for dancers to get back on the floor.
Mr Aikenhead said: "We knew that the laser would take us to the next level. You have to remember that you could buy a house at the time for £22,000. Here we were spending £45,000 on two bulbs."
Flicks, with a capacity of around 800, epitomised the new aspirations of the time, with bottled beer such as Red Stripe or Grolsch replacing pints of Scottish lager, while cocktails decked with sparklers and fruit were becoming the drink of desire.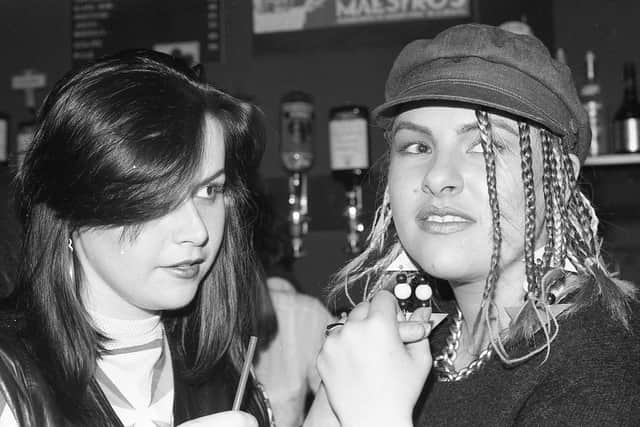 Flicks opened in Brechin in 1985 with the owners and general manager Peter Barr modelling the club on venues in London and Essex, such as Talk of the Town in Southend (TOTS).
Mr Aikenhead said: "We wanted the wow factor. When we started the design we were 'we saw this in Romford, we saw this in Southend, we saw this in London'.
"We wanted sofas. We wanted glass tables.
"This wasn't going to be just your normal pub or working man's club."
The fresh-faced ambition of the Flicks team saw the club hook up with pop hit maker Peter Waterman after they worked out which London pub he went for his after-work pint.
"He liked the fact that we just went for it, that we wore our hearts on our sleeve and that we just asked for what we wanted – against all the odds," Mr Aikenhead said.
Waterman and Michaela Strachan later hosted Hitman and Her from Flicks with a raft of '80s popstars performing at the club, from Rick Astley to Bananarama, Village People, Bucks Fizz – who caused a roadblock – and Sam Fox. Radio 1 DJs Steve Wright and Tony Blackburn were regular guests.
Mr Aikenhead said: "I think we were extremely ambitious, but not in any way to be flamboyant or to say 'look at me'. It was just a matter of everything we did and everything we believed in we put our heart and soul into it. To be honest, we were only every following our dreams."
While Flicks, which has long stood empty after finally shutting its doors in the early 2000s, survived on a strict pop diet, a new sound – and a different look – of the 1980s was filling clubs in the cities.
In Glasgow, places like Night Moves and Ultra Tech in Sauchiehall Street and Maestro's in Scott Street were pushing the New Romantic, high-fashion vibe.
Colin Barr, 57, a well-known club entrepreneur from Glasgow who set up Bennetts, Glasgow's first gay club in 1980, came back from a summer working in Benidorm in the early 1980s to find a changing music and fashion landscape.
"I came back from Spain wearing a string vest, tracksuit bottoms and Nike hi-tops," he said.
"When I got back to Glasgow, everything was monochrome, people dressed in black and white. I looked great in Spain, but looked pretty out of context when I got home.
"People spent hours getting ready. It was about make-up, it was about your hair. People were curious about fashion and they weren't afraid to experiment. They weren't scared of it.
"I used to turn up to nights wearing giant shoulder pads and jodhpurs."
Maestro's was particularly hard to get in to, but if you did stars like Gary Kemp from Spandau Ballet or the band Bow Wow Wow might be found standing at the bar.
"They were the first to have all the 12 inch records imported," Mr Barr said.
"You went from being on the floor three-and-a-half minutes to more than seven minutes so you could dance with a girl for longer. But if you didn't look the part, you weren't getting in."
But making its moves in the wings of the 1980s was yet another musical phenomenon – the sound of house music, which brought a whole new way of doing things after night-time fell.
A message from the Editor:
Thank you for reading this article. We're more reliant on your support than ever as the shift in consumer habits brought about by Coronavirus impacts our advertisers.
Comments
 0 comments
Want to join the conversation? Please or to comment on this article.