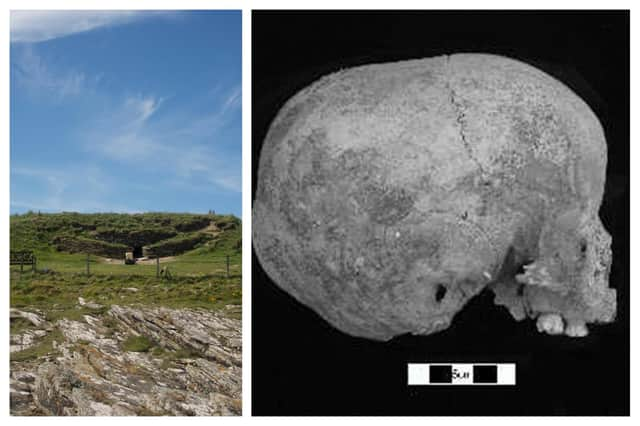 Dr Alison Sheridan, former long standing principal curator of prehistory at National Museums Scotland, raised the prospect of the practice during her recent Rhind lecture series for the Society of Antiquaries of Scotland.
Head shaping of the young has been carried out by different cultures for different reasons through time. In pre-Columbian America, it helped make society's elite visually distinctive.
To some Native American tribes, a deliberately flattened forehead was a mark of freedom. In Papua New Guinea, one tribe modified their infants' heads in the belief it made their children more intelligent.
Dr Sheridan was discussing several skull abnormalities found among human remains at the 5,000-year-old Tomb of the Eagles at Isbister, Orkney, that had been identified by island-based osteologist Dr Dave Lawrence.
Dr Sheridan said a "broad hollow" across one woman's skull had long been attributed by the guides at the Tomb of the Eagles visitor centre to "a lifetime of carrying heavy baskets with a head strap".
"But that argument cannot be used in the case of a six to seven-year-old child who also has a similar hollow. The incidence of ossicles, little supernumerary bones, could support the idea of head binding as they can relate to pressure being put on the skull," she added.
Dr Sheridan said a number of the Isbister skulls were "curiously asymmetrical," with a few showing misaligned eye sockets which may have led to visual impairment.
"Was that the result of deliberate skull shaping in early life?," Dr Sheridan said.
She added: "There are, of course, other possible explanations including childhood trauma, or the manipulation of babies as they come out of the womb, or a congenital tendency for the plates in the skull to fuse prematurely."
A separate study suggested that the Neolithic inhabitants of the Peak District practised head binding, although not all accept that theory.
Some believe the skull abnormalities at Isbister could be due to genetic factors but recent DNA evidence from 10 people whose remains were found in the tomb has not revealed any relatedness between the individuals.
Dr Sheridan said: "Clearly more DNA analysis of the Isbister individuals needs to be done, and no doubt specialists will continue to debate the factors affecting head shape."
Dr Lawrence, who runs Orkney Archaeology Tours and who has long researched remains at Tomb of the Eagles, said he was not convinced of the head binding theory.
He said: "What you are not seeing is any obvious artificial constriction of the skull.
"I think that what we have is different factors in different people: trauma - whether during childbirth or just casual violence, occasional genetic developmental abnormality, simple sleeping position and possibly long term damage from physical labour using the head from infancy." simple
He said there had been "a variety of deformities and disabilities" found at the Tomb of the Eagles
Dr Lawrence added: "You wonder why so many diseased or deformed people are placed there. Among them is the earliest known case of human cancer in the UK. With all these things going on, you start to wonder why these people are put there."
To watch Dr Alison Sheridan's lecture series for the Society of Antiquaries of Scotland, visit www.youtube.com
A message from the Editor:
Thank you for reading this article. We're more reliant on your support than ever as the shift in consumer habits brought about by Coronavirus impacts our advertisers.
If you haven't already, please consider supporting our trusted, fact-checked journalism by taking out a digital subscription.