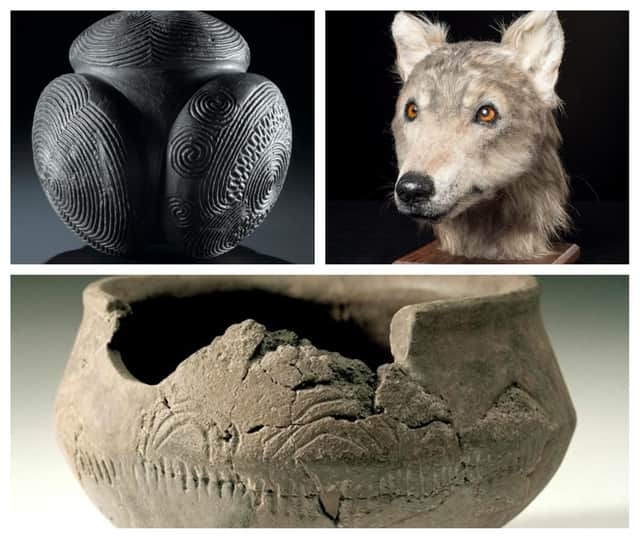 Detail from a Breton-style pot decorated with rainbow motif from Achnacreebeag near Oban which is amongst the earliest evidence of the French immigrant farmers who arrived in Scotland around 4,000BC (bottom), the 5,000-year-old Towie ball, found in Aberdeenshire, (top right) which is likely to have been used as a weapon during the Neolithic period and the reconstruction of a dog's head found in the Cuween passage tomb in Orkney. The animal was buried there around 4,500 years ago.
They came from the north of France around 6,000 years ago – and changed the face of Scotland forever.
Immigrant farmers arrived in Scotland from the near Continent around 4,000 BC, introducing a way of life that was radically different from that of the hunter-fisher-foragers who had lived in Scotland for millennia.
A "social and economic revolution" began as the Neolithic, or the New Stone Age, got underway. The impact of the new arrivals was huge, with indigenous hunter-fisher-forager DNA almost completely disappearing as a result.
The latest research into the Neolithic in Scotland was recently shared by Dr Alison Sheridan, former longstanding Principal Curator of Early Prehistory at National Museums Scotland, in the latest series of lectures commemorating the antiquary Alexander Henry Rhind for the Society of Antiquaries of Scotland.
Dr Sheridan said it was now believed, following DNA research, that the period began with the arrival of immigrant farmers from the Morbihan region of Brittany, who sailed via the Atlantic to western Scotland.
Others came from the Nord-Pas de Calais region, settling in southern and eastern Scotland.
They brought with them calves, lambs and piglets in hide-covered light vessels with seeds of wheat, barley, oats and flax also on board.
The Neolithic period got underway with the arrival of immigrant farmers from France around 4,00BC0 with the hunter-gatherer-forager lifestyle of the Mesolithic giving way to agro-pastroal farming and a more sedentary way of life. Pictured is an artist's impression of Neolithic longhouse at Balbridie near Aberdeenshire by David Hogg. PIC: David Hogg.
She said: "We can now say with some confidence that immigrants arrived from different parts of the near Continent around 4000 BC and introduced a new and completely Continental way of life based on agro-pastoral farming, along with the cultural traditions, practices and ways of making sense of the world that went along with this."
"The earliest farmers had a major impact on the native indigenous population whose genetic signature virtually disappeared."
Over time, the indigenous population stopped searching for food and became more sedentary as they adopted the farming lifestyle, producing food by rearing animals and growing crops.
Some of the earliest evidence of the new settlers can be found at at a Breton-style chambered burial cairn at Achnacreebeag near Oban. Inside, pottery of a style used in Brittany between 4,300 and 3,900 BC was discovered.
Dr Sheridan said: "The development of farming in the Near East around 10,000 BC has long been regarded as marking an economic and social revolution, and when this lifestyle finally arrived in Scotland around 4,000 BC it evidently had a major impact, bringing new ways of making sense of the world and new social structures, and heralding the end of the indigenous hunter-fisher-forager lifestyle."
The life of the farmers was far from idyllic, with evidence of violence, including a flint arrowhead found in one person's back-bone in Caithness, and signs that a child in Orkney had been hit on the face by an axe. Many skulls show blows from blunt objects.
She described the Neolithic as the "most fascinating period" in Scotland's past which is attracting interest – and economic benefit – from around the world.
Dr Sheridan said: "The Neolithic is not being regarded as some dusty or boring period in Scotland's past. It has a vibrant place in people's consciousness and, as we are witnessing with the worldwide fascination with the Ness of Brodgar on Orkney, Scottish Neolithic archaeology is making a significant and measurable contribution to Scotland's economy."
Tomorrow: A DNA breakthrough and two brothers buried in a cave in Oban 6,000 years ago
A message from the Editor:
Thank you for reading this article. We're more reliant on your support than ever as the shift in consumer habits brought about by Coronavirus impacts our advertisers.
If you haven't already, please consider supporting our trusted, fact-checked journalism by taking out a digital subscription.