Nerve centre of Neolithic life on Orkney to go underground as site covered over after 20 years
A nerve centre of Neolithic life on Orkney where people gathered, traded and feasted more than 5,000 years ago is to be covered up and sent underground once more.
Excavations at Ness of Brodgar, a huge complex of monumental structures in the heart of the Orkney mainland, will come to end next summer after more than 20 years of discoveries. It will be filled in and, in time, be covered by a field.
The scale and the significance of the Ness have been uncovered in painstaking fashion during annual summer excavations aided by archaeologists from around the world.
Hundreds of thousands of items, including the finest examples of Neolithic art in Britain, have been discovered at the site, which drew people to Orkney from all over Britain from around 3,000BC.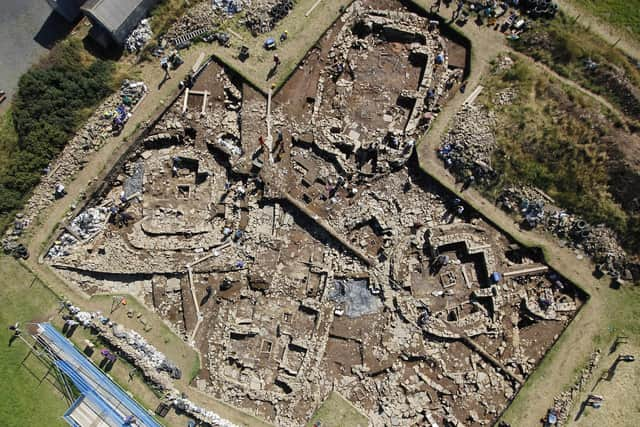 Archaeologist Nick Card, excavation director and chair of the Ness of Brodgar Trust, said: "Everything about this site is extraordinary. It really is once-in-a-several lifetimes discovery.
"People have recognised the importance of the site and how it fits into human development. There is no other site quite like it – it is a crucial part of the story of our ancestors."
Mr Card said he had "mixed feelings" the Ness of Brodgar would be covered up, but added it was a "logical" time to bring excavations to an end.
He said: "The site has to be preserved for future generations and the only way to do that is to cover it over. It would never last if it was left exposed. To actually see the site covered over again next year, well I think there will be a tear or two not only by myself, but other people on the team.
"It has been 20 years of my life and also some of the other team members – but it is time to leave it to the next generation of archaeologists."
Mr Card said work would now shift to post-excavation analysis, which, although has been ongoing, will take around five to seven years to complete.
He said: "We have built up a very good idea of what we think the site is like, but no doubt if someone comes back in another 50 years and digs a bit more, the ideas might change. There is so much post-excavation analysis to do. It's been an ongoing process, but it gets to that point that as professional archaeologists it is our duty to write up what we have found."
Virtual and augmented reality could be used to tell the story of the site in the future.
The presence of the Ness of Brodgar, which has been jointly excavated by the trust and The University of the Highlands and Islands Archaeology Institute, was first discovered in 2002, just ahead of the award of the UNESCO Heart of Neolithic Orkney designation.
He added: "It wasn't until 2004 we started to test the site and the scale and the complexity of what might be here started to emerge. I don't think any of us would have thought 20 years ago that we would still be excavating here."
Excavations at Ness of Brodgar have largely been funded by public donations, both from home and abroad. It is hoped that financial support will continue to support the next stage of work.
Comments
 0 comments
Want to join the conversation? Please or to comment on this article.