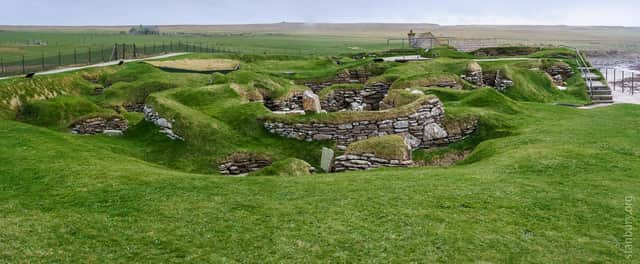 The skelton was discovered on a farm close to the Neolithic settlement of Skara Brae on Orkney but it is not clear if there is a link between the two, with the remains possibly from the later Bronze Age. PIC: Howard Stanbury/Flickr/CC.
The human remains were discovered in a stone burial cist at Skaill Farm, around half a mile from the world-famous Neolithic settlement.
Archaeologists are currently on-site excavating the skeleton, which is lying in a crouched position on its right hand side, with the cist some three-metres wide and covered with a heavy stone slab.
It is too soon to say whether the remains are those of a man or a woman or if anything else was buried with them.
But the robustness of the cist has left the skeleton virtually intact, with small bones – such as toes – surviving thousands of years.
Martin Cook, director of AOC Archaeology, said: "The size and scale of the cist would suggest it is a late Neolithic or early Bronze Age burial.
"We think the skeleton is buried by itself and not part of a cemetery. It is obviously very close to Skara Brae."
Mr Cook said it was too soon to say whether the burial was linked to Skara Brae, the Neolithic settlement that was occupied from around 3180 BC to 2500 BC
"This could be a later grave," Mr Cook added.
Evidence of other unexcavated settlements have recently been found on the coast at Bay of Skaill.
Mr Cook added: "We are currently removing the skeleton and what we are looking for is material goods, things like pottery or animal bones or whether a joint of meat was buried with it.
"The skeleton was laid down in a crouched position and we can see the leg bones, the arms and the toes. Sometimes animals like voles will get in and take the smaller bones but this cist was really well, tightly built. It looks like all the bone is there and well."
The find was reported to archaeologists after it was discovered during work on the Davidson cattle farm at Skaill.
The excavation was carried out by AOC Archaeology on behalf of Historic Environment Scotland.
A spokesperson for Historic Environment Scotland (HES) said "We were approached by the local authority archaeologist in Orkney for assistance after a discovery of a cist burial in the buffer zone of the Heart of Neolithic Orkney World Heritage Site. AOC Archaeology, current holders of our excavation call off contract, are attending the site and will be carrying out an archaeological excavation."
The find comes shortly after evidence of a possible Neolithic or Bronze Age settlement in the Bay of Skaill area was discovered around half a mile from Skara Brae.
The finds of a badly damaged wall, which had been exposed due to the pounding tides on this stretch of coast, along with deer antlers, a boar tooth, a cattle jawbone and a large decorated stone have led archaeologists to consider whether "another Skara Brae" is waiting to be discovered.
Sigurd Towrie, spokesman for the Archaeology Institute at University of Highlands and Islands, said earlier this month that the finds "suggest there is another settlement at the Bay of Skaill – one that, from previous environmental sampling, is likely to be 4,000 to 5,000 years old".
A message from the Editor:
Thank you for reading this article. We're more reliant on your support than ever as the shift in consumer habits brought about by Coronavirus impacts our advertisers.
If you haven't already, please consider supporting our trusted, fact-checked journalism by taking out a digital subscription.