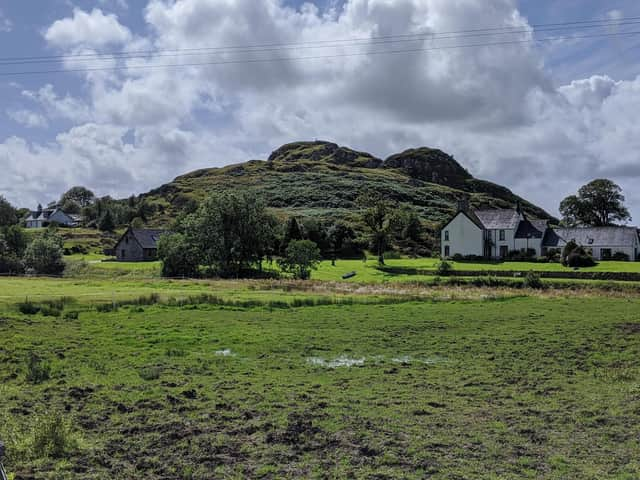 Dunadd Fort rises out of the landscape of Kilmartin Glen and was once the powerbase of the kingdom of Dál Riata. PIC: Lauren Johnston-Smith/Creative Commons.
Dunadd Fort in Argyll rises high out of the Moine Mhor – the 'great moss' – or the expanse of bog that carpets the southern end of Kilmartin Glen.
The fort was the former power centre of the Gaelic kingdom of Dál Riata and remains a place of wonder.
A number of mysterious carvings sit below the summit of the hill, including two large footprints embedded in a rock ridge.
The footprint at Dunadd fort in Argyll, the power base of Gaelic kings more than 1,500 years ago.
"They may well have been used during real-life inauguration ceremonies for new kings, symbolising the new ruler's dominion over the land," according to Samuel Wilson, of Historic Environment Scotland.
Similar footprints can be found at Clickimin Broch in Shetland.
At Dunadd, other carvings include a boar, a basin or trough and what could be the remains of a rock-cut throne.
Those heading to summit would have passed through a narrow natural passage and a series of terraces to reach the top.
There, the enclosure is surrounded by the strongest defences and is probably where the king would have ruled from.
Excavations in the 1980s found the mound was used as a fort more than 2,000 years ago with the Gaelic kings using it as a power base from AD 500 to AD 800.
According to Historic Environment Scotland, it is one of the few places in Scotland referenced in early histories.
It was first mentioned in AD 683 in the Annals of Ulster, by which point it was already a major power centre – potentially already the chief stronghold of Dál Riata. In 736, its seizure by a Pictish king is also recorded.
It may also be the spot where St Columba reportedly met a merchant from Gaul in the late 500s, although a site near Oban has also been proposed as the gathering place.
The Dál Riata formed a series of kindreds, or larger tribal groupings, with Dunadd thought to have been located close to the boundary of two leading groups – the Loairn and Cenél n Gabráin .
A message from the Editor:Thank you for reading this article. We're more reliant on your support than ever as the shift in consumer habits brought about by Coronavirus impacts our advertisers.