Most Haunted Scotland: Here are the best hidden haunted locations in Scotland - including Edinburgh, Perth and Glasgow
Want to try find a ghost in Scotland this Halloween? Here are the most hidden haunted locations to visit in Scotland - from Glasgow to Edinburgh to Dunfermline.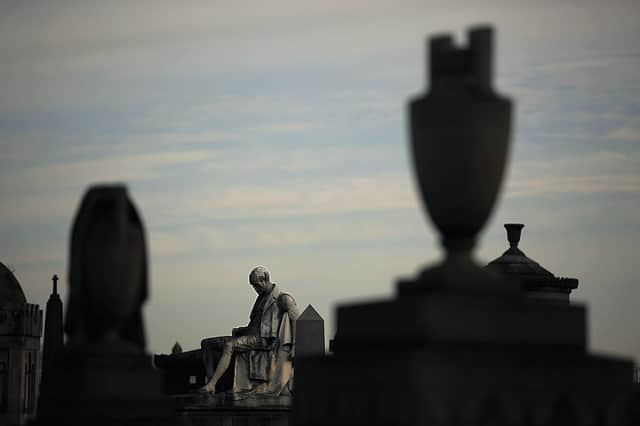 It has long been known as one of the most haunted countries on the globe and, as Halloween approaches, many people will look to Scotland as the perfect place to go ghost hunting.
Glasgow
With a huge 44 accounts in the Paranormal Database, Glasgow is one of the most reportedly haunted areas of Scotland - with the Glasgow Cathedral and the Necropolis provided a stunning, ghostly backdrop.
Most haunted areas: The Mitchell Library has an intriguing history and is reportedly one of the most haunted areas of Glasgow. The old Victorian architecture gives some visiting a feeling of fear; coupled with tales of icy chills - it is easy to see why some people have noted a feeling that a ghost or ghouls is lurking behind them.
Edinburgh
With long dark alleyways, mountains of history and medieval architecture, you would be hard pushed to find a city more full of spooky atmosphere and layers of ghostly tales than Edinburgh.
Looking at the Paranormal Activity database, the capital has a shocking 106 instances of supernatural occurrences since records began. 
Most haunted areas: Greyfriars Kirkyard has become one of the most spoken about haunted locations in Edinburgh, with the graveyards said to be a hive of spirits and ghouls that lurk around the area. One spirit, supposedly tormented by life so terrible, they are seeking retribution from the living.
You may also see the ghost of George MacKenzie - a merciless persecutor in the 17th century - if you're lucky, with the ghost said to haunt the Kirkyard. It is said that a homeless intruder disturbed his final resting place - the Black Mausoleum - and awoke his spirit.
Perth
This are has plenty of haunted to places to seek out, with 63 paranormal locations according to the database - eek!
Most haunted areas: If you want a spooky surprise, then the Perth Theatre should be your first port of call. The legend of the 'grey women', fully dressed in period attire and giving off a strong scent of tobacco is said to wonder the halls. If you're in search of ghostly encounters, a visit to Perth Theatre is a must.
One photograph has even reportedly caught her on camera, with a misty figure on the balcony shown to be observing working who were carrying out repairs to the building.
Aberdeen
A complex mix of history and mystery envelop the city of Aberdeen - and there's plenty for those who are looking to seek out spooky sights.
Most haunted areas: The Aberdeen Arts Centre is said to have had countless spooky encounters. Whispers of a lingering maid on the old top floor have been seen and other ghostly sightings along the corridors. However, most chilling is a haunted face which is seen to float around the Green Room. Crikey. 
Dunfermline
With a ancient abbey, huge array of local history and cobbled streets, Dunfermline can lay claim to being one of the best backdrops for a ghost hunt in Scotland.
Most haunted areas: The Alhambra Theatre is said to be one of the most haunted areas in Scotland. One report claim a mysterious figure draped in black has been seen traversing the aisles in the area, while the projection room is said to leave visitors feels very unsettled.
People have claimed to see a former Italian actress who met her demise in the 1920s and a lingering monk from the area enigmatic past.
Comments
 0 comments
Want to join the conversation? Please or to comment on this article.