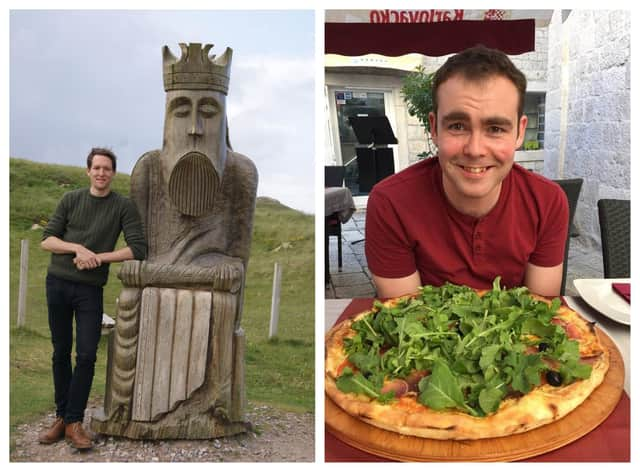 Architect Màrtainn Bàillidh (left) and primary headteacher Ciaran Iòsaph MacAonghais (right), two of the writers of the Duolingo Scottish Gaelic course. PIC: Contributed.
Duolingo, the online language app, said the Scottish Gaelic course launched a year ago had been "hugely successful" with lessons to be expanded given the demand.
Colin Watkins, UK manager of Duolingo, said around a third of its Scottish Gaelic learners were from Scotland, a third from the United States and the remainder from around the world, including around 8% from Canada.
He added: "Getting to 560,000 is a huge success – it's a gangbuster."
The Gaelic course was written for Duolingo by a number of native speakers, including Glasgow-based architect Màrtainn Bàillidh, former university student Joanne McLennan and Ciaran Iòsaph MacAonghais, a Gaelic primary school headteacher.
Mr Watkins said: "We want all our courses to be as representative as possible and the course now has recorded audio from 17 speakers from across the Highlands, Islands and Lowlands of Scotland - including recordings from four generations of Ciaran's family, including his gran.
The majority of those who have signed up to the Duolingo course are under the age of 45.
Mr Watkins said the Scottish Gaelic learners were "some of the hardest working in the world" given the number of lessons completed on the platform.
Given its popularity, the course is due to triple in size from today (Tuesday) with the number of learning skills rising from 34 to 105.
The course now includes a skill that focuses on Nova Scotia and Canadian Gaelic with audio from a Nova Scotia speaker.
Meanwhile, learners have set up numerous online Scottish Gaelic events, where people can practise their skills in real time, with people in Hawaii and Sydney amongst those taking part.
Closer to home, Alex Tearse from Stornoway on Lewis, signed up to the Gaelic course on the first day to help fulfil a long-held desire to speak the language of his home island, where he has lived for 20 years.
He said: "However, languages don't come easily to me and despite reading books and trying to do courses I hadn't made huge amounts of progress.
"As time moved on I had children who have entered Gaelic Medium Education.
"My partner of some 11 years is a fluent Gaelic speaker and passionate advocate of the language and my step-children are all fluent speakers.
"However, being able to speak a language doesn't mean you can teach it and surprisingly perhaps my Gaelic hadn't moved on particularly with my partners input so English has been the predominant language used in the house to accommodate the monoglot."
He said the Duolingo app suited his learning style and that his Gaelic had come on "leaps and bounds" in the past year.
He added: "A couple of years back a good friend of mine said that no-one who lived in the Hebrides for years could excuse not learning Gaelic. With the existing and soon to be released Duolingo materials I look forward to being able to converse with him in Gaelic instead of shamefacedly returning to English."
The latest available official figure showed that 57,600 people in Scotland could speak Gaelic at the time of the 2011 Census.
Scotsman
A message from the Editor:
Thank you for reading this article. We're more reliant on your support than ever as the shift in consumer habits brought about by Coronavirus impacts our advertisers.
If you haven't already, please consider supporting our trusted, fact-checked journalism by taking out a digital subscription.