Medal awarded to East Lothian Battle of Waterloo hero who survived eight lance wounds is up for sale
A medal awarded to a heroic Scottish cavalry officer, who took part in the charge of the Scots Greys at the Battle of Waterloo and miraculously survived despite numerous injuries, is expected to fetch up to £9000 at auction later this month.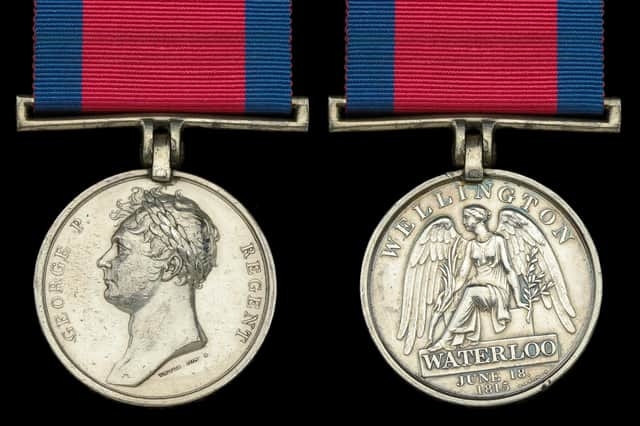 Sergeant William Porteous, from the village of Stenton in East Lothian, suffered lance wounds in eight different parts of the body during the famous victory over Napoleon's French army on 18 June 1815.
His Commanding Officer in the Royal Scots Greys later described him as "a worthy, good man, dreadfully wounded at Waterloo, a loss to the regiment".
Sgt Porteous' Waterloo 1815 medal will go under the hammer at Dix Noonan Webb auctioneers on March 17.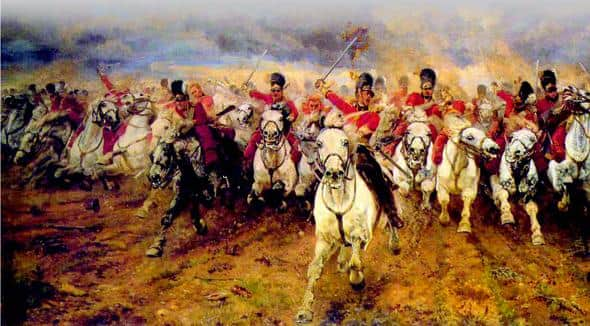 The silver medal, still in "very fine" condition, offered along with the Scottish hero's copied discharge papers, is expected to attract bids of £7000-9000.
William Porteous was born in Stenton in the county of Haddington, and enlisted aged just 17 on 22 April 1794.
He was promoted to Corporal in December 1802, and to Sergeant in November 1804.
He fought in Captain Barnard's troop at Waterloo where he suffered no less than "eight lance wounds in different parts of the body". In addition, his left elbow joint became ankylosed from another wound.
His wounds were treated at Brussels between June and September 1815, and he was discharged to pension at Chelsea Hospital on October 30, 1816, with a commendation from his commanding officer, Lieut. Colonel Isaac Clarke.
Nimrod Dix, Deputy Chairman of Dix Noonan Webb, said: "It is quite remarkable that Sergeant Porteous survived so many wounds and examples like this are very few and far between, especially one to one of the most famous regiments for Waterloo, which makes it a desirable prize indeed."
The Royal Scots Greys, formally known at the time as the Royal Regiment of Scots Dragoons, were formed in the 17th century and later became known for their heavy grey horses.
At Waterloo, 416 Scots Greys famously charged into the advancing French infantry.
During the charge, Greys' Sergeant Charles Ewart heroically captured a French regimental eagle battle standard, later incorporated into the regiment's official badge.
As they continued their advance many were cut down in volleys of French musket fire, leaving 104 men dead and 97 wounded. Some 228 horses were also killed.
Despite such heavy losses, including the commanding officer Major General Sir William Ponsonby, their actions helped turn the tide of the battle in Britain's favour.
The Scots Greys would go on to pursue the defeated French Army until Napoleon's surrender and final abdication.
The iconic charge at Waterloo was celebrated in Elizabeth Lady Butler's famous 1881 oil painting "Scotland Forever!"
The painting's title was taken from the soldiers' battle cry, "Now, my boys, Scotland forever!" as they charged.
A message from the Editor:
Thank you for reading this article. We're more reliant on your support than ever as the shift in consumer habits brought about by coronavirus impacts our advertisers.
If you haven't already, please consider supporting our trusted, fact-checked journalism by taking out a digital subscription.
Comments
Want to join the conversation? Please or to comment on this article.