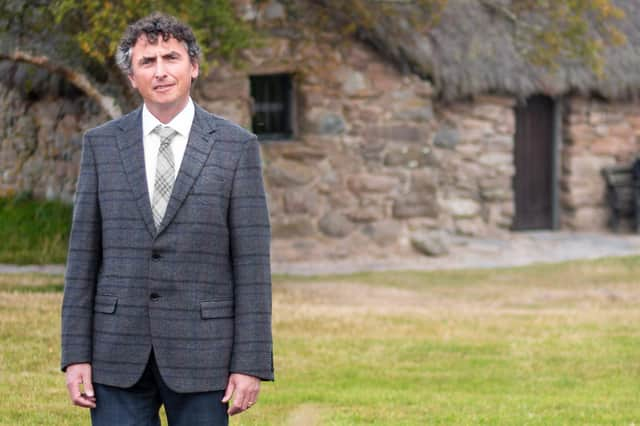 Raoul Curtis-Machin, operations manager at Culloden, wants Scotland's battlefields protected by law. PIC: Flying Mirrors.
"They're not going to allow building here, surely? Not on the battlefield itself – is nothing sacred?" This was a common response from the hundreds of visitors we surveyed in 2019 ahead of Culloden's 275th anniversary.
They were aghast, how could new housing be built in view of the memorial cairn? Today the sixteen, five-bedroom, executive-style homes at Viewhill are built and in place and, as we feared, they erode the fragile but powerful sense of place in this view at Culloden.
But there is no use crying over spilt milk, or wasting time throwing blame around. The question we are asking is 'what are we going to do now to stop this happening again?'
Statutory protection for battlefields is surely a no-brainer. It was something that the 3000 respondents in our survey believed would already exist. It does not. And so, so many who responded to the National Trust for Scotland's Culloden 300 consultation , called loud and clear for better protection.
They called on all of us – Government, Council, national and local heritage bodies, the National Trust for Scotland and local communities – to work together better to protect the site, before it's too late. It's our collective responsibility, now, not someone else's problem, later.
UNESCO World Heritage Site status would go a long way to strengthening protection, as would making the Inventory of Battlefields in Scotland a statutory instrument in the same way that Scheduled Ancient Monuments and Listed buildings work. And this needs proper resource to guarantee better protection.
When I was the Landscape Historian back in the early 2000s, it became painfully obvious to me that you needed sufficient skills and capacity to properly protect the places we love. Landscapes are tricky things to protect. They are living, breathing, changing and lived upon in a variety of ways.
Draw a line around them and it can open the door to development on neighbouring land, destroying a key view and irreparably damaging the landscape you are trying to protect.
That's where the subtle, finely tuned skills of landscape impact assessment come in, along with boots on the ground, to walk and evaluate sites from all angles.
Last year we saw disheartening images of Greenpeace sinking vast concrete boulders into the sea, resorting to desperate measures to ensure protection in marine reserves. Clearly the job's not done by just declaring a designation. But they are still the best form of planning protection, when given legal teeth and the skills and resources to implement and police them properly.
Consensus speaks more powerfully than the individual voice in planning, so increasing the statutory consultee list for battlefields would also help. Again, this needs help to resource because these planning applications twist and turn like hydras, developing new heads and coming back at you through repeated appeals.
Keeping track of it all at Culloden is a full-time job, with three or four live applications on the go all the time. Specialist and knowledgeable organisations like the Scottish Battlefields Trust could be set up and supported as an additional statutory consultee, or this could be done in partnerships.
The National Trust for Scotland only owns a third of Culloden Battlefield, which leaves us vulnerable to development threats. Stronger protection mechanisms are therefore vitally important, not only to Culloden, but to all battlefields, and to everyone who cares about their place in our country's rich history and heritage.
A message from the Editor:Thank you for reading this article. We're more reliant on your support than ever as the shift in consumer habits brought about by Coronavirus impacts our advertisers.
If you haven't already, please consider supporting our trusted, fact-checked journalism by taking out a digital subscription.