'Insane inequalities' in land ownership tackled with £10 shares in rewilding vision
A millionaire climate change pioneer has launched his bid to tackle the "insane inequalities" in land ownership by offering Scots a chance to buy up land for rewilding for as little as £10.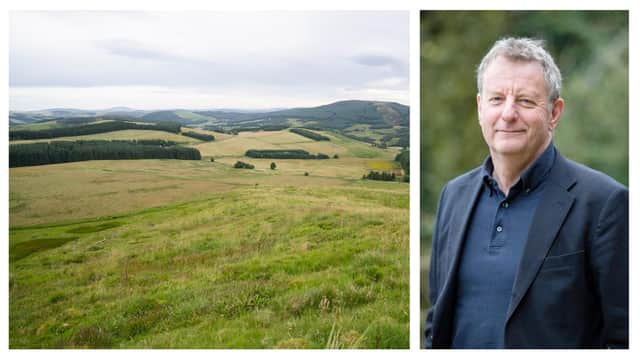 Jeremy Leggett, a former Greenpeace director, will launch a "mass ownership company" ahead of the COP26 climate change conference to acquire land in the Highlands for rewilding and the sequestration of carbon.
Mr Leggett will sell one of his two recently purchased rewilding estates, Beldorney near Huntly, Aberdeenshire, to the newly-formed company, Highland Rewilding Ltd.
The land will be the first to be owned by the new shareholders, who will invest through a crowdfunder.
Mr Leggett said: "It's not just about dealing with the climate emergency and the collapse in biodiversity – it's also about improving the insane inequalities in landownership in Scotland.
"I am no longer going to be the owner of Beldorney, it's going to be the sold to the company at a fair market rate and the new owners, including as many Highlanders and Scots as possible, will benefit."
Shareholders could potentially benefit from an increase in land value and profits from "nature recovery", which may in part be driven by government payments for carbon offsetting.
The development comes amid increasing concern about so-called 'Green Lairds' – those who are buying up substantial parcels of land to benefit from government payouts for carbon offsetting, such as peatland restoration and tree planting.
Recently, BrewDog bought over 9,000 acres of land in the Cairngorms in a bid to reduce the craft beer producer's carbon footprint.
Meanwhile, Standard Life Investments Property Income Trust (SLIPIT) acquired 1,447 hectares in Cairngorms National Park as part of the company's carbon strategy.
Such purchases risk pushing up land prices, and freezing local communities further out of opportunities, campaigners have warned.
Mr Leggett, who also owns Bunloit at Drumnadrochit, said: "I think this view of the 'Green Laird', well it is easy to understand why people would be concerned.
"But how can I be a green laird if I am going to be a minority shareholder? I don't think I am a green laird.
"I am not surprised by the debate and if anything, I am surprised it is not more hostile.
"This is a genuine direction I have always intended to go down. It was never my hope to keep buying tracts of land with debt."
He said he wanted women to make up 50 per cent of board members, with it hoped the majority of those leading the firm coming from the Highlands.
Mr Leggett, whose firm Solarcentury, which brought solar panels to the mainstream market, sold for £117m last year, added: "What I am doing won't be everyone's cup of tea, it is a company and the idea is for it to be a profitable one."
Dr Calum MacLeod, Policy Director at Community Land Scotland: "The idea of a 'mass ownership company' ostensibly looks like an interesting departure from the modus operandi of many of the Green Lairds of various stripes either currently part of or queuing up to gain entry to Scotland's notorioulsy concentrated system of rural land ownership."
He said it remained to be seen whether the model would translate into localised community control of decision making
The crowdfunder will be launched next month.
A message from the Editor:Thank you for reading this article. We're more reliant on your support than ever as the shift in consumer habits brought about by Coronavirus impacts our advertisers.
If you haven't already, please consider supporting our trusted, fact-checked journalism by taking out a digital subscription.