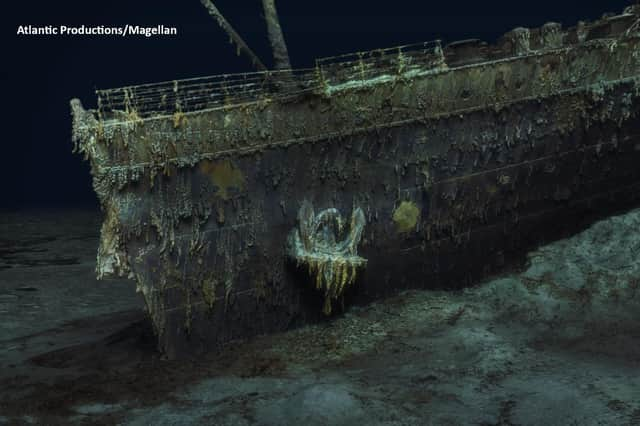 Incredible images of the Titanic revealed after first full-sized digital scan of wreck
The wreckage of the Titanic has been revealed as never seen before following the creation of the first full-sized digital scan of the world's most famous ship.
The vessel, which lies 12,500ft down in the Atlantic, has previously only been seen through snapshots from underwater cameras since its discovery in 1985.
Now Magellan, a deep-sea mapping company, has completed a full 3D scan of the vessel as it lies on the ocean floor, even featuring minute details such as unopened champagne bottles and discarded shoes.
It is now hoped the images will shed new light on what happened to the ship, which infamously sank after striking an iceberg on its maiden voyage from Southampton to New York in 1912, killing more than 1,500 people.
Parks Stephenson, a Titanic analyst, told BBC News: "There are still questions, basic questions, that need to be answered about the ship.
"We really don't understand the character of the collision with the iceberg. We don't even know if she hit it along the starboard side, as is shown in all the movies – she might have grounded on the iceberg."
He added that the 3D model – made from more than 700,000 images taken from every angle – was "one of the first major steps to driving the Titanic story towards evidence-based research and not speculation."
The Titanic lies in two parts on the ocean floor. Pieces of debris also surround the vessel.
A fleet of remote-controlled submersibles spent more than 200 hours capturing the images in partnership with Atlantic Productions, a television production company documenting the project.
Gerhard Seiffert, of Magellan, said: "The depth of it, almost 4,000 metres, represents a challenge, and you have currents at the site, too, and we're not allowed to touch anything so as not to damage the wreck.
"The other challenge is that you have to map every square centimetre, even uninteresting parts, like on the debris field you have to map mud, but you need this to fill in between all these interesting objects."
The images confirm how the sea is taking its toll on the wreckage, which is disintegrating on the ocean floor, but with it now frozen in time, it is hoped there are more discoveries to be made.