How the ancient rarities in Scotland's apple collection could help save the fruit in the future
It contains some 300 varieties, some which were first grown by the Romans.
Now conservationists at National Trust for Scotland (NTS) believe the rarities within its apple collection – and the skills required to keep them healthy and nurtured – could help save the fruit in the future from the worst impact of climate change.
Apples at some of the trust's orchards date back centuries, with one rare variety, the Court Pendu Plat, first introduced to Britain by the Romans and still growing at Priorwood Garden in the Scottish Borders.
Other varieties in the NTS orchards were developed by the Elizabethans in the 16th century or the Victorians in the 19th century.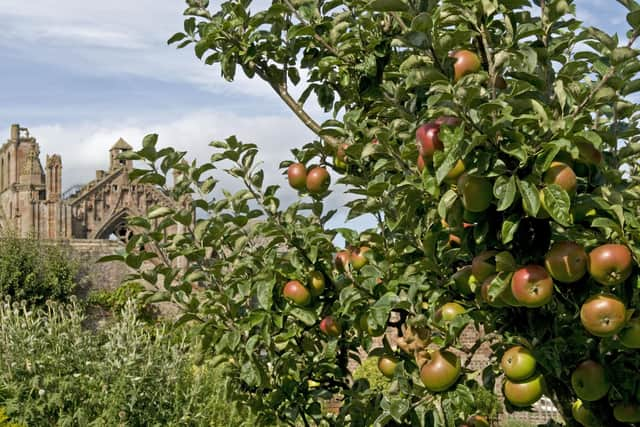 Caring for the orchards and apples has led to the development of great skill, with it believed this knowledge could help protect the apple from decline in the future.
Colin Wren, the National Trust for Scotland's gardens and designed landscapes manager for the Edinburgh & East region, said: "The National Trust for Scotland's work to conserve and enrich our heritage orchards goes beyond our objective to providing access and enjoyment for communities and people of all ages.
"With fruit production likely to be impacted by climate change, among other challenges, we believe it is vital for future growers to have access to varieties that have survived and evolved over hundreds of years, rather than relying on the handful of commercial varieties that currently dominate supermarket shelves.
"Our charity is investing in a wide variety of activity to conserve Scotland's heritage varieties, including grafting apples from historic apples to preserve them, DNA testing to establish the names of some of the older varieties that have proved difficult to identify from fruits, and replanting historic Scottish varieties, all to make sure that we can share the joy of our apple collections, with all their glorious colours, tastes and histories, with future generations, along with our horticultural expertise, all in support of our vision of nature, beauty and heritage for everyone."
Chris Wardle, the NTS's gardens and designed landscapes manager for the North East, said cultivation methods for apples and other fruit trees had remained broadly the same for centuries.
He said: "However, climate change is a major factor in what happens to fruit production in the future."
Mr Wardle said production methods that relied heavily on water and chemicals may be forced to change amid updating environmental laws, temperature fluctuations and a scarcity of pollinators.
He said: "Therefore, the trust's work of managing a heritage collection may have immense significance for the future. Many of our varieties have survived hundreds or years and have gone through changing weather patterns and climate shifts. It's possible that some of them have qualities that could turn out to be important for reasons of drought tolerance, disease resistance, flavour profiles, storage capacity or longevity of storage – we just don't know."
Several 'Apple Days' will be held across trust properties this summer to share the collection, its history and its possible future with the public. Pitmedden Garden in Aberdeenshire, where apples were grown as far back as 1603, will host an event on September 24. Similar events will be held at Falkland Palace and Kellie Castle in Fife, and Harmony House in Melrose in the Scottish Borders throughout next month.
Comments
 0 comments
Want to join the conversation? Please or to comment on this article.