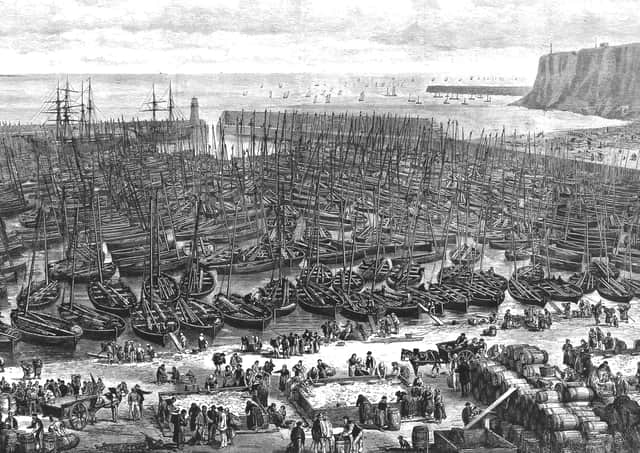 Boats and carts in Wick Harbour during the herring fishing, Wick, 1875. (Photo by Hulton Archive/Getty Images)
Scotland's fishing towns and villages boomed from the sale of cheap salted herring to slave plantations, with almost two thirds of exports in the late 18th Century bound for the West Indies.
Dr David Alston, of Cromarty, right, who has long studied links between slavery, wealth and the Highlands, found that 61 per cent of salted herring sent to the West Indies was exported from Scotland, usually from Greenock.
Such was the demand for salted herring, which could last in barrels for several months and survive long transatlantic crossings, that moves towards emancipation were met with petitions to parliament from merchants and fish curers in Wick, Cromarty and Tain.
Dr Alston said that the plantations provided a "growing source of employment" in Scotland's fisheries from the mid 1700s. He said: "Keeping slaves alive and working required a supply of at least a bare minimum of protein.
"This was most commonly Newfoundland salt cod and was also a significant market for salt herring from Britain, which came mostly from Scotland."
In 1798, a Parliamentary Committee into the state of British herring fisheries found that exports to the West Indies had increased to 84,782 barrels, of which 51,892 barrels (61 per cent) came from Scotland.
The herring industry flourished from the late 1780s when the British Fishery Society developed ports, beginning in the west at Tobermory and Ullapool but then moving to Wick when the shoals headed east.
Villages like Helmsdale, built by the Duke of Sutherland after the Clearances, also prospered from the mass catches of "silver darlings" which were gutted quickly shoreside by legions of women, with the poorest quality cured in salt and sent to the Colonies.
Dr Alston said merchants on the Clyde reported difficulties in meeting demand for the West Indian market with the fleet sometimes delayed by a month or six weeks until the herring arrived. The fish came from as far north as Lewis and Lochbroom but often processed on vast "herring busses" coming out of Rothesay, Campbeltown, and Greenock.
Opportunities for Scots merchants in the colonial herring market were clear. In 1816, Orcadian brothers Samuel and James Laing set up a curing station at Papay Sound on Stronsay. By the following year, 
400 boats were fitted out, with salt herring then exported directly to the Caribbean.
Dr Alston said: "This is a particularly clear example of the impact of the West India market on Scottish fisheries."