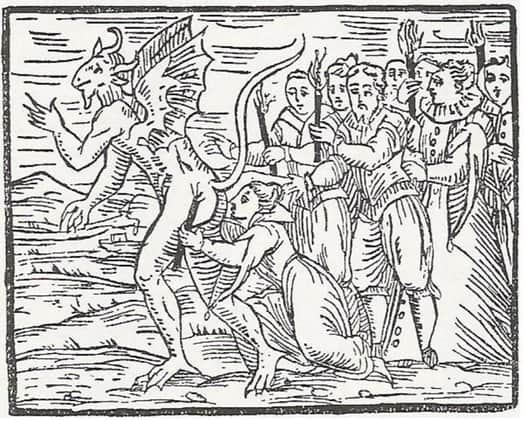 The conventions, or sabbats, were held four times a year, usually around the end of every quarter and appear to be half party and half serious meeting of witch business when the devil would be summoned, recent mischief reported and new plans made.
Usually held on a hilltop or sometimes in a woodland glade or a graveyard, those attending would usually walk or transform themselves into an animal – particularly a cat or a hare – to make the journey undercover and without fear of being apprehended, according to accounts.
Acccording to the notes of a minister from Lumphanan in Aberdeenshire, Isobel Robbie, who was tried for witchcraft in 1597 but whose fate is not recorded, was commonly seen in the form of a hare passing through the town .
Horses would sometimes be taken for the trip but other great beasts were also used as transport.
"Colin Massie, the warlock of Glendye, made his way to the witch gatherings, riding on a huge black boar. If it were a long journey, a horse might be taken from a stable over whose doorway there was no horse shoe suspended," J McPherson wrote in his compendium Primitive Beliefs in the North East of Scotland.
The large Conventions or Sabbats were attended by the witches of several covens drawn from a wide area. In Forfashire, the meetings were held four times as year at Candlemass, Rooday, Lammas and Halloween.
Different conventions favoured different times of the year, with an account from Aberdeen witch Christen Mitchell recording how a conventon was held on St Katherine's Hill at Rooday in the early morning, likely to have been in early May. Rooday was also observed on September 25.
But Halloween was the key date, with records showing great gatherings at the Mercat and Fish Cross of Aberdeen, among other places. Here instruments favoured by the devil, which generally included a chanter, were played with some of those gathered transforming into hares and cats.
Isobel Cockie, who was executed for witchcraft in 1597, reportedly attended a convention in Aberdeend's Castlehill. Two women also accused of witchcraft say they were with Cockie at meetings on Halloween at the Mercat Cross.
In Banffshire, dances were also held on Halloween, with the assemblies lasting two nights and a day.
HIlls, traditionally gathering points for scenes of sacred rites, provided a "natural rendevous" for witches with water and woodland glade also a meeting point.
In Banffshre, the Binloch and the Binhill became the scene of convention and in Deeside the great meetings were held between the Hill of Craigleauch and Lumphanan
Isobel Gowdie, whose testimony is one of the most detailed insights into witchcraft in Scotland and was apparently achieved without the use of torture, spoke of a convention at Earlseat near Kildrummy. There, she and other members of the Auldearn witches danced with another coven.
Churches and churcyards also became scenes of "notable gatherings of the infernal crew," McPherson wrote.
On the night, after the roll was called, new recruits were initiated into the society and a service was held.
According to notable warlock Andro Man, of Tarbruich, in Rathven, Banffshire, a black beast rose among those gathered before the "witches kissed the beast's hinderpart."
Isobel Gowdie recalled how the devil would "sometime be like a stirk (a young bull), a dear, a roe or a dog….and he would hold up his tail till we would kiss him."
McPherson added: "The kissing of the devil's fundment as a token of homage is referred to in the witch trials of all nations. It is not distinctively Scottish."
The conventions also got physical, according to the accounts of Gowdie and others. In her testimony, she spoke of her master's outbursts.
She said: "Sometimes among ourselves we would be calling him Black John and he would know it and hear us well enough….and then he would beat and buffet us very sore.
"We would be beaten , if we were absent anytime or neglect anything that would be appointed to be done."
While some witches defened themselves, Black John used cords and other sharp scourges – or whips – for beatings.
"We would still be crying Pity! Pity! Mercy our Lord! But he would have neither pity or mercy," Gowdie said.
The ceremonial closed with a banquet, which could sometimes be quite sumptous, with one account detailing how an ox was killed in the morning and carried to be shared at the meeting.
Besides dancing and festivity, there was a certain amount of business transacted and instruction given.
McPherson wrote: "The witches reported to the devil the mischief they had done since they had last assembled.
"They received fresh instructions, and at the meetings often practised the black art.
"An image of an enemy to be destroyed was formed. Incantations were pronouned. The devil also suppled them with materials for executing their craft."
He added: "It was a grotesque, blasphemous cult."
Witch hunting came in various waves across Scotland after the passing of the Witchcraft Act in 1563, which made witchcraft, or consulting with witches, capital crimes.
Records detail witchcraft charges against some 4,000 Scots, the overwhelming majority of them women
The 1563 Act was repealed in 1736 but superstition, traditions and stories surrounding witchcraft lingered on long thereafter.