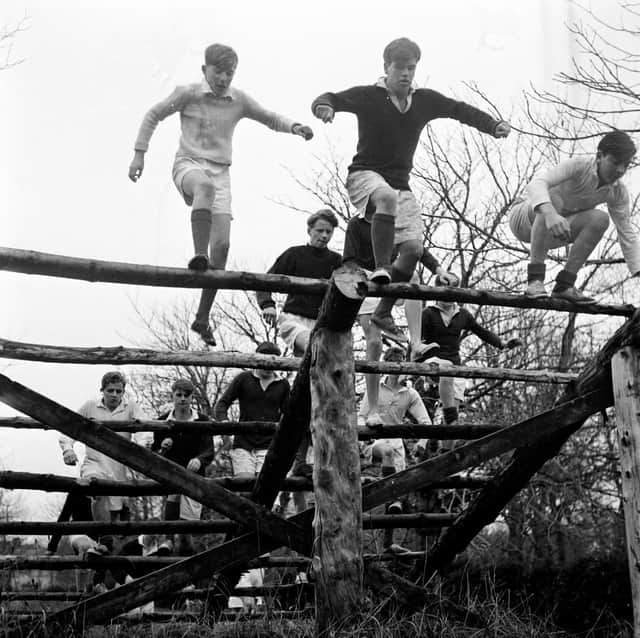 7th February 1956: Pupils at Gordonstoun School doing physical training on an obstacle course. Gordonstoun School, near Elgin, was founded in 1934 by German educationalist Kurt Hahn who believed in a holistic approach to teaching. Creative and personal development, considered of equal merit to traditional education, is encouraged among the pupils. (Photo by Chris Ware/Keystone Features/Getty Images)
Against the backdrop of a turbulent childhood spent flitting from country to school across the world, it was Kurt Hahn's Salem School in Germany, and in Scotland thereafter, that is said to have grounded Prince Philip and forged his lifelong love of the outdoors and steely determination.
When the Duke of Edinburgh was asked during an interview with the Independent in 2014, 'What language did you speak at home?', his famous response of "What do you mean, 'at home'?" spoke to a feeling of homelessness that dominated much of the Prince's early years.
It was at Gordonstoun that he is said to have found himself - under the strict, outdoor-based regime imposed by pioneering German Jewish educator Kurt Hahn who fled the Third Reich and Gordonstoun's predecessor, Schule Schloss Salem, in southern Germany.
After Hahn was briefly imprisoned for publicly speaking out against Hitler as the Nazi dictator's power quickly grew, he sought new, safer pastures in Britain and enshrined his Outward Bound philosophy in the Aberdeenshire school in 1934.
The school placed as great an emphasis on fostering collaborative team spirit as it did on the belief that outdoor learning was essential for building strength of character. Here, weaknesses were obstacles to be leapt over; fears were to be confronted with physical strength and solidarity.
Prince Philip consequently transferred to Gordonstoun in Aberdeenshire to continue his unconventional education under Hahn in the Scottish highlands. Even today, the school's reputation is bound up with tales of ice-cold showers suffered by schoolboys like Prince Philip after a morning cross country runs across the school's 150 acre grounds.
At Gordonstoun, where the Prince was to soon learn of the death of his sister, Princess Cecile of Denmark and Germany, and her family in a tragic plane crash, the young Duke of Edinburgh could be spotted dangling from ropes and trees, or performing in school productions like Shakespeare's iconic Scottish play Macbeth.
Prince Philip's affinity for Gordonstoun, and appreciation of Scottish education, seems to have only grown since leaving it behind in 1939 to become a cadet at the Royal Naval College in Dartmouth.
"In education, if in nothing else, the Scotsman knows what is best for him. Indeed, only a Scotsman can really survive a Scottish education," said Prince Philip when he was made Chancellor of Edinburgh University later in 1953.
In his later years, following his marriage to Queen Elizabeth II, Prince Philip would controversially insist on his sons attending his alma-mater to learn by the same hyper-masculine philosophies as he - with Prince Charles becoming a pupil at the Gordonstoun on May 11 1962.
Today, Prince Philip's presence at the Morayshire school - since attended by the sons of David Bowie and Sir Sean Connery - is instilled in The Prince Philip Gordonstoun Foundation, a bursary scheme the duke lent his name to, hoping hope that it would "ensure that the School can continue to attract entrants from the widest possible variety of backgrounds and nationalities."