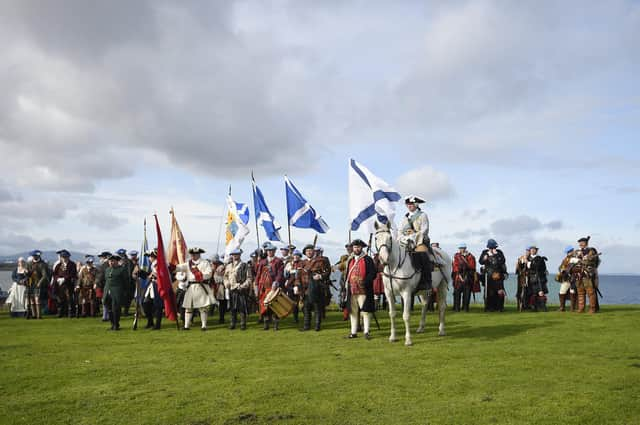 Pic - Greg Macvean - Battle of Prestonpans parade
The Battle of Prestonpans Heritage Trust wanted to take on a lease for 45 acres of land at part of the former Cockenzie Power Station site in East Lothian when it was advertised two years ago.
Now the fields are back on the market but the annual rent has doubled, while the land available is smaller.
East Lothian Council is offering three of four fields on the site – just over 35 acres – for lease at at least £10,000 a year – twice the £5,000 minimum put on bids in 2019.
The land, which includes a field recognised by the Battle Trust as the burial site for soldiers from the historic Jacobite victory, has been a site it has been keen to farm for a number of years.
However, East Lothian Council bought the land as part of a deal to take over the power station site in 2018 and, when the trust offer fell below its minimum lease fee of £5,000, it lost out to a Brussels sprouts farmer.
Two years on, the council is advertising three of the four fields originally offered for agricultural lease at twice the annual cost and is seeking a fresh crop for the fields after two years of sprouts.
The trust has relaunched its interest in the fields, with joint chairman Dr Gordon Prestoungrange telling the council in relation to Brussels Sprouts that "now we've left the EU, they are doubly inappropriate!".
The trust wants to grow crops it says were traditionally grown there in 1745 at the time of the Battle of Prestonpans.
Previous bids by the trust to buy the fields have been rejected by the local authority until the future of the entire former power station site is determined.
Three of the four fields are now being advertised for a new farming lease by the council and the fourth d may be made available later in the year.
The council advert states: "As Brussels Sprouts were harvested over all four fields for the previous two seasons, a different crop is expected to be proposed by bidders."Closing date for bids is next Friday, February 19.
A message from the Editor:
Thank you for reading this article. We're more reliant on your support than ever as the shift in consumer habits brought about by coronavirus impacts our advertisers.
If you haven't already, please consider supporting our trusted, fact-checked journalism by taking out a digital subscription.